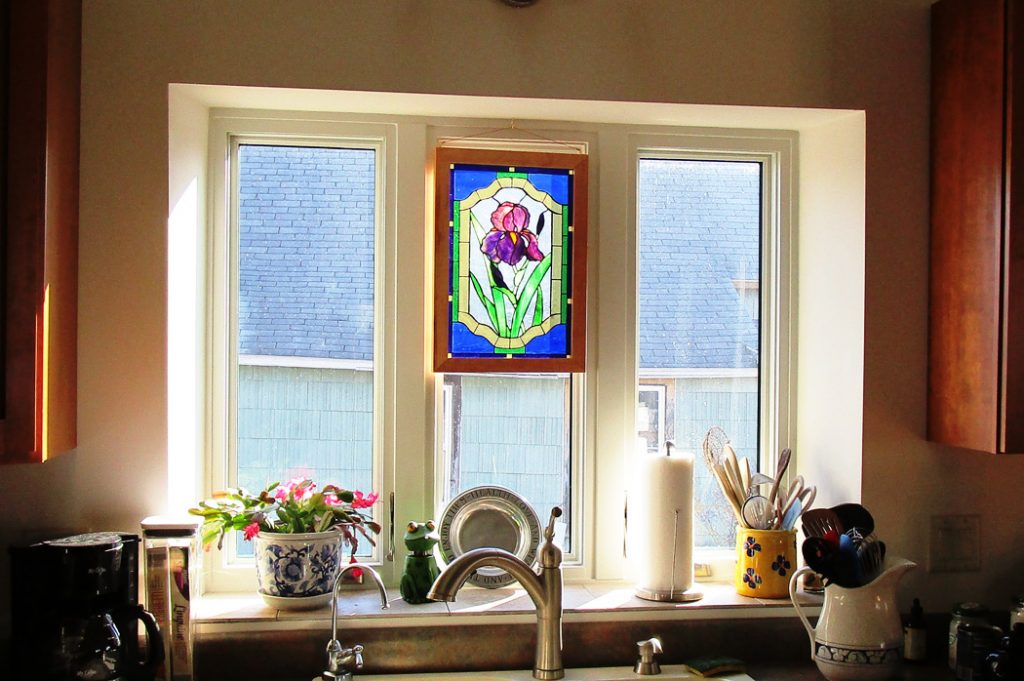 When Southeast Iowa native Mary Essary Hoyer moved back to her home state a few years ago, she wanted to put her sustainable energy knowledge to good use. She and her husband decided to build a net-zero home, one that creates as much energy as it uses, with the intent of inspiring others to do so too.
"I wanted to stabilize and reduce the costs of running the home," Hoyer says, "especially given the volatility of propane and the likelihood of increasing electricity costs and summertime demand. And I wanted a house that was comfortable to live in."
Hoyer spent a large part of her life in Massachusetts, where she served on a statewide Advisory Group on Energy and Environmental Education, on the board of the Boston Sustainable Energy Society, and as a volunteer for the New England Solar Energy Association's annual Building Energy Conference.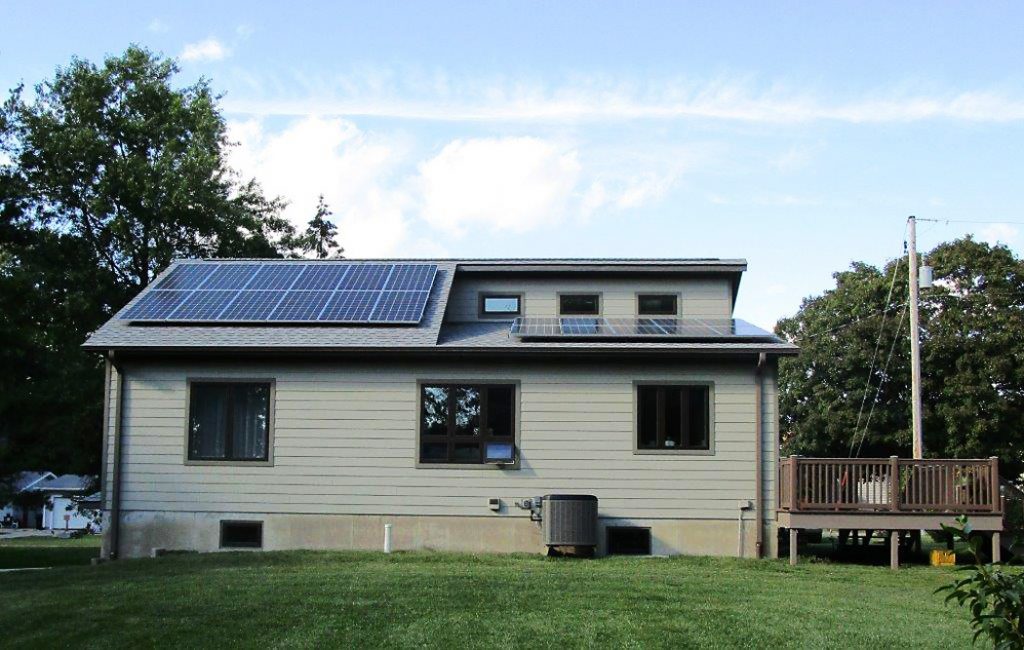 With a background in the sciences, Hoyer, together with her husband, designed a simple, energy-efficient home that is both functional and snug, with no drafts or cold spots. Hoyer wanted the house to be an example of how affordable and comfortable a net-zero building could be.
"It's a regular home," she says. "The energy efficiency comes from design—it's not a closed box. We have lots of light and air."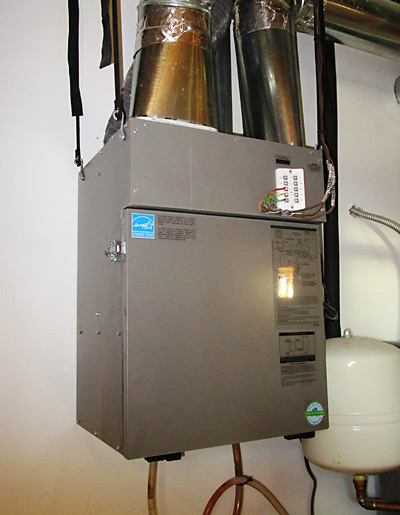 They used a simple 30-by-40-foot interior floor plan, with lots of windows on the south side and minimal windows on the north. Most of the windows are splayed out to add light and a feeling of openness. The heating and cooling system is an air-to-air heat pump, with a heat recovery ventilation (HRV) system for consistent air exchange. The house was built using double-wall construction and blown-in cellulose insulation. Blowing in the insulation "makes it possible to seal any cracks or mini-air channels that might exist between the studs, the windows, or the doors," Hoyer says. Their energy provider, Alliant, needed to approve installation to make sure it was compatible with the local grid. With the double walls, the house has a footprint of 1,344 square feet.
Hoyer says that before building any home, it's important to understand how the rooms will be used so that it will be blocked out correctly and the electrical outlets properly placed. Keeping in mind that there are always hidden costs in a build, Hoyer recommends comparison shopping to help keep things affordable. For example, installing a hardwood floor can double the cost of the flooring, and choosing a light-colored carpet for high-traffic areas will lead to higher cleaning costs.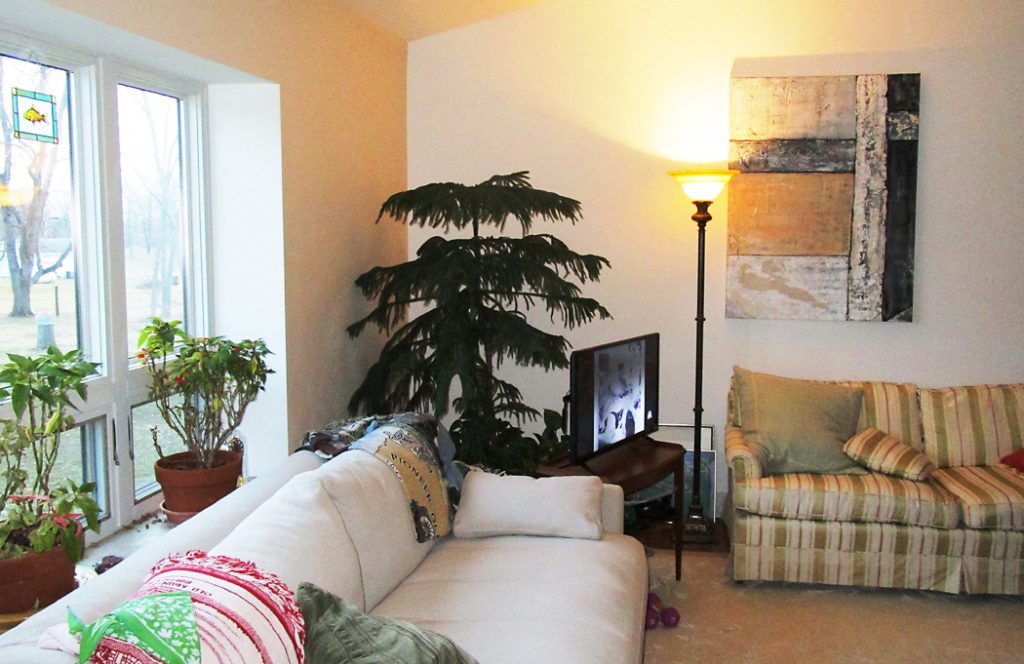 During the planning and building process, Hoyer found Fine Homebuilding magazine to be an important educational resource. But the build didn't require any special materials. "If anything," Hoyer says, "our materials were simpler than for most houses. Instead of 4×6 studs, we have a double-stud wall, which uses less expensive 4x4s."
The house is insulated with dense-pack cellulose, which is much less expensive and more eco-friendly than foam. Hoyer notes that it's important to flatten dense-pack cellulose insulation by rolling it out in order to prevent bulges that put extra pressure on the sheetrock.
One of the Hoyers' biggest challenges was finding contractors, building material stores, and building engineers familiar with net-zero construction. They encountered misconceptions about heat pumps' workability in cold climates, how HRV systems help ventilate tightly built houses, and how dense-pack cellulose behaves. Hoyer suggests "there should be accreditation standards that require continuing education," adding, "I have a better appreciation for a house as a complicated engineering system, which explains much of the conservative approach that builders take."
Hoyer and her husband learned a lot while building their home. She says the most important thing for anyone interested in building a net-zero dwelling is to look for someone who's experienced in the energy efficiency approach. Since finding a local expert isn't always possible, Hoyer suggests preparing yourself with lots of research. She says it's important to understand R-values (R equals resistance to heat flow) and to be aware of the different ways that heat can transfer. "It is the overall R-value that counts," she explains. "You don't need the best, most advanced of everything. Our windows are fairly standard, but they are all awning or casement windows so that they can be sealed."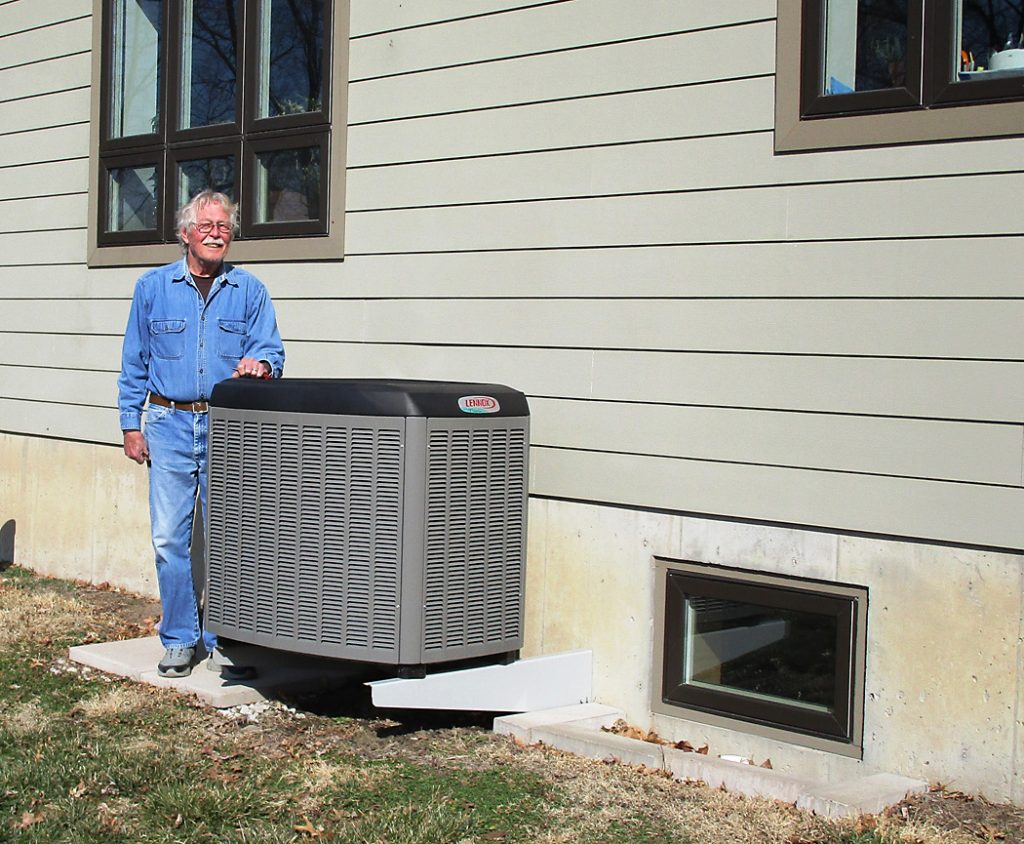 Doors, windows, and appliances should be chosen based on their energy efficiency. The guiding principle for creating a net-zero house is that the inside is separated from the outside as much as possible. And a well-insulated house will impact your HVAC needs. "It is extremely important to work with a good HVAC person," Hoyer emphasizes. "We have an air-to-air heat pump providing all of our electricity, heating, and cooling. When our HVAC person saw our insulation strategy, he downsized the unit that he was ordering. It is really important to have a correctly sized heating and cooling unit so that it is running at maximum efficiency."
Learn More
Hoyer is happy to share the knowledge she and her husband gained about net-zero construction. She's given a number of presentations and open houses, and as COVID restrictions ease up, Hoyer hopes to give more public talks. She would be delighted to speak to any group about net-zero construction and how to make existing homes more energy efficient. Contact her at hoyer.netzero@gmail.com for more information.