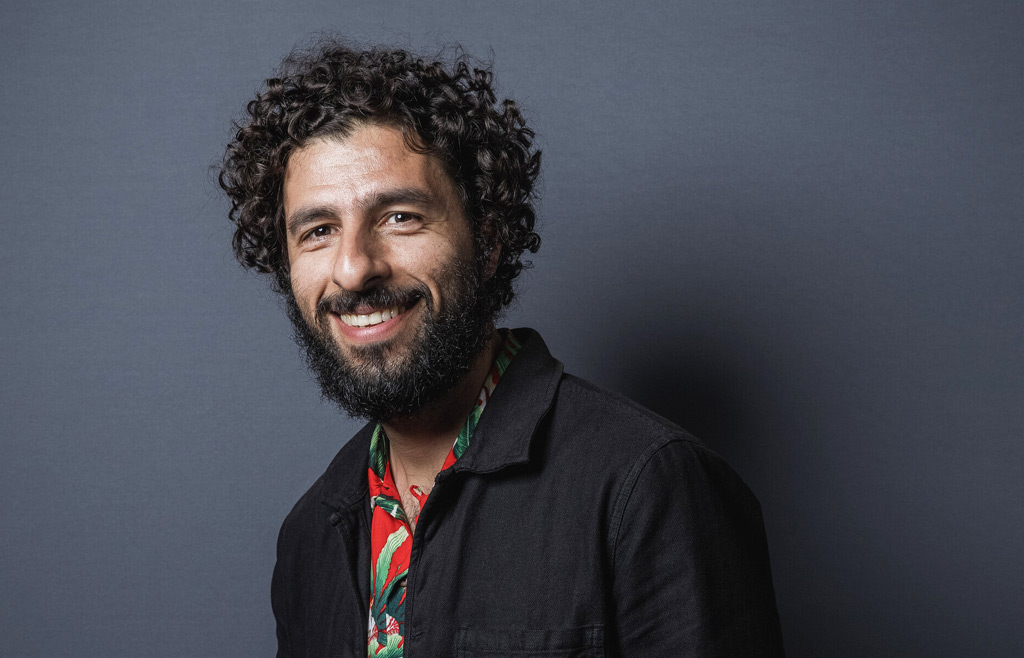 Swedish guitarist José González enjoys a stellar reputation for his soft playing. That doesn't mean he makes Muzak or elevator music; he fingers the nylon strings on his instrument the way a classical pianist would play a delicate Debussy piece. González's compositions and playing style evoke meditative states on the part of the listener. He brings a sophistication and complexity to what at first seems simple and plain, a process that stimulates reflection and relaxation.
González does not consider himself a religious person but proudly calls himself a "secular humanist." Speaking over Zoom from his home in Hakefjorden, Sweden, he explained, "There's something about sacral music, deeply religious instrumental music by composers like Estonian Arvo Pärt, that can put one in a stress-free, very deep state of consciousness." He aspires to create such effects, noting that more worldly musicians such as jazz trumpeter Chet Baker and avant-garde cellist Arthur Russell have had similar aims. "Quiet music has its place for every person," González said.
He will perform at Hoyt Sherman Place in Des Moines on a double bill with Rufus Wainwright on September 21. His repertoire will include songs he has recorded over the past 20 years, including those from his forthcoming album, Local Valley. It's his first full-length release in almost seven years, during which he continued to perform live, work on movie soundtracks, and record with other acts, including his own band, Junip. González's songs have also been used in commercials and television shows.
Although González is best known for his guitar playing, he also sings serenely in three languages: English, Swedish, and Spanish. He croons in an intimate voice. His songs can be light or intense with references to murder and confidential intimacies. The topics of his material have changed over time from the strictly personal to global issues. "I used to write only in English, although Spanish and Swedish are my mother tongues," he said. "Because so much of the music I liked was by American and British artists, it seemed more natural. I've been able to open up more lately and write more about the world outside myself."
He sees himself as an activist who wants to change the world for the better. "It's important to be altruistic and give to others," he said. Since 2017 he's belonged to Giving What We Can, an association whose members pledge to give at least 10 percent of their incomes to charities. He's a vegan who is committed to not causing harm to other creatures. "There are good, ethical reasons not to eat meat and dairy. I try to balance pleasure against causing unnecessary suffering to sentient beings," he said. He admits to finding vegan cheese repulsive and sometimes savors eating cheese made from cow or sheep's milk from small ranches. González abhors factory farms because of the harm they do to the environment. He calls himself an "eco-modernist" and believes we need to do more to combat climate change, especially in terms of how we raise our food.
While González is known for his delicate music, he began his career as a teenager playing in heavy metal and hardcore bands. Loud volume was one way he expressed angst in a Sweden known for its glossy pop by groups like Ace of Base and ABBA. "There is still a time and a place for loud music, just as there is for quiet," he says. "I still put it on when I am running or even cooking. The energy matters." The Swede's current workout favorites are tunes by American rocker Dion and Nigerian Afrobeat artists.
"I have my playlists for different moods and states of mind," González said. "I am a big fan of mixing impressions throughout the days, weeks, and months. I love going out to loud clubs with heavy beats and having to shout to people to be heard, as well as being in the silent woods and just sitting down and meditating. There are health benefits to doing both."
González said being on a bill with Rufus Wainwright brings out his more mellow side, but that doesn't mean he won't play in a mixture of styles. He believes in variety.
The COVID-19 pandemic shut down live concerts in Europe to a large extent, although Sweden allowed shows with a maximum of 50 attendees earlier than many other countries. González was also able to play a few gigs in Spain during the past year. Like many other musicians, he is anxious to get on the road and perform in front of people after having tours cancelled.
"Most of the time when I play America, I spend my time on the coasts. It's more fun to see the rest of the country. I am excited to get back to Iowa," González said with genuine enthusiasm. "I have been there before and know it's the home of the great Arthur Russell."
He added, "I like to wake up early and go running when I am on the road. I look forward to seeing the Iowa landscape in the morning."