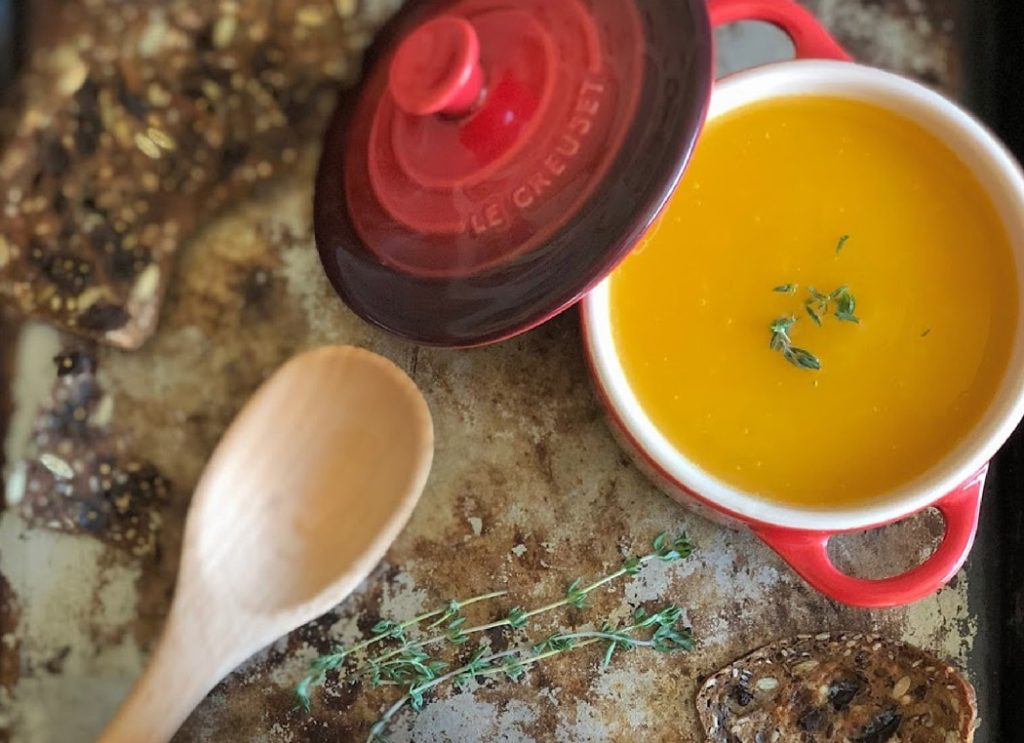 Every day in the fall garden brings a new joy. One of the highlights is going out to the field to give our chestnut tree a shake and watching the nuts fall onto the ground. The spiky outer covering opens to reveal the shiny brown inner chestnuts. Nothing is more surprising!
Inside the garden, the crisp fall air has done wonders for our greens, especially the chard and cilantro. We've found that giving our cilantro patch a "haircut" when the crop is robust and not yet flowered extends its life. When we clip, we leave a few inches of growth behind. In addition, we do succession planting for a full season. Now that fall has come around, the cilantro is even sweeter and more plentiful. You can let a few cilantro plants go to seed and harvest the mature seeds for use in the kitchen. A bonus is that any seeds that happen to fall on the ground will yield a very strong fall crop. The first time that this happened in my garden, the cilantro stalks were as large as pencils!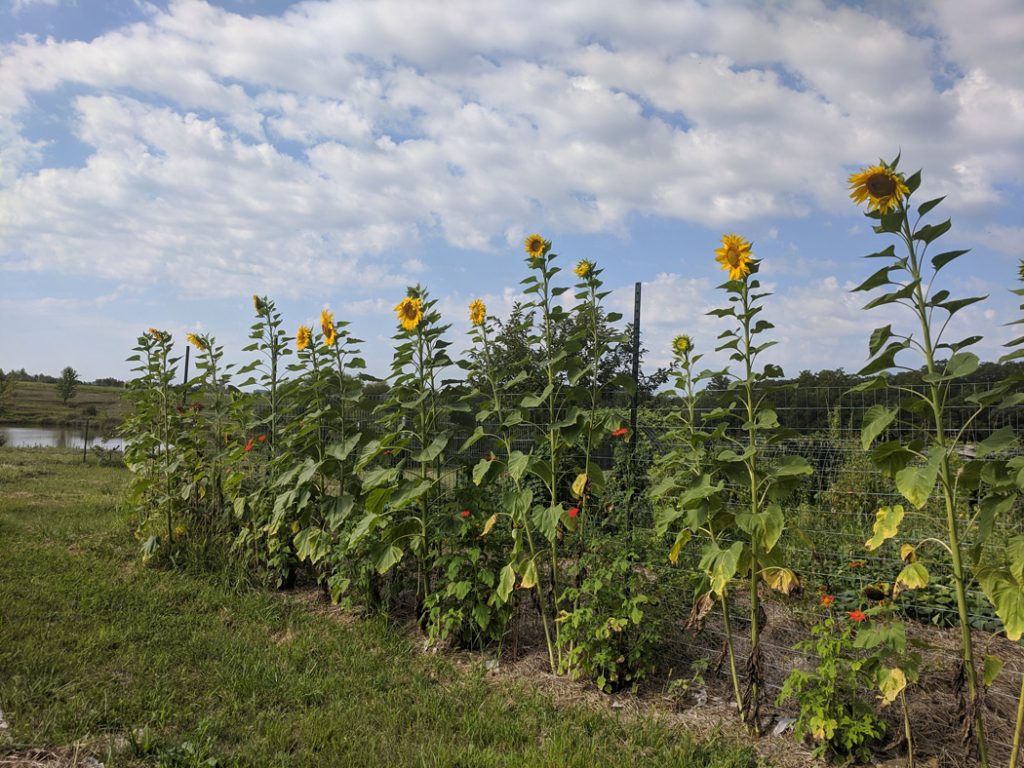 The apples have been harvested and stored in the refrigerator. Did you know that even though a bowl of shiny red apples sitting out on the counter looks very inviting, it is the worst possible place to store them? As soon as they are picked, the apples should be stored in a cool environment. The sugars break down quickly at room temperature, and your apples lose their crispness, flavor, and sweetness.
And the sweet potato patch! It's a bumper crop (what were we thinking when we planted all of those little starts?). This year we started our plants on the kitchen counter in jars of water—just like in school, with three toothpicks stuck in each potato, allowing them to rest with the bottom third of the plant in water. We chose potatoes from our last fall harvest that had begun to sprout. The sweet potato shoots soon developed green leaves. When the sprouts were 4–6 inches high, we snapped them off and put them in a glass of water to grow roots. The potatoes then sent up more shoots, which we kept snapping off and adding to the shoots that were growing roots. When the roots were strong, we planted each shoot in a little pot for planting outdoors when the ground warmed up. It's a great activity to begin in February and March, when you are just longing for something to grow!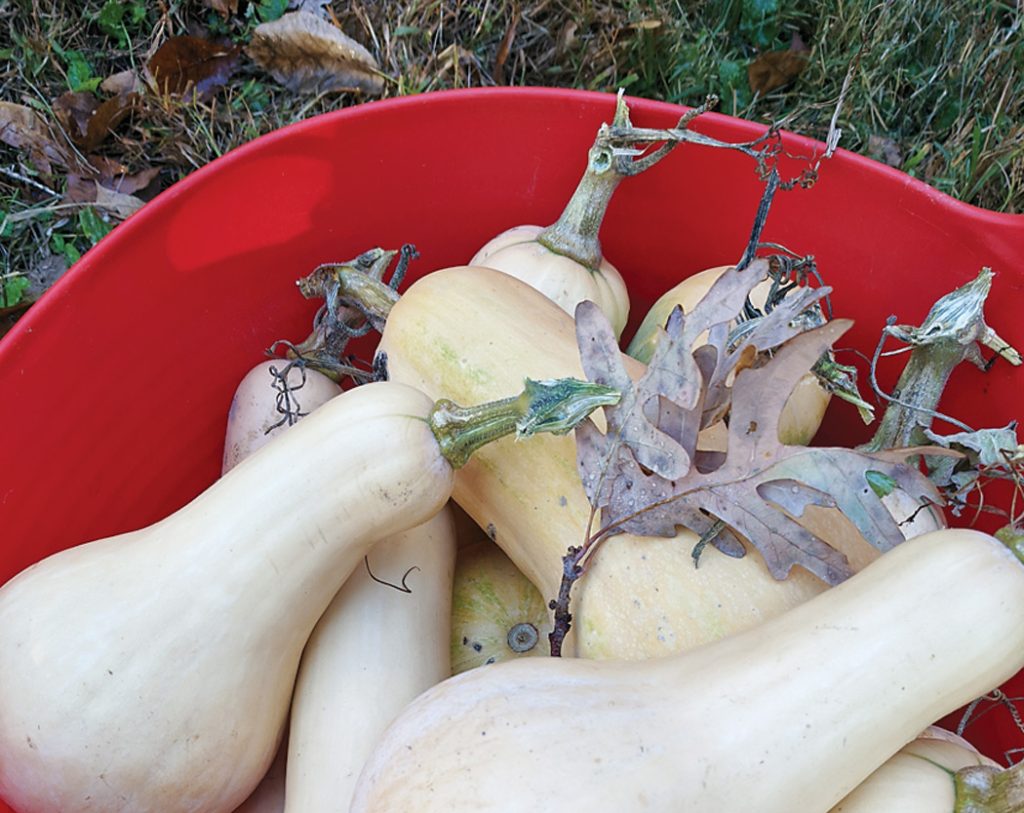 This year we planted just one hill of Waltham Butternut Squash in the center of a 10-foot straw-covered square of compost. We called it Squash Valley. Even with the lack of good rainfall and no watering on our part to speak of, the yield was impressive. We ended up with a lovely bushel of large and small butternut squashes, just ready for fall favorites.
And now it is time to put the garden to bed for the winter, and dream of next year's garden. Meanwhile, we will begin to use our crop in the kitchen and try out some new recipes.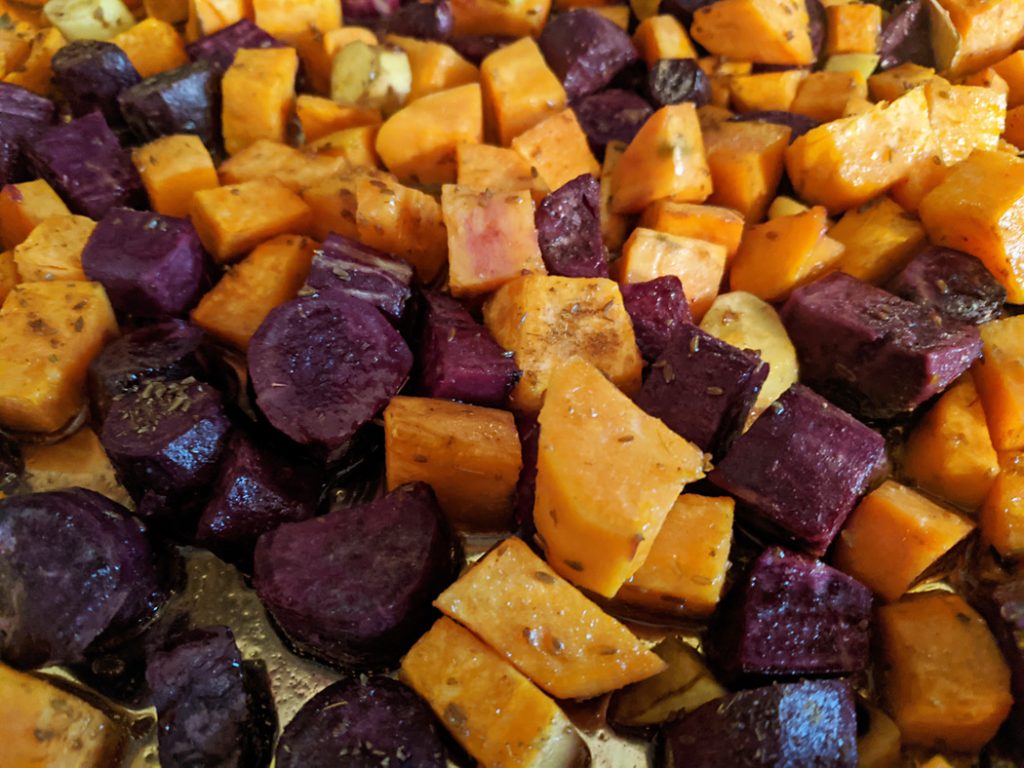 Beets, Apples & Cress with Walnuts and Curry Vinaigrette
(4-6 servings)
This is a favorite recipe from Deborah Madison's iconic Greens Cookbook.
1 lb. beets, mixed red and golden
6 scallions, white parts only, minced
Lemon juice or red wine vinegar to taste
½ cup currants
4 large bunches watercress, or a mixture of watercress and field cress
2 firm apples, sweet or tart
1 celery heart (or celery), sliced into ¼" pieces
¾ cup walnut meats, freshly cracked if possible
Curry Vinaigrette
1 clove garlic (optional)
½ tsp. coarse sea salt
2 tsp. curry powder
½ tsp. fresh ginger, peeled & grated
1½ Tbsp. lemon juice or red wine vinegar, or more to taste
6 Tbsp. olive oil
Prepare the vinaigrette. Pound the garlic in a mortar and pestle with the salt until it forms a smooth paste. Add the curry powder and the ginger, and work into the garlic. Stir in the lemon juice or vinegar, then whisk in the oil.
Preheat the oven to 400° F. Leaving the tails and an inch of the stems on the beets, rinse them, put them in a baking pan with ¼" of water, and cover. Bake until tender, 25 to 40 minutes, depending on the size. Take care to not overcook them. When cool enough to handle, peel the beets, slice them in half, then into wedges, and toss them with 2 tablespoons of the vinaigrette and half the scallions. Add lemon juice or vinegar to taste to make the beets a little tart. Set them aside.
Cover the currants with hot water and let them soften for 15 minutes. Then drain, gently squeeze to remove extra water, and add them to the cooked beets.
Go through the watercress and break off the small branches from the thick main stems. Discard any yellow leaves. Wash and spin dry. If you are using field cress, wash and dry it also.
Quarter the apples and slice them into thin pieces. Combine them with the celery, walnuts, and remaining scallions, and toss with 2 tablespoons of the dressing.
Dress the watercress with the rest of the vinaigrette, and set out on salad plates or a large platter. Arrange the beets on top of the greens with the celery, apples, and walnuts scattered over and around them.
Butternut Squash Soup
(6 servings)
We are always trying new butternut squash recipes. This one is from Love and Lemons, a food blog with fresh, zesty recipes. Served piping hot with a hunk of crusty bread, this creamy, nourishing butternut squash soup recipe is fall comfort food at its best. And a perfect use for the sage and rosemary from our garden!
2 Tbsp. extra virgin olive oil
1 large yellow onion, chopped
½ tsp. sea salt
1 3-lb. butternut squash, peeled, seeded, and cubed
3 garlic cloves, chopped
1 Tbsp. chopped fresh sage
½ Tbsp. minced fresh rosemary
1 tsp. grated fresh ginger
3 to 4 cups vegetable broth
Freshly ground black pepper
Chopped parsley
Toasted pepitas
Crusty bread
Heat the oil in a large pot over medium heat. Add the onion, salt, and several grinds of fresh pepper, and sauté until soft, 5–8 minutes. Add the squash and cook until it begins to soften, stirring occasionally, for 8–10 minutes.
Add the garlic, sage, rosemary, and ginger. Stir and cook 30 seconds to 1 minute, until fragrant, then add 3 cups of the broth. Bring to a boil, cover, and reduce heat to a simmer. Cook until the squash is tender, 20 to 30 minutes.
Let cool slightly and pour the soup into a blender, working in batches if necessary, and blend until smooth. If your soup is too thick, add up to 1 cup more broth and blend. Season to taste and serve with parsley, pepitas, and crusty bread.
Roasted Butternut Squash
Roasted butternut squash is a favorite autumn and winter treat. The sweet flavor of the squash is intensified as the squash roasts and becomes caramelized. It is delicious on its own, or as a colorful addition to salads and homemade lasagna. Try tossing roasted butternut cubes into just-cooked spaghetti, dressed simply with good olive oil and freshly grated parmesan cheese, and topped with a sprinkle of fresh black pepper and chopped parsley.
1 butternut squash
Olive oil
Salt and freshly ground pepper to taste
Preheat the oven to 400° F. Peel the butternut squash. Scoop out the seeds. Chop into ¾–1″ cubes.
Lay the cubes in a single layer on a baking sheet or roasting pan covered with parchment paper. Drizzle with olive oil. Bake until golden brown and tender, about 30 or 35 minutes.
Black Bean, Chard & Sweet Potato Stew
When combined with cumin, cilantro, and fresh lime, this flavor combination just cannot go wrong! Perfect for a chilly autumn lunch or supper by the fire.
1 cup black beans, uncooked
1 bay leaf
1 small onion, or onion wedge
2 medium sweet potatoes
4–5 chard leaves
Olive oil
1½ tsp. cumin seeds, half ground
1–2 limes
½ bunch fresh cilantro
Salt to taste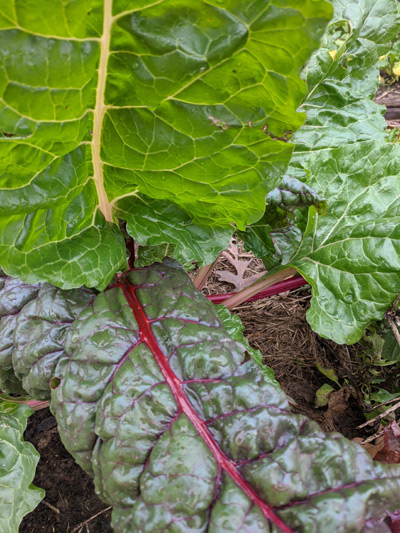 Soak black beans overnight. Drain the beans. Place in a cooking pot, adding fresh water to cover, plus the bay leaf and onion. Bring the beans to a boil, then reduce to a simmer until almost tender. Add ¼ tsp. salt and continue cooking until done. Set aside. Before using, remove onion and bay leaf.
Wash and chop chard leaves into pieces, and chard stems into small dice. Set aside.
While beans are cooking, peel and cut the sweet potato into cubes. Lay on a parchment-lined baking sheet, drizzle with olive oil, and sprinkle liberally with half-ground cumin and lightly with salt. Roast until sweet potatoes are tender, giving them a shake half way through.
Combine warm beans, some of the bean broth, and hot sweet potato cubes in a skillet. Add the chopped chard and a drizzle of olive oil. Simmer together until chard is done, adding more bean broth as needed. Season with salt and pepper to taste. Sprinkle with chopped cilantro and stir.
Turn off the heat and let rest a few minutes. Squeeze one-half lime over the stew, and sprinkle with more chopped cilantro. Serve with lime wedges.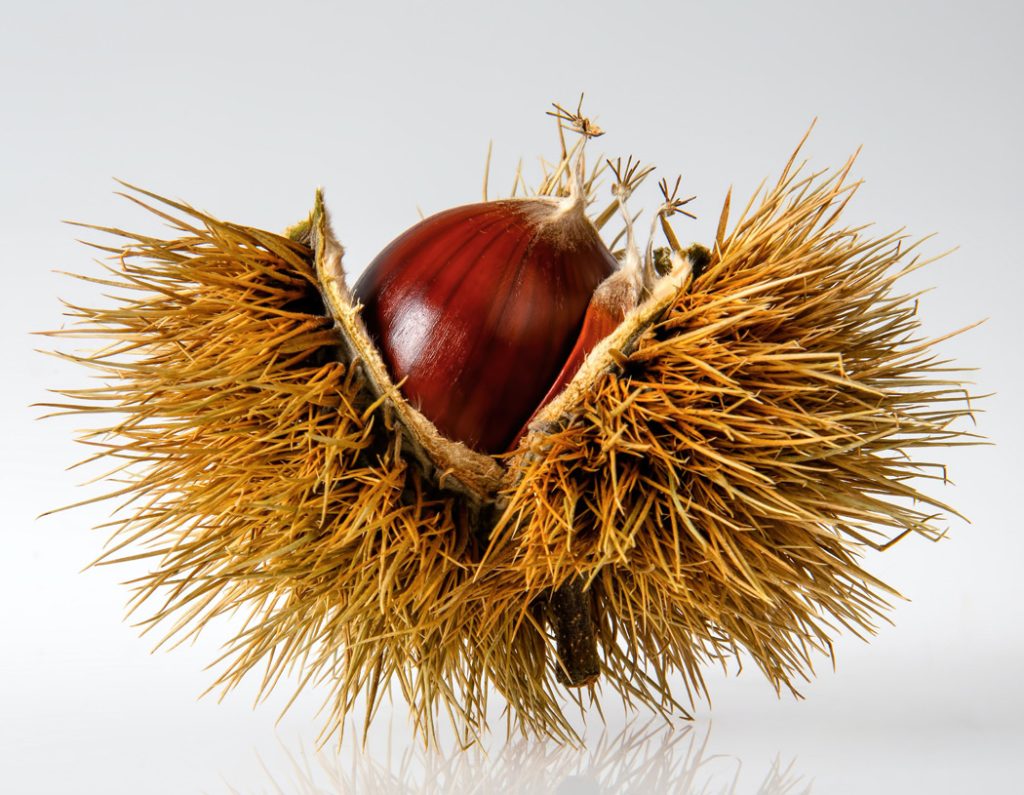 Roasted Chestnuts
While we prefer freshly harvested chestnuts, this year we tried something new. We scored each chestnut and froze them on a cookie sheet. When frozen, we transferred them to a mason jar and stored them in the freezer to use for the holiday season.
Directions: Preheat the oven to 400° F.
Using a sharp knife, make an "x" in the rounded side of each chestnut, in order to allow steam to escape. (If you forget one, you may hear a loud explosion inside your oven, and have a little mess of exploded chestnut!)
Put the chestnuts in a covered baker and bake until tender, about 20–25 minutes. Try one and see if it is done. If not, bake for a few more minutes.
Remove and enjoy promptly while still hot.
Chestnut Stuffing
Chestnuts add a sweetness to the savory flavors of celery, parsley, and sage. Adding them is well worth the extra effort.We usually have so many things going on in the kitchen for Thanksgiving that to save time, we use a good quality prepared stuffing mix, following the directions on the package.
Chestnuts
Seasoned stuffing mix
Butter, according to package instructions
Diced celery
Fresh or dried rubbed sage
Fresh parsley
Water or unsalted broth
Score the chestnuts by cutting an "x" with a paring knife into the rounded side of each chestnut. Place the chestnuts in a pot of cold water. Bring to a boil, then simmer for 30 minutes until chestnuts are tender. Chop the chestnuts into large pieces and set aside.
In a skillet or saute pan,, melt the butter, adding the chopped celery, sage, stuffing mix, chestnuts, and parsley, stirring gently to combine.
Bake in the oven in a covered baking dish for 25–30 minutes until piping hot.