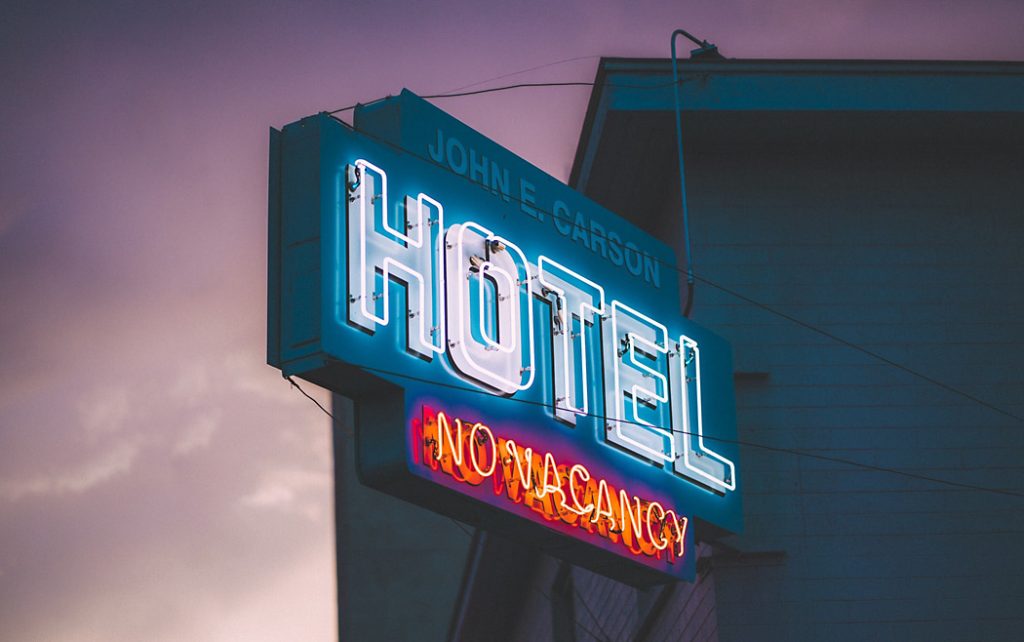 Last December, in 2020, Joan and I boldly ventured where we had not gone since the beginning of the pandemic: we took a road trip that involved staying in hotels.
On our first night at a hotel in Tennessee, we encountered a new world. At the front desk, we requested a room that no one had been in for the past three or four days. With so few people traveling, this was an easy request for them to fill.
The room had a seal on it, with a notice verifying the thorough job they had done sanitizing it for us. We were only staying one night, but in the room we found a note indicating that the hotel would not be providing daily maid service, except upon special request.
Hotels had managed to stay in business using a variety of strategies, and one of them was to reduce staffing. Of course, we weren't thinking of that at the time. We were simply happy to see that if we were staying longer, no one would be coming in our room.
A year later, hotel occupancy is much higher than it was at the end of 2020. Now, the hotel business is largely back. Parking lots are full. There are other guests in the lobby and hallways. But hotels have not increased their services.
Prices for a night in a hotel are more or less what they were two years ago, but service is way down. Daily maid service is still only available upon request. Some hotels have resumed offering breakfast, some offer a daily credit at their restaurants, and some no longer include meals.
Maybe this will change whenever the pandemic is finally over, but I don't think so. Hotels have realized that they can offer less service for the same amount of—or even more—money. Guests have adapted, and hotels are not in a hurry to bring the old level of service back.
Did any of you notice lower prices? No? Neither did I. What's going on?
Stealth inflation. Maybe you've heard the new term going around for it: "skimpflation." The definition of inflation is paying more for goods and services. Skimpflation is paying the same or even more for less service and fewer goods. You see it in the size of cereal boxes (smaller for the same price), restaurant service (fewer wait staff), and the above described hotel services.
The actual price of things is going up. The October Consumer Price Index (CPI) was up an annualized 6.2 percent. That's pretty steep. But the problem is really worse than that, because CPI doesn't measure skimpflation. I don't see how it can.
The surge in consumer prices is being driven by increases in labor costs, and even more by supply chain shortages. I have a great deal of confidence in the way free markets can respond to this. Higher prices incentivize greater production. For example, if you raise the price of oil enough, more oil rigs start pumping oil. In time, the supply shortage becomes a supply glut. Replace oil with anything else and the same process is likely to happen. I believe that sometime in 2024 or 2025, if not sooner, there will be headlines about deflationary worries as increased supplies halt price rises or result in lower prices.
But skimpflation may not go away. The shortage of services is driven by a shortage of workers.
Growing people is not a short-term problem. It takes at least one generation, and probably more. Where feasible, service workers are going to be replaced by machines.
If you've tried to reach customer service lately, you might have noticed that some companies don't have anyone there. The customer service department has been replaced by a chatbot that will refer you to articles on their website that may or may not have the information you need. Good luck if the bot didn't help.
Fast-food chains are gearing up to replace people. In the near future a robot will be asking you if you want fries with that.
Expect this to continue. Politicians talking about job programs are living in the past. At last count there were some 2 million more job openings than there were unemployed workers to fill them.
There are only two ways to end skimpflation—more workers or more robots. Robots are the easier way to go. In the coming years, I anticipate seeing them proliferate throughout the economy.
More liberal immigration policies would help, but there is no consensus in Washington for that. And that's unfortunate, because there are plenty of people who want to move here. Immigration would provide more workers now when we need them. Robots are coming, but they will take time to develop, and at the end of the day, is that what we really want? Already, we are missing being able to talk with someone when we have a problem. That is only going to get worse.
The Biden Administration wants to pass a social infrastructure bill that would make permanent the payments to families with children that was part of the last COVID relief bill. Here's why this is a good idea.
Raising children today is extremely expensive. That expense is a disincentive to young couples that might otherwise want children. The U.S. birth rate has been below replacement rate for a long time.
Without immigration reform or an increase in the birth rate, we are very likely to soon follow other developed world countries into population decline, making the need for workers ever greater. We should be doing everything we can to raise the birth rate, and paying people to help defray the cost of raising children seems like a good way to make a difference. Liberals like it for a variety of reasons, including that it helps working mothers. Conservatives should like it because incentivizing people to have children should result in a lower abortion rate.
That's all for now. See you next year.
Hal Masover is a Chartered Retirement Planning Counselor and a registered representative. His firm, Investment Insights, Inc is at 508 N 2nd Street, Suite 203, Fairfield, IA 52556. Securities offered through, Cambridge Investment Research, Inc, a Broker/ Dealer, Member FINRA/SIPC. Investment Advisor Representative, Cambridge Investment Research Advisors, Inc., a Registered Investment Advisor. Investment Insights, Inc & Cambridge are not affiliated. Comments and questions can be sent to hal.masover@emailsri .com. These are the opinions of Hal Masover and not necessarily those of Cambridge, are for informational purposes only, and should not be construed or acted upon as individualized investment advice. Investing involves risk. Depending on the types of investments, there may be varying degrees of risk. Investors should be prepared to bear loss, including total loss of principal. Past performance is no guarantee of future results.
Indices mentioned are unmanaged and cannot be invested in directly.