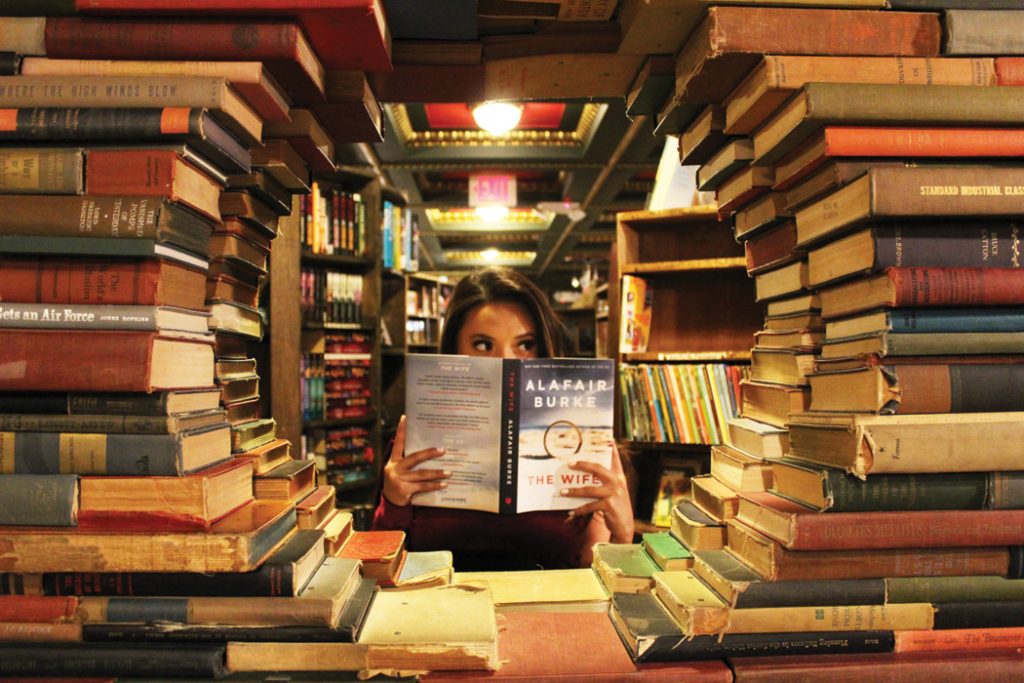 Libraries today are much more than just collections of books. And with the insidious spread of misinformation so prevalent these days, libraries are more valuable than ever. "Librarians are navigators of information," says Dara Schmidt, director of the Cedar Rapids Library. "They provide patrons with tools to ensure they are finding what they need in a safe and secure way."
We asked librarians from Iowa City, Cedar Rapids, and Fairfield to weigh in on the issues they face today, including how they promote intellectual freedom, how they deal with censorship and misinformation, and how they see their role in creating safe spaces and promoting diverse reading choices.
Access for All
"Libraries provide access to information, services, and resources for anyone in the community, regardless of their background, income, or interest," says Amber McNamara, Cedar Rapids Public Library Community Relations Manager. "They are the one place in the community where people are encouraged to come together and learn or connect without barriers."
Iowa City Public Library Community & Access Services Coordinator Sam Helmick believes libraries are important because they are one of the few spaces left in society that fully belong to the public. "This is your space, everyone's space," he says, "to simply be, or browse, sit, learn, explore, and linger without restraint or purchase."
In allowing people to educate themselves about their interests, "Libraries are an equalizer and an empowerer," says Dan Gall, Librarian for Social Work & Distance Education at the University of Iowa Libraries. "Sometimes those interests are extremely practical—think of cookbooks and car repair manuals—and sometimes those interests are more long-term, including literature, philosophy, and entertainment."
Beyond Books
Although indelibly associated with books, the libraries of today have greatly expanded their range of services. Schmidt says that libraries provide access to vast collections of information and materials, from books, movies, and recording technology to classes on resume writing, spreadsheet usage, and internet navigation. Patrons can use their library cards to access a variety of free digital resources, including ebooks, audiobooks, music, movies, television shows, magazines, and a variety of educational databases. "Having fun, engaging programs for all ages is a staple of public libraries!" Schmidt says.
So what other services do libraries offer that people may not be aware of? "My library—like many others—offers discovery kits that enhance learning opportunities ranging from music and hiking to astronomy and cooking," Helmick says. "Checking out equipment from the library provides a try-before-you-buy approach to new hobbies and life-skill development."
Helmick adds that their library has an ICPL Digital Media Lab—a space providing free access to media converters (for example, VHS to DVD) as well as video and photo editing software and equipment.
"I think folks are always surprised to learn that library staff will thought-partner with you during the resume and application process, when building your own business, when planning a vacation, when researching local history, and much more," Helmick says. "Staff are eager to support you through your goals."
Gall asserts that library services directly affect the community in a positive way, an investment that has a high rate of return. "As a stakeholder in society, I would much rather pay taxes to provide opportunities for people without them than for those people to become desperate or dispossessed," he says. "I want unemployed folks to have a place with computers and career books to help them find a job rather than remain unemployed. I want teenagers to have interesting things to engage their minds and inspire them. I want parents to have stories to read to their children so those children are inspired and those families are bonded."
Censorship & Calls for Removal
When it comes to decisions about what materials will be selected for the library, McNamara explains that a collection is carefully built to serve the informational, educational, and recreational needs of the community. The collection development staff use their professional training, knowledge, and expertise to make choices.
So what happens when patrons challenge books or materials in a collection? Initially, the library staff will meet to discuss the concerns and identify alternate materials. After this, patrons may request a formal reconsideration of library materials, which goes to the library's materials manager, then the director, and ultimately, the library's board of trustees.
"Recognizing the distinctions between a challenge and a call for censorship is my launching point," says Helmick. As the former Intellectual Freedom Committee chair and oncoming VP/President Elect for the Iowa Library Association, Helmick is very aware of censorship and the importance of freedom of information. "In an open democracy, we rely on transparent dialogue to discuss and dispute ideas. However, when calls for the removal of information are made, it flouts the constitutional rights that library workers are charged to safeguard and uphold."
Helmick emphasizes the value of following set procedures. "Honoring the process to disagree and reconsider materials is essential to practical, open governance," he says. "Honoring the First Amendment right to read and to speak is the other essential half of that coin." Exploring each other's perspectives "often helps challengers perceive censorship as detrimental to them as much as to others."
McNamara adds that one of the Cedar Rapids Public Library's guiding principles is intellectual freedom. "We are committed to the free and open exchange of ideas, she says. "We facilitate access to information, free of judgment. A publicly supported library provides free, equitable, and confidential access to information for all people of its community."
In addressing the issue of censorship for an academic research library, Gall says, "It is our responsibility to provide a variety of ideas, positions, and points of view on topics such as politics, sexuality, and religion. . . . We have wide latitude to purchase what we need. To my knowledge, we have never had to remove an item due to censorship."
Gall explains that censorship comes up more frequently in public libraries or K–12 school libraries that report to a community board. "The Iowa Library Association and Iowa Association of School Libraries are strong advocates for individuals having access to a wide variety of views."
Misinformation
Libraries do their best to combat misinformation, but Gall maintains that libraries are only one part of the solution. "Misinformation targets individuals. Information, true or false, spread through social media may reach many people, but it is only effective when it convinces individuals to believe or act a certain way. So the trick is empowering individuals to determine what is true and untrue. Libraries, schools, media can all teach skills to evaluate information and recognize ways they may be manipulated, but individuals need to become conscious consumers of information."  "I would love to see a link to my colleagues' disinformation video series linked in the article. That is created for members of the public and your article is an excellent way to spread the word. Gall recommends viewing his colleagues' disinformation video series.
Helmick says that supporting the use of primary sources, critical thinking, and literacy are the foundational roles of library workers. "We combat misinformation by equipping our communities to recognize it and circumvent its manipulative algorithms. We challenge ourselves and our patrons to examine information and to remain curious."
Schmidt points out that their staff are experts at sifting through information and finding relevant sources. "Libraries and library staff are also champions of intellectual freedom," she says. "We can encourage intellectual freedom by continuing to provide access to materials and resources of all kinds and continuing to fight censorship on any level."
Welcoming Diversity
Libraries enable patrons to read about other places and experiences, and to learn about other cultures and beliefs. "We are global citizens who can no longer afford to silo ourselves within a narrow scope of existence," Helmick says. "Libraries are one of the most expedient and economic platforms for communities to embrace differences and diversity."
McNamara emphasizes that access to a wide range of materials is essential to a free and open society. "Our communities are filled with people of different races, backgrounds, and religions," she says. "Each member of our community deserves to see themselves reflected in a public library's collection and to have their experiences understood and validated." Both fiction and nonfiction can open a window into the experiences of others, something that provides connection and understanding.
"Our library is for everyone," McNamara says. "You are welcome here. That means providing safe and welcoming spaces for anyone who enters our doors, free of judgment."
Alecs Mickunas, the Fairfield Public Library Youth Services Librarian, says his department has been partnering with Fairfield's Diversity, Equity and Inclusion Committee to come up with storytime programming "that is racially diverse and addresses a wide range of topics such as depression, empathy, and historically underrepresented communities." The youth services collection has also been consciously expanded to include more well-reviewed and award-winning books about young people from diverse communities. Mickunas says that at least half of the families at storytime events are first-generation Americans or non-native speakers of English.
Mickunas recognizes that to serve an increasingly diverse population, librarianship itself needs to diversify. It is still a primarily white profession, with more women working in the field than men. "In this era of worldwide mass migrations, we can expect the population of the U.S. to continue to diversify," he says. "For libraries to continue to be relevant and valued by all, we must do more to encourage people from all walks of life to take advantage of the amazing resources we have at the library."
As libraries evolve to serve growing and changing populations, they continue to provide incredibly valuable access to a wide range of knowledge, information, and services that support and strengthen our communities.