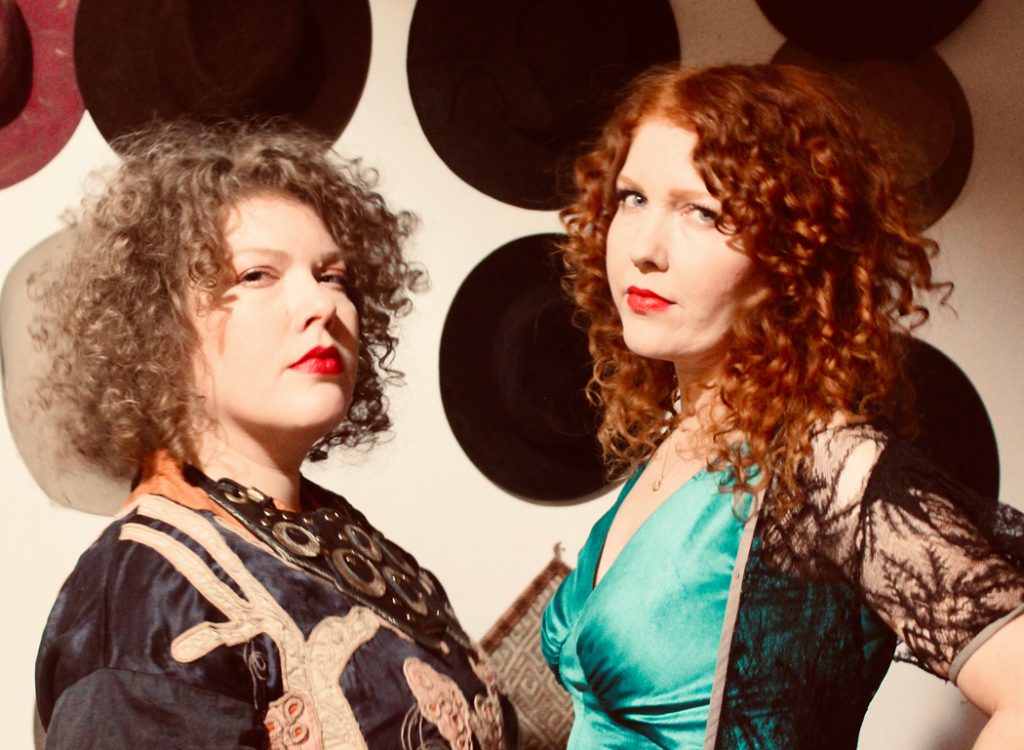 Most would agree that COVID has been bad for music. But there have been some exceptions. The collaboration of sisters Eleanor and Bonnie Whitmore is one.
The Whitmore Sisters established their distinct musical identities long ago. Bonnie, the younger one, has released four solo albums to critical acclaim and has performed with such notables as Hayes Carll, Justin Townes Earle, and Jimmie Dale Gilmore. Eleanor has one solo record and has played with Tanya Tucker, Kelly Willis, and Steve Earle. She is most famous as half of the Mastersons (a duo with her husband, Chris). The sisters have performed separately in Iowa several times over the years.
Both of their parents are musicians, and Bonnie and Eleanor played together when they were young as part of their family band. Their mother is an opera singer, while their father was more into folk music. But the two sisters have always maintained their individual careers. They played together on occasion, adding an instrument or a voice to each other's records, but they had never earnestly collaborated on a project.
"We always thought we would get together one day and take on such a project, but the timing was never quite right, and our schedules were always too busy," Eleanor said from her California home. She, Bonnie, and I were on a conference call together.
The pandemic stopped them from touring and provided them with the time and opportunity to work together. "I live in Austin, Texas. After COVID hit and all the clubs were closed, I decided to visit my sister in California for a change of scenery. When Chris [Bonnie's husband] heard I would be coming out, he decided this would be the perfect time for us to make a record, which, incidentally, he produced," Bonnie said. The three of them will take the stage at the Englert in Iowa City on March 5 as the openers for the Jayhawks.
The original date was impacted by the pandemic and had to be rescheduled. Initially, the Mastersons were scheduled to be the curtain raisers—the Whitmore Sisters did not exist yet. The delay allowed the group to form and release a record, Ghost Stories, on January 21, to rave reviews.
Both sisters admit to believing in ghosts, especially in terms of the spirits of dead friends. They wrote most of the songs on their new album together. The material sweetly expresses their deep emotional connections to people and places that have come before, but they are not maudlin or sad. In fact, some cuts, such as the Cajun stomp "The Ballad of Sissy & Porter" and the rockin' ballad "Ricky," celebrate living life in the extreme. The title track reminds us "to see the love in everyone" whether they are still with us or not.
"We waited a long time to make the record. We wanted to establish ourselves as artists and equals," Eleanor said, "but what I didn't know was how easy it would be to sing with my sister." Bonnie agreed. She noted that something magical happens when their voices combine. In country music, it's called "blood harmonies" when siblings join together and create a third voice. She cites Iowa's Everly Brothers as a prime example.
The new record contains two covers, one that Paul McCartney wrote for the Everly Brothers when they reunited ("On the Wings of a Dove"). The extraordinary indie rocker Aaron Lee Tasjan penned the other, "Big Heart Sick Mind."
"Aaron didn't write the song as a duet, but it fits perfectly," Bonnie said. Hearing the two voices intertwine reveals the unity between what from a distance may seem unrelated.
The early success of Ghost Stories suggests a second record will be in the offing. In the meantime, they are making promotional videos and touring. The Whitmore Sisters are anxious to get back on the road and perform live. They said they are glad to learn that the venue requires audiences to wear masks and be vaccinated. Both musicians said they had tours cancelled last year because someone in the crew or the band caught COVID. They believe in taking precautions and even wearing masks when at the merchandise table with the public.
The Whitmore Sisters did recall their first visits to Iowa, which had nothing to do with making music. Their father was a professional pilot who taught both of his daughters how to fly. In fact, both sisters are still licensed pilots. When Bonnie and Eleanor were younger, the family flew in to Blakesburg, Iowa's classic aircraft show. The first song on their new album is "Learn to Fly" and expresses the joy of being in the sky.
The challenge of flying and making music are not all that different, according to the sisters. They both involve taking risks, but the rewards are worth it. Eleanor described going out on tour these days as gambling, because the Mastersons have had two tours shut down due to COVID.
Last year was a strange one. But if things had not happened the way they did, perhaps the sisters would have missed the opportunity to make a record together—especially one this good.
"I'm not saying we wouldn't have made an album if it wasn't for the situation, but it certainly played an important role," Eleanor said. Bonnie concurred. "If anything good happened as a result of the bad, this would be it."