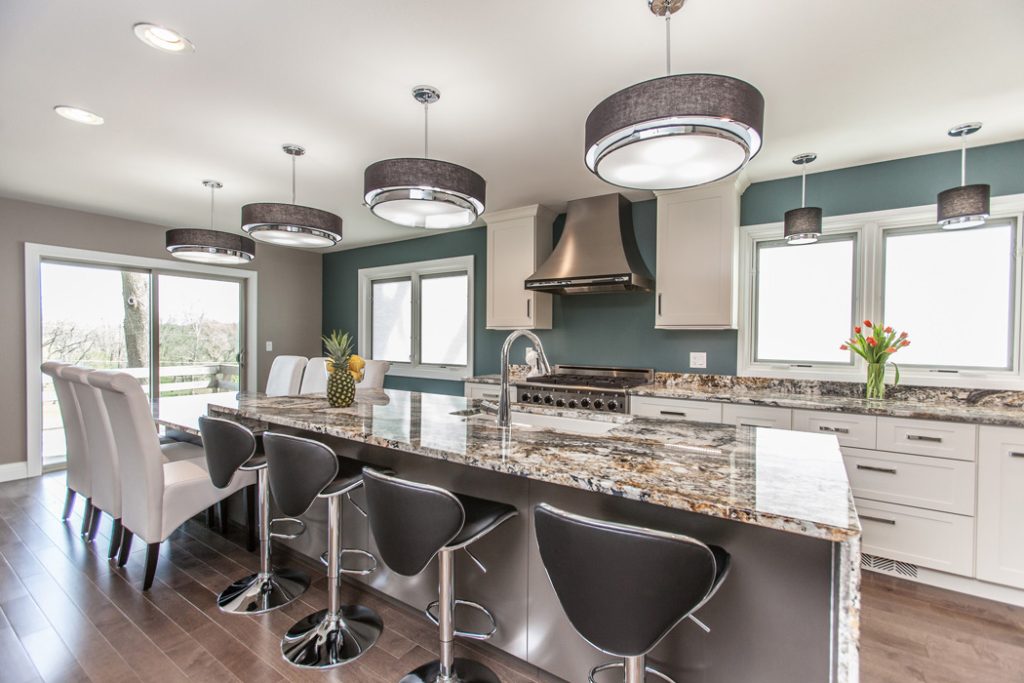 The Fairfield-based JC Huffman Cabinetry Company originally started out as a hobby. "My husband Jim was a full-time employee at a local factory," says co-owner Teresa Huffman. "When he wasn't at work, he liked to enjoy his free time doing things he loved. Just for fun, he set up shop in his one-car garage to do what he loves best: making cabinets."
When Teresa's father's home was damaged by fire, Jim built all the new cabinets. He did such a good job that the insurance adjuster hired Jim to build his own cabinets. Eventually, in 1988, there was enough demand that the family business was born. JC Huffman Cabinetry specializes in handcrafted custom cabinetry, countertops, and interior doors. Services include color consultation and design assistance, either in-store or on-site at the customer's home.
Jim, Teresa, and their daughter Chasity are all involved in the business. Teresa says they're each deeply knowledgeable about all the products in their showroom. "Jim does all of the CAD drawings for the customer and the factory," she says. "Chasity is the Benjamin Moore paint expert." Chasity's familiarity allows her to choose the correct Benjamin Moore product for each application, and she has "an eye for color and undertones." Teresa handles the design aspect, helping customers create cabinets to fit their budget, home, and aesthetic. She "focuses on the ideal design for every room of the house," making sure the products she incorporates come together to complete the homeowner's desired vision.
Teresa loves helping people. "Purchasing a new kitchen is a big deal, from the design to the budget," she says. "I love the fact that JC Huffman has cabinetry that can fit anyone's budget, from DIY to custom." Building custom cabinetry "offers the homeowner the opportunity to see their cabinets being made—it makes them feel like they are part of the process."
Teresa says they can use any wood a customer wants. "Some people want to use the wood from their land. That can add a little to the cost, but it's a feature that stock cabinetry can never offer. It becomes a very personal process for our customers. Anyone can sell you cabinetry, not everyone can build it!"
Teresa adds that JC Huffman is "a one-stop shop—the customer doesn't have to leave town to find what they are looking for. We obviously have cabinetry, but we also sell countertops, flooring, fireplaces, sinks, faucets, cultured stone, and interior doors, just to name a few of our products."
Known for their strong work ethic, excellent customer service, and beautiful, well-crafted cabinetry, JC Huffman Cabinetry has won the "Best of Houzz Service Award" five times. Teresa explains, "We were rated at the highest level of client satisfaction by the Houzz community. We are in competition with other businesses that do similar things."
Houzz is an online community platform created to provide support and inspiration for home redecoration and interior design. Based on millions of worldwide Houzz users' preferences, the awards recognize professionals who contribute great content and who provide excellent customer service to their clients.
The fact that JC Huffman has earned this award five times is a testament to their skill and commitment. "We want customers to choose JC Huffman for our customer service, knowledge of products, array of products, and for the convenience of shopping in their hometown," Teresa says.
To learn more, visit jchuffman.com.