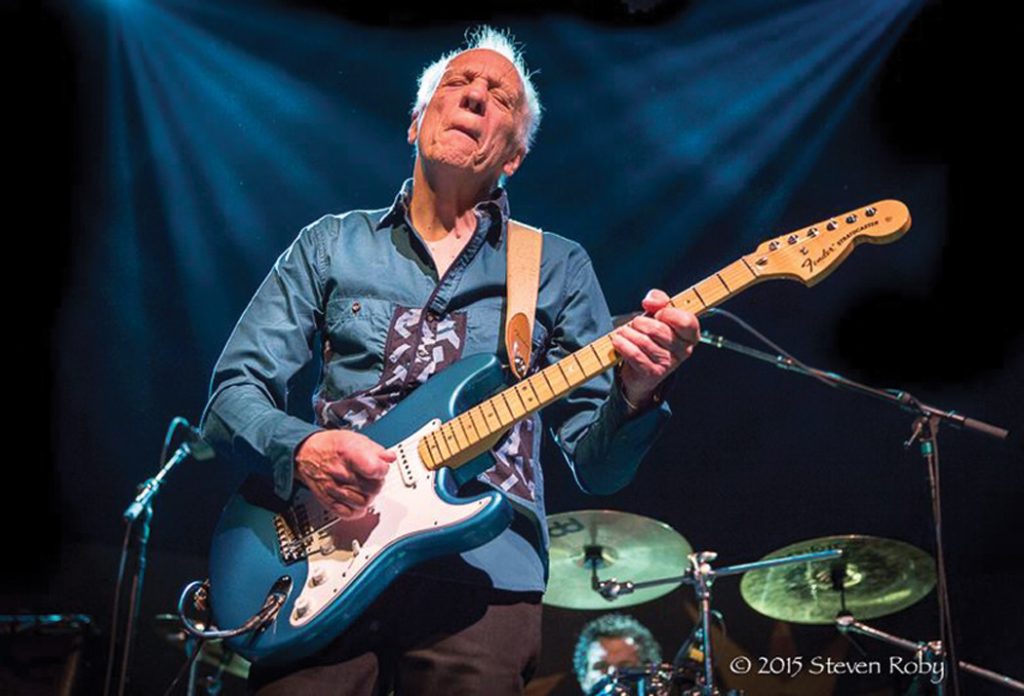 In May 2022, 76-year-old British guitar hero Robin Trower released his 12th studio CD, No More Worlds to Conquer. On it, Trower creates another dose of sonic magic with long-time collaborators Chris Taggart on drums, Richard Watts on vocals, and Livingstone Brown on bass (on tracks where Trower doesn't overdub them himself).
A self-taught guitarist who never pursued any formal music education, Trower developed a good sense of how to play from an early age. Initially inspired by the unique sound of American blues guitarist Albert King, Trower was also influenced by Howlin' Wolf, B.B. King, and Jimi Hendrix. He began his career in the 1960s with the band Procol Harum, but left in 1971 to pursue a solo career.
On his new album, Trower continues with his preferred combination of Fender Stratocaster guitar and Marshall amp that allows him to produce deft tones and nuanced wah-wahs and wails. He prefers high-action pickups that permit the use of thicker strings on the high end, producing what he calls a "fatter sound."
Reviewer Hal Horowitz on AmericanSongwriter.com reflects on Trower's unique place in guitar history: "Over the 50 years of his professional life, his style … relies on a simmering groove and reverb-drenched, Hendrix-influenced shimmer slithering out of his guitar. . . . always leaving room for bass and drums to support his often overdubbed, generally spare and concise six-string work."
Let's begin with tracks from No More Worlds to Conquer (2022).
"I Will Always Be Your Shelter." The smooth, edgy guitar solo on this slow, bluesy ballad is enriched with reverbed echoes.
"Fire to Ashes." Notice the slick chord progressions as Paddy Milner's restrained organ adds tasteful texture. Feel the embers on the fire in this downtempo, pulsating slow burn. Richard Watts's vocals are superb resting on top of the mix.
"Wither on the Vine." I love the use of old blues and jazz methods of augmenting vocal lines with guitar. Short, spare licks and short chordal gestures fill the space between vocal phrases. Staccato bursts of guitar lines and percussive chords augment the backbeat.
"Waiting for the Rain to Fall." This is probably the most melodic composition on the album, and once again, Watts's raw, velvety vocal timbres pull us in as modest snare percussion offers support. Notice the string-bends with "fat" tones. Oh, yeah!
"No More Worlds to Conquer." This track exhibits beautiful Jimi Henrix-inspired intro and verse breaks complete with finger vibratos and wah effects. You could swear Jimi was in the studio. The lyrics imagine Alexander the Great after his victories in battle led him to accumulate most of the known world: "The telling of his fame / The chanting of his name / Was breaking him apart / Because it did not fill the emptiness in his heart."
And now, let's go to a few early tracks.
Bridge of Sighs" (1974). James Dewar's vocals sound similar to those of David Clayton-Thomas in his days with Blood, Sweat & Tears: heavy, ominous, and beautiful! In an interview, Trower commented on his creative process: "The funny thing about [this] song is that I had the opening riff for about six months before I could come up with the turnaround section. I loved that opening lick so much. I was determined to make the second half just as perfect. So I waited and waited … and then it came to me. The band played it for the first time in Winterland in San Francisco and we received something like a 10-minute standing ovation. It obviously had magic."
"In This Place" (1974). The ending of "Bridge of Sighs" blends impeccably into the beginning of this track. Not surprisingly, on the original vinyl LP, the two songs sound like one track. Notice how the upper-register chord-picking enhances the transition. The singer pays homage to his lady: "In this place, filled with empty space… / Your soft and tender love will always shine for me."
"For Earth Below" (1975). Trower effectively repeats a Hendrix move of two strings harmonizing, as Dewar's slow, wailing lament is sung with tight vibratos. Savor the echo guitar in the background and relish the poetic beckoning:
"It is the face that is the mirror
It is the eye to look within
And the door remains open
A passing dream calls you in
Calls you in"
"Song for a Dreamer" (1971). This Procol Harum song collaboration between Robin Trower and frontman Keith Reid imparts an unusually beautiful, echoey soundscape, creating a psychedelic journey that moves from an operating table to the far side of the moon. "There's no knowing what they'll find when they open up the wound / I will meet you on the other side of the moon."
In 1972, I attended a Procol Harum concert in Pittsburgh, expecting—with great anticipation—to hear Robin Trower. But he had recently left the band. What a disappointment! He has not scheduled any upcoming concerts so far in 2022. I keep hoping…
Listen to this free shared playlist on my Spotify site under the handle DJ Andy Bargerstock.