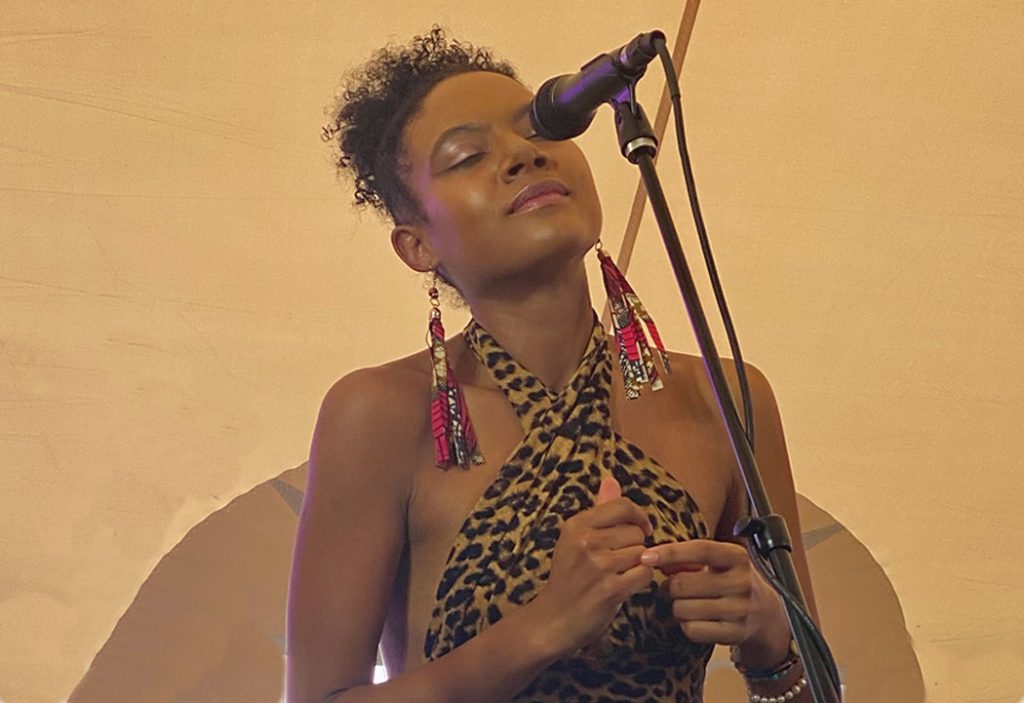 Allison Russell, who performs November 6 at the Englert Theatre in Iowa, is on a hot streak. The Canadian-born singer-songwriter recently took Album of the Year honors for her debut solo record, Outside Child, at the 2022 Americana Awards ceremony in Nashville. (The single "Persephone" from the album was nominated for Song of the Year as well.) Russell also won several awards from the United Kingdom's Americana Music Association, including International Artist of the Year and International Album of the Year.
And that's just the tip of the iceberg. The Recording Academy nominated Russell for three 2022 Grammy Awards, including Best Americana Album, Best American Roots Performance, and Best American Roots Song. Russell has won three 2022 Canadian Folk Music Awards and was nominated for a fourth; she won a 2022 Juno Award for Contemporary Roots Album of the Year, and was nominated for another Juno as Songwriter of the Year; and she won two 2022 Folk Alliance Awards.
"It's been astonishing," Russell said over the phone. "I'm still processing all that has happened this past year. The awards and the accolades have been life changing—opened doors and provided me with opportunities."
Russell expressed her gratitude for those who have supported her work and validated her as an artist. She specifically mentioned Brandi Carlile, who called the head of Fantasy Records and helped get her signed to a label. Russell and Carlile have just released the single "You Are Not Alone" with the profits going to charity: Looking Out Foundation's Every Town for Gun Safety and the Fight for Reproductive Justice Campaign.
Russell will appear at the Englert Theatre following her appearance at Carnegie Hall in New York and before traveling to West Hollywood to play at the Troubadour Club. When asked how she felt about her Englert gig, Russell gushed, "I love Iowa City!" She has performed here several times as part of earlier bands and said she and her family were good friends with local musician Greg Brown and his family. She said she looks forward to coming to Iowa City more than the prestigious locations because of the people she has met here.
While 2022 was a banner year for Russell as a solo artist, she has an impressive musical history. Her professional career began back in 2000 as a member of the Vancouver-based Celtic folk band Fear of Drinking. In 2003 she joined up with The Be Good Tanyas' Trish Klein and formed Po' Girl, which toured internationally and recorded several albums. She linked up with her husband JT Nero and started the act Birds of Chicago in 2012, and starting in 2019 performed and wrote for the acclaimed band Our Native Daughters with Rhiannon Giddens, Amythyst Kiah, and Leyla McCalla.
Describing Russell's music is difficult. As mentioned, critics often classify her as an Americana artist, which is a goulash term that can stand for a variety of styles and genres without really defining what it is or isn't. The term Americana usually refers to the roots music of the United States, but the Canadian native does break into Quebecois on several songs, and Outside Child contains songs titled "Montreal" and "Hy-Brasil."
Although Russell has an American spouse and child, lives in Nashville, and pays taxes, she is not an American citizen and cannot vote. She holds a Green Card that permits her to live and work permanently in the U.S. She finds that her marginal status gives her a special insight into our national history and current existential situation, particularly in terms of systemic racism.
Russell performs on several instruments (guitar, banjo, clarinet, percussion) and sometimes plays more than one at the same time. She is also a gifted singer with a large emotive reach. She can sing staccato or stretch a note over several syllables without ever losing a sense of the song.
The 11 tracks on Outside Child range from quiet ballads, such as the gentle "Nightflyer," to the more strident toughness of "All of the Women," to the unbridled sweetness of "Joyful Motherfuckers," which features the hopeful message "love will conquer hate." The most poignant songs on the album address the suffering Russell experienced as a child and how she emerged to discover a community and the love of others. Her personal history is not pretty—from the ages of 5 to 15, her adoptive father mentally, physically, and sexually abused her. "My history of abuse was one reason it took me so long to make a solo record," Russell explained. "It was safer to hide in a group. I didn't have the self-confidence to put myself out there and shout from the rafters by myself."
As someone in the entertainment industry, Russell understands the value of having a social media presence, but she also recognizes the importance of doing it in a positive way. Citing an example from her youth, she said, "I remember watching Oprah with my grandma. Oprah had on a white supremacist as her guest to expose his evil. What happened was that the exposure made the KKK member even more popular." Pointing out the negatives in the world, she said, only distracts us from problem solving. We are better off concentrating on celebrating the good and making the world a better place.