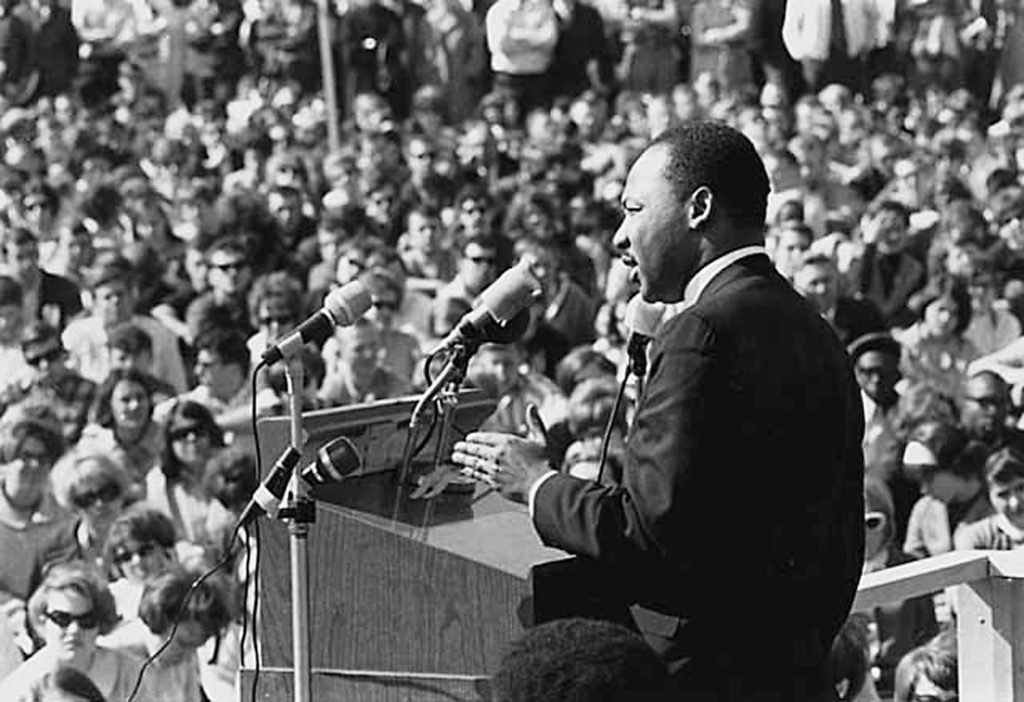 Martin Luther King Jr Day is celebrated as a federal holiday on Monday, January 16. Reverend King had a tremendous impact on the civil rights movement of the 1950s and '60s. A Baptist minister and a social activist, he preached nonviolence against racial segregation and is best remembered for his "I Have a Dream" speech at the Washington Monument. He was assassinated at age 39 and would have been 93 this year.
King was also a lover of music. His mother, Alberta, was a choir director and his wife, Coretta Scott, graduated from the New England Conservatory of Music with a music education degree. He incorporated music at his protests and asked artists such as Bob Dylan and Aretha Franklin to lend their talents to the cause.
Since King's death, many musicians from a diversity of genres have written songs in his tribute. Below are seven of the best to be listened to this January 16—or anytime you're in the mood to honor this great human being.
Stevie Wonder wrote, produced, and performed "Happy Birthday" as part of the campaign to make King's birthday a national holiday back in 1981. The lyrics are clear: "The whole day should be spent / In full remembrance / Of those who lived and died for the oneness of all people," and goes on to namecheck the Reverend. Released internationally as a single, the song is one of Wonder's biggest global hits. It reached number one in Israel, and reached the top ten in the United Kingdom, Ireland, Netherlands, and Switzerland. Sadly, it was never released as a single in the U.S. Most Americans only hear it on the radio once a year (if that)—on King's birthday.
Dion DiMucci's rendition of Dick Holler's "Abraham, Martin and John" was a hit when released in the late '60s. Dion was the first to record it, but artists including Smokey Robinson and the Miracles, Marvin Gaye, and Moms Mabley have put out successful versions. Dozens of other notable musicians also have recorded the song. "Abraham, Martin and John" honors four assassinated leaders: Abraham Lincoln, Martin Luther King, Jr., John F. Kennedy, and Robert F. Kennedy. They are all feted for promoting positive social change and a better future for all Americans.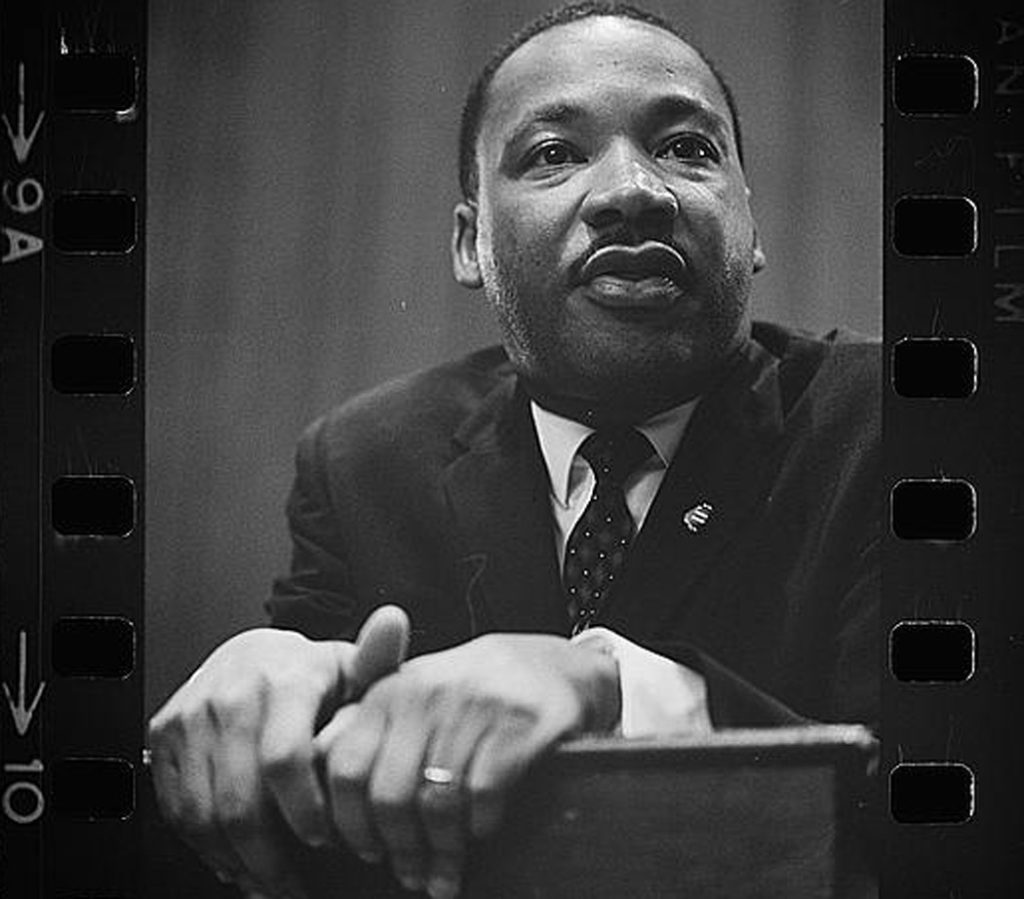 U2 has two tracks explicitly honoring King: the appropriately titled "MLK" and "Pride (In the Name of Love)" from the 1984 album The Unforgettable Fire. The latter song is the most famous. "Pride" was a major commercial success and is one of the most broadcast songs on FM radio. "The Rock and Roll Hall of Fame's 500 Songs that Shaped Rock and Roll" cites it on its unranked list of the most important rock records. The cut contains bold, anthemic lyrics (i.e., "Early morning, April 4 / Shot rings out in the Memphis sky / Free at last, they took your life / They could not take your pride") that address King's spirit. The quieter "MLK" should not be overlooked. Despite the song's title, there is no explicit reference to King himself, Instead, it offers hope s for a peaceful future.
Bobby Womack's "American Dream" is one of many musical cuts that samples King's actual speeches as part of a song. This track originally appeared on Womack's 1984 album The Poet II, in advance of the Fourth of July holiday. The song includes a passage from King's speech titled "American Dream," which was delivered on June 6, 1961, at Pennsylvania's Lincoln University. The song begins with King declaring "America is essentially a dream / It is a dream of a land where men of all races / Of all nationalities and of all creeds / Can live together as brothers" before Womack offers his critique on the state of the nation.
Nina Simone introduced "Why (The King of Love is Dead)" at the Westbury Music Fair in Long Island, New York, just three days after King's assassination. The song was written by her long-time bassist Gene Taylor. The lyrics highlight King's positive philosophy and his dreams of a better nation. It also offers a warning. Simone pleads, "What's gonna happen now that the King is dead?" She suggests the country is on the brink of a race war, but that the fight for freedom is worth the price. While this may seem contrary to King's message of nonviolence, the pain in her voice makes one stop, feel, and think.
Patty Griffin's "Up To The Mountain (MLK Song)" takes its name from King's famous "I've been to the mountaintop" speech that he delivered the day before he was murdered. Griffin wrote this song in 2007. She was only four years old when King was killed, but the lyrics reveal the hole in America's heart that his passing left. The words are almost biblical in honor of the Baptist minister as she invokes "the peaceful valley just over the mountain." Several others successfully have covered Griffin's song, including Kelly Clarkson and Jeff Beck, Susan Boyle, and Crystal Bowersox.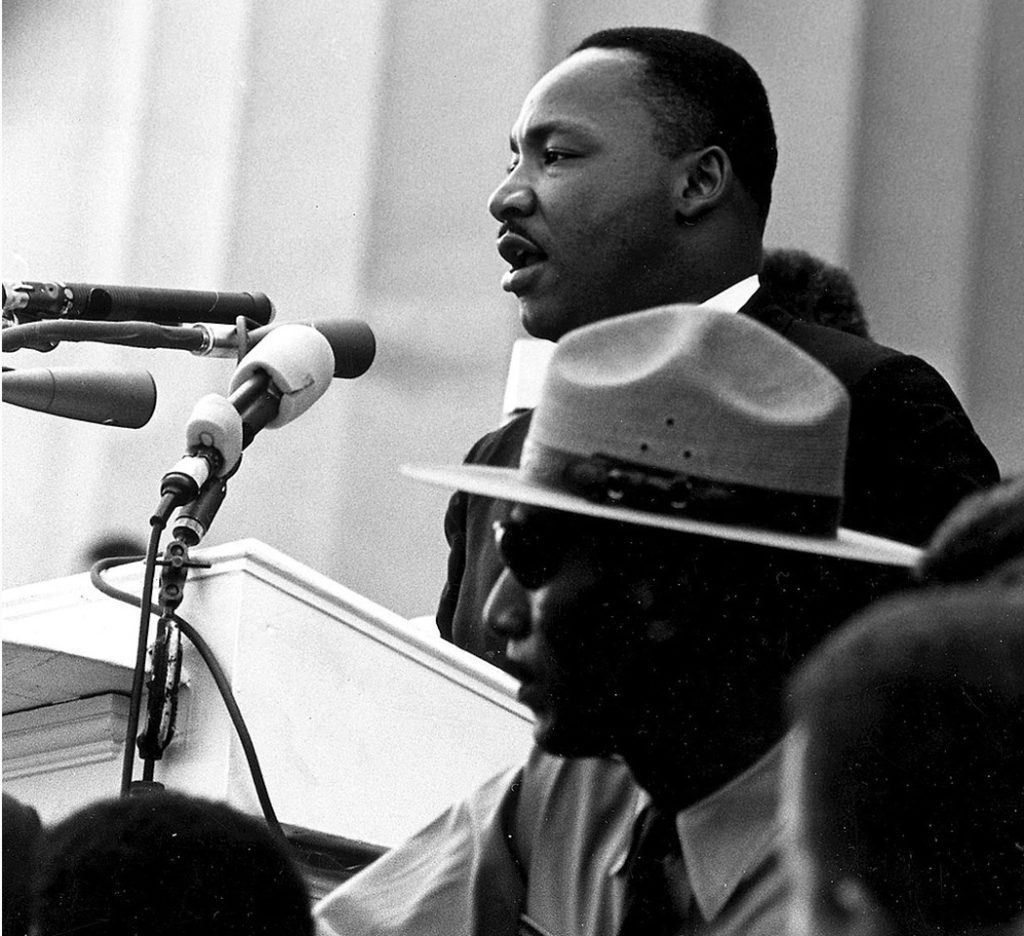 The title track of Paul Simon's 2011 album So Beautiful or So What begins with the singer cooking gumbo and ends with a description of King's assassination ("Four men on the balcony / Overlooking the parking lot / Pointing at a figure in the distance / Dr. King has just been shot"). The implication is that King's message of love still matters, and that this American melting pot can be a rich stew if we only make it so.
There are literally hundreds of other worthy songs written and performed to honor Dr. King—too many to list here. The ones listed above provide just a small sample of the impact the great man has had on our national culture. Listening to these tunes is one way to pay homage to King's impact.