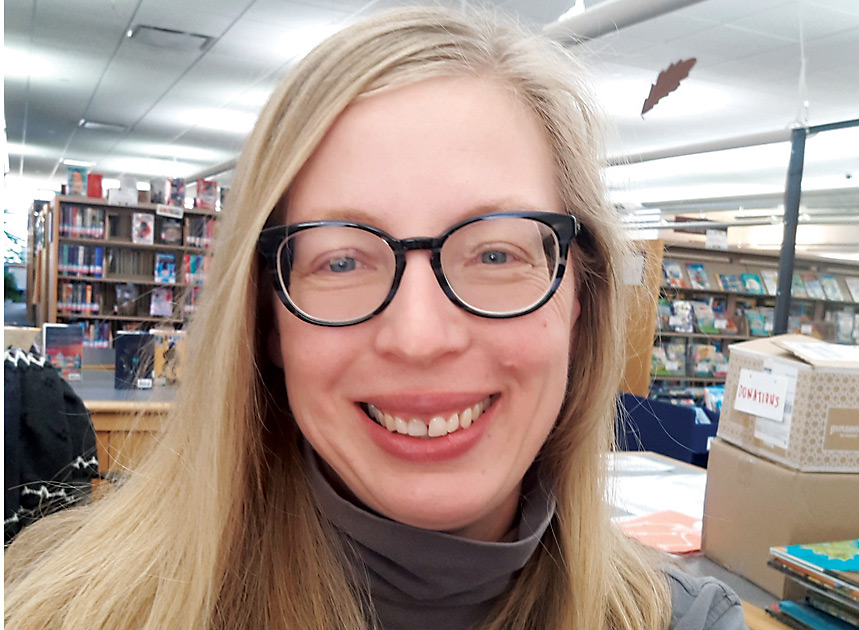 Since becoming the children's librarian at the Fairfield Public Library last October, Sara Martindale has brought lots of experience and enthusiasm to her role. A parent with school-aged children and an educator with broad-ranging career experiences, she filled a position that had been vacant since former children's librarian Alecs Mickunas left to become the library director.
Martindale is an energetic storyteller and arts and crafts organizer, and the youth services programming has blossomed under her attention. Her past experience includes working for Iowa State University Extension in Mahaska County as the 4-H Coordinator and volunteering at the Ottumwa Public Library for almost ten years.
Regular Events
Martindale is currently presiding over three ongoing storytime events. Songs and Stories with Sara, Tuesdays 10:15–10:45 a.m., is geared for ages 0–3 and caregivers. "Storytime on Tuesday mornings is for the little, little kids," Martindale explains. "We do lots of age-appropriate repetitive rhymes, and just have a good time. Because a room full of toddlers is always exciting."
Preschool Storytime, Wednesdays and Thursdays 3:45–4:30 p.m., is geared towards children ages 2–5 and caregivers. The focus is on longer books, but musical instruments still make an appearance "because it's fun for kids to jump and dance." She also integrates a craft or activity into storytime that fits the day's theme. During an ice-themed storytime, for example, everyone ice-skated across the carpet. "You just put a couple sheets of waxed paper under your feet and away you go," Martindale explains. "We have a lot of fun."
Created in collaboration with the city and presented by local artist Genevra Bell and other volunteers, All Our Voices Storytime celebrates diversity for children of all ages. Held the fourth Monday evening of each month, it can be experienced in person at the library, or online via Zoom.
For older kids, there's First Chapter Night. Once a month, Martindale reads the first few chapters of a novel and then offers activity options. "We usually end up playing Nintendo Switch," she laughs.
The inaugural Junior Fiction Book Club met in March to discuss The Only Black Girls in Town by Brandy Colbert. Martindale has been working with a younger patron to start a middle grade book club. If there's enough interest, the club will meet every month.
Tweens and teens also enjoy the bookmark mini-makerspace. Older kids can make bookmarks with available art supplies, including stickers, plain cardstock, and cool paper. Martindale says they could always use more washi tape, stickers, and cool pens, if anyone wishes to donate items.
Once the outdoor Farmers Market starts in May, Market Storytime will return Wednesday afternoons on the square.
New at the Library
The children's section has some cool new additions—namely, VOX Books, which are picture books with audio recordings. Children just press a button to listen and read. "They're really good for early readers who find sounding out the words in a longer book intimidating," Martindale explains. "They can read along while the book reads to them. This fosters a sense of independence." VOX Books don't need to be plugged in and don't require Wi-Fi, which makes them easier to use than tablets.
In addition to hosting book-related activities, the children's library is well-equipped with puzzles and toys. Along with the ever-popular puppet theater, there's a kitchenette, a doll house, and paper and crayons for coloring projects. Two new computers, a Mac and a PC, are available with internet access for parents who need to work while their kids are reading or playing.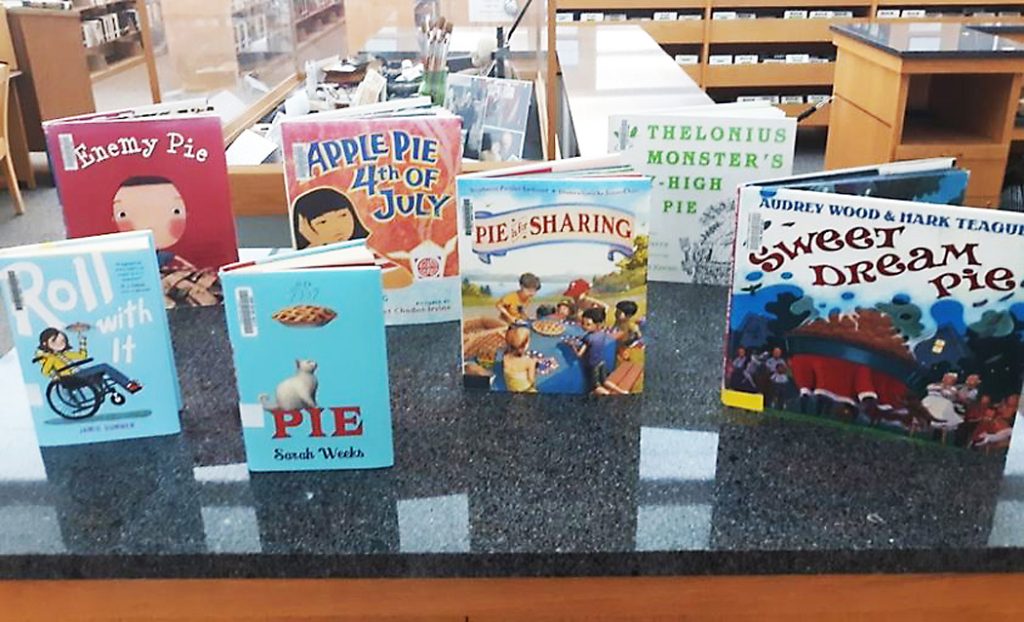 Special March Events
Martindale is currently planning lots of fun activities in the month of March. On Tuesday, March 14, celebrate Pie Day (3.14) with books on pie and real slices of this pastry favorite for all library patrons! On St. Patrick's Day, Friday, March 17, Can You Trap a Leprechaun (2–4:30 p.m.) allows patrons to design a leprechaun trap. "There's usually some very creative ones," Martindale says. Over the week of Spring Break, activities include First Chapter Night on Monday, March 20, 5–6 p.m., and Youth Craft Kit Day, all day on Tuesday, March 21. Also on Tuesday is an Our School Garden Virtual Author Event, 1:30–2:20 p.m., in which author Rick Swann and illustrator Christy Hale will talk about their book. On Wednesday, March 22, join Martindale for Fidget Storytime, 3:45–5 p.m., with a DIY fidget craft and swap. Also on Wednesday, see the Free Kids' Movie The Bad Guys on the big screen in the meeting room, 1:00–2:45 p.m. On Friday, March 24, bring your best LEGO creation to the LEGO Show & Tell and Builder Stations, 2:30–4:30 p.m.
Volunteers, You're Needed!
Martindale could always use volunteer help as well as arts and craft supplies. Volunteer options include helping kids out at crafting events, setting up for craft events or storytime, and helping with inventory. She encourages those with special skills or interests to come to her with programming ideas, especially for the upcoming Summer Reading Program. She wants to fully take advantage of the talent in our community. "When you hook up people that really love what they're doing, it's contagious."

Get in Touch
To contact Sara, email smartindale@fairfield.lib.ia.us or call the library at (641) 472-6551. You can also follow her on Facebook, get reminders of upcoming activities, and get access to her storytime playlist. For more information on scheduled activities, check Fairfield.lib.ia.us or follow the library on Facebook.