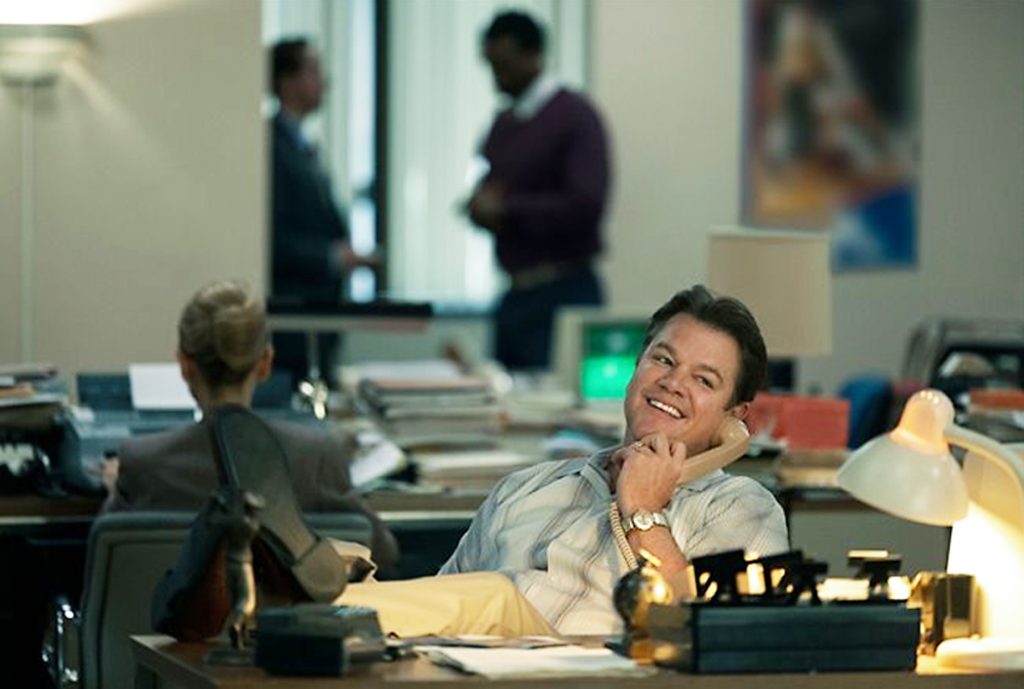 With a rush of adrenaline typically associated with thrillers, Air is the unexpected true story that drives us through a slice of history we're witnessing for the first time. And it's a wild ride.
Directed with precision by Ben Affleck, Air turns back the clock to 1984, when a running-shoe manufacturer called Nike was losing market share to brands like Adidas and Converse, whose athletic shoes were designed for the basketball court. Nike's focus on runners was keeping them out of the big game.
At the junction of sink or swim, Nike bets its future on the talents of two people. The first is an unsung hero named Sonny Vaccaro, Nike's marketing director, whose gift is not physical discipline—he hates exercise. In Air, he's played by a pudgy and convincing Matt Damon, who claims the spotlight. Vaccaro's talent is sales-speak, which he delivers in a personal, almost poetic style, minus the BS, that targets his listener while allowing them space to breathe and think.
Vaccaro needs a rising basketball star as Nike's promoter. And he's fixated on an 18-year-old athlete who seems destined to be a champion. Maybe you've heard of him: Michael Jordan, future legendary shooting guard for the Chicago Bulls. The design of the new Air Jordan shoe will be part of the bait, along with a hefty payment. But as some Nike executives remind Vaccaro, Adidas is competing hard for Jordan's loyalty, and Jordan prefers their shoes.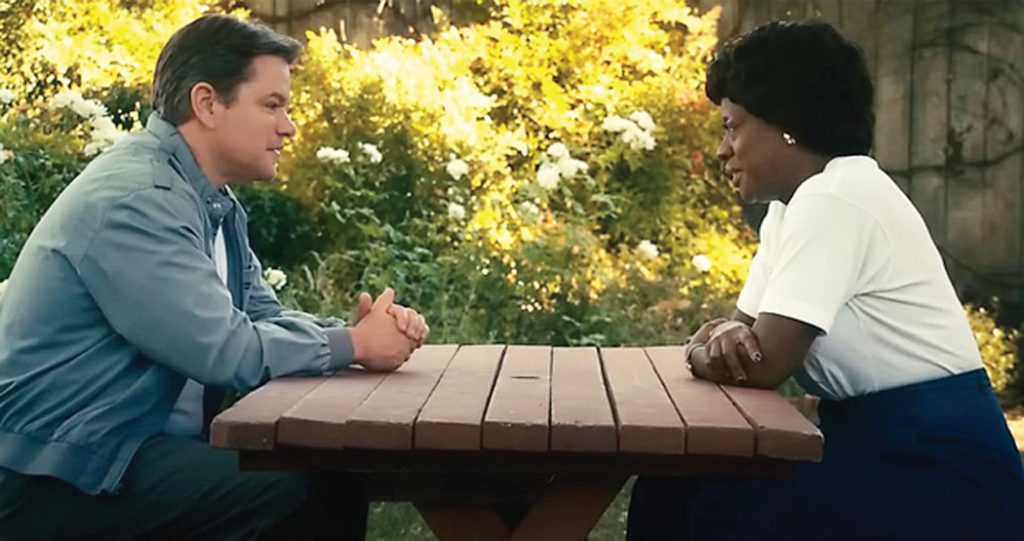 Surprisingly, you won't see a Michael Jordan character in this film. As Affleck explains, Jordan's majesty and stature are impossible to duplicate. But he wanted Jordan's approval, so he personally invited the star's feedback. Jordan was enthusiastic about the way the story would be told. And he made two requests: Viola Davis should play his mom, and she should be presented accurately as a sharp and dignified businesswoman whose foresight and confidence changed the rules of compensation. Affleck honored it all.
There is one fleeting appearance of "Michael Jordan" arriving with his parents to a Nike business meeting. He wanders around self-consciously, turning his body in an awkward maneuver that keeps his back to the camera, like he's trying to be invisible. I get it, he's an extra. But those peculiar screen moments could have been avoided by keeping Jordan offscreen. Maybe his parents could have explained, "Michael's here, he's just getting [something] from the car." Or "Michael's just outside, tying his Adidas."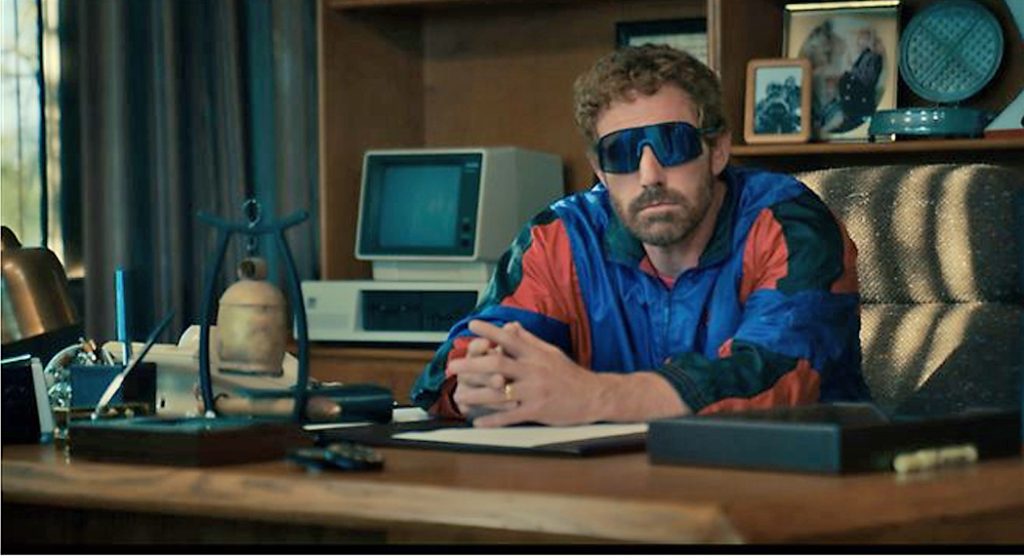 And now we pause for this clarification: Air is not a basketball movie. Air is about business, a window into the competitive, multibillion-dollar industry of athletic shoes. And about a shoe manufacturer called Nike, named for the Greek winged goddess of victory. And about Nike becoming a household word, with its now ubiquitous swoosh logo that probably identifies some of the shoes in your closet. Air takes us on the Air Jordan journey of the unstoppable footwear that will eventually expand into its own shoe brand. It explores Nike's partnership with this young basketball champion that makes the company a champion of shoes.
In addition to revisiting 1980s fashion styles and musical scores, Air hums with the talent of screen veterans like Jason Bateman as Nike Marketing Director Rob Strasser, Ben Affleck as Nike CEO Phil Knight, Viola Davis as Michael Jordan's business-savvy mom, and Chris Tucker as Howard White, VP of Nike's Jordan Brand. Chris Messina is sports agent David Falk, who goes wild improvising an uncensored phone conversation. And Matthew Maher plays shoe designer Peter Moore, creator of the red-hot Air Jordan shoe that lifts Michael Jordan into the air and lands him in team Nike.
The fact that we know where the story is headed does not dampen our enjoyment. Nor does the alteration of a notable turning point that eventually got Michael Jordan to come to the table. Learning what really happened doesn't change my appreciation for this film. Because if there's anything we know about adapting real events into feature films, it's this: life does not obey the rules of storytelling. And sometimes, when filmmakers love their audiences (and their investors) very, very much, they might adjust the narrative to maintain the tension that holds our interest.
Air lays out all the creativity and chutzpah that, seasoned with a little luck, allowed Nike to conquer its challenges and thrive. The film holds us captive, owing much to screenwriter Alex Convery, who hit it out of the park at age 30 with his first screen credit. Growing up in Illinois as a Bulls fan, Convery was inspired by the ESPN documentary The Last Dance. He studied screenwriting and later drafted a screenplay about the history of Jordan's Nike affiliation. It's not clear how it found its way to Damon and Affleck, but when they read his Air Jordan script, they saw cinema gold.
Air will open your eyes to the powers of strategy and faith that pulled Nike out of a slump and made it the juggernaut we know today. Which raises a valid question. In these days of big-bully businesses that don't always favor ethics or pay their fair share of taxes, you might ask why we care about Nike's rise to the top. Here are some thoughts.
Air makes us witnesses to the fine art of succeeding in business, involving skills that apply to almost anything. As viewers, we're hearing the story from the point of view of Nike executives, reminding us that business is people. Ultimately, with all of its services and products, ingenuity and inventions, as well as payrolls that support the public, business forms the backbone of the economy. Business matters.
This well-told tale of "the shoe company that could" will leave you informed, energized, and amazed. Don't miss it.