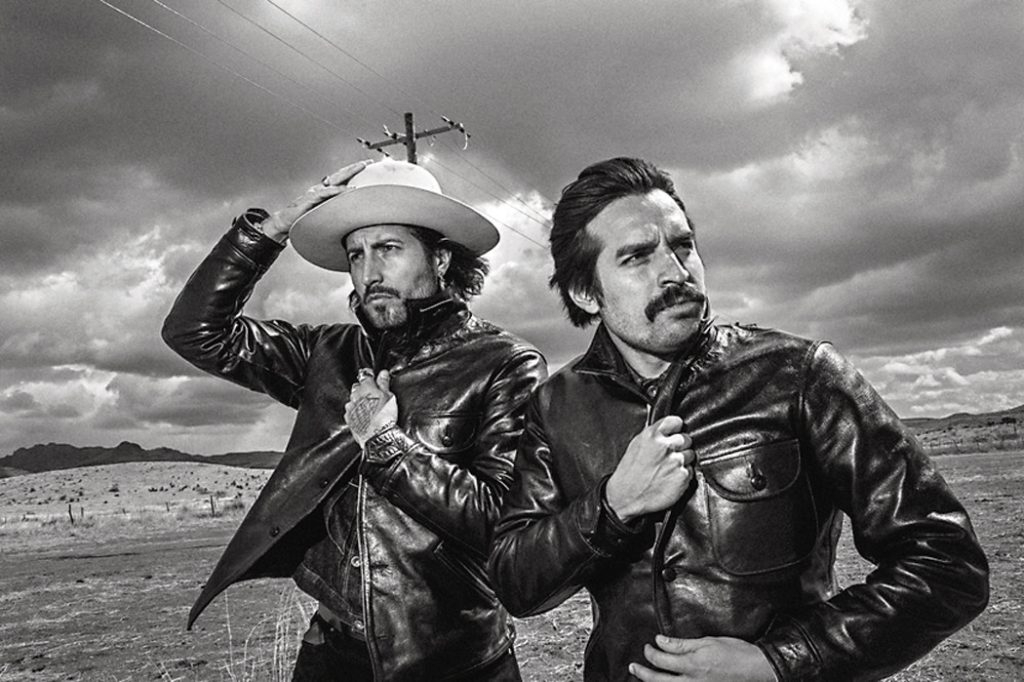 In October 2022, the guitar duo Hermanos Gutiérrez (brothers Alejandro and Estevan Gutiérrez) released their fifth album, El Bueno y el Malo (The Good and the Bad), in collaboration with the Black Keys' Dan Auerbach. The album was inspired by Ennio Morricone's 1967 movie soundtrack for The Good, the Bad, and the Ugly.
The brothers (hermanos), who are the sons of an Ecuadorian mother and a Swiss father, formed their musical partnership in Zurich in 2015. Each took a different path to learning guitar. As a nine-year-old, older brother Estevan learned classical guitar in Latin styles, including salsa and milonga. Later he was inspired by fellow surfer and songwriter Jack Johnson. In contrast, younger brother Alejandro learned guitar by watching YouTube tutorials.
On El Bueno y el Malo, the brothers paint sonic pictures that sway from brooding to solitary and sometimes spooky moods. Alejandro plays electric guitar and lap steel guitar. Estevan plays guitar and percussion, including bongos and maracas. Together, they weave intricate guitar lines together so delicately that it is hard to know when one drops off and the other takes over. The tracks shimmer with psychedelic energy as small shifts in melody and momentum soothe the listener's heart and soul. Reviewers have described the album as a time capsule that resurrects spaghetti western landscapes.
Enjoy these tracks, which are mostly from El Bueno y el Malo.
"El Camino De Mi Alma." On this minor-chord song, the brothers play complementary electric guitars with plenty of soothing amplifier-reverb-tremolo effects. In a beautiful collaboration, one brother lightly taps out the 4/4 rhythms, while the other plays upper register arpeggios.
"El Bueno y el Malo." From the reverberating echo of the opening chord, this title track harkens back to the musical themes of the great spaghetti western composer Ennio Morricone, whose influence the brothers have acknowledged.
"Pueblo Man." On top of three layers of polyrhythms, the guitarists lay down timely chord changes that are sometimes struck simultaneously and sometimes picked individually. The brothers create compositional and performance intrigue that sinks deeply into the listener, pulling us into their world.
"Tres Hermanos (feat. Dan Auerbach)." I especially enjoy the production touches by Dan Auerbach on this track, including softly coaxed bass shaping and electronic feathering of the two guitar signatures. The slow minor-key intro is reminiscent of so many spaghetti western soundtracks. Notice how one brother plays rhythmic support while the other adds vital melody and chords—a good partnership. See it on their YouTube videos.
"Thunderbird." Repeated chord patterns with delightful sonic surprises add color. One cannot escape past influences of western movies in this adventurous song: I see Clint Eastwood riding a horse across the prairie on his way to a showdown.
"Mi Amor." This 2017 track comes from the CD 8 Años. The feeling is more upbeat and delicate, with an attractive Latin flavor. Gentle percussion provides the supporting frame for this charming rolling guitar duet.
"Hermosa Drive." A repeated ostinato pattern between the bass guitar and rhythm guitar drives this gentle "out on the range" song. A truly gorgeous chord pattern during the chorus seems to come along at just the right time, lifting us into a kind of sing-along.
Enjoy full tracks of this music via my shared playlist on Spotify under the handle DJ Andy Bargerstock. I welcome comments at AndyBargerstock@gmail.com.