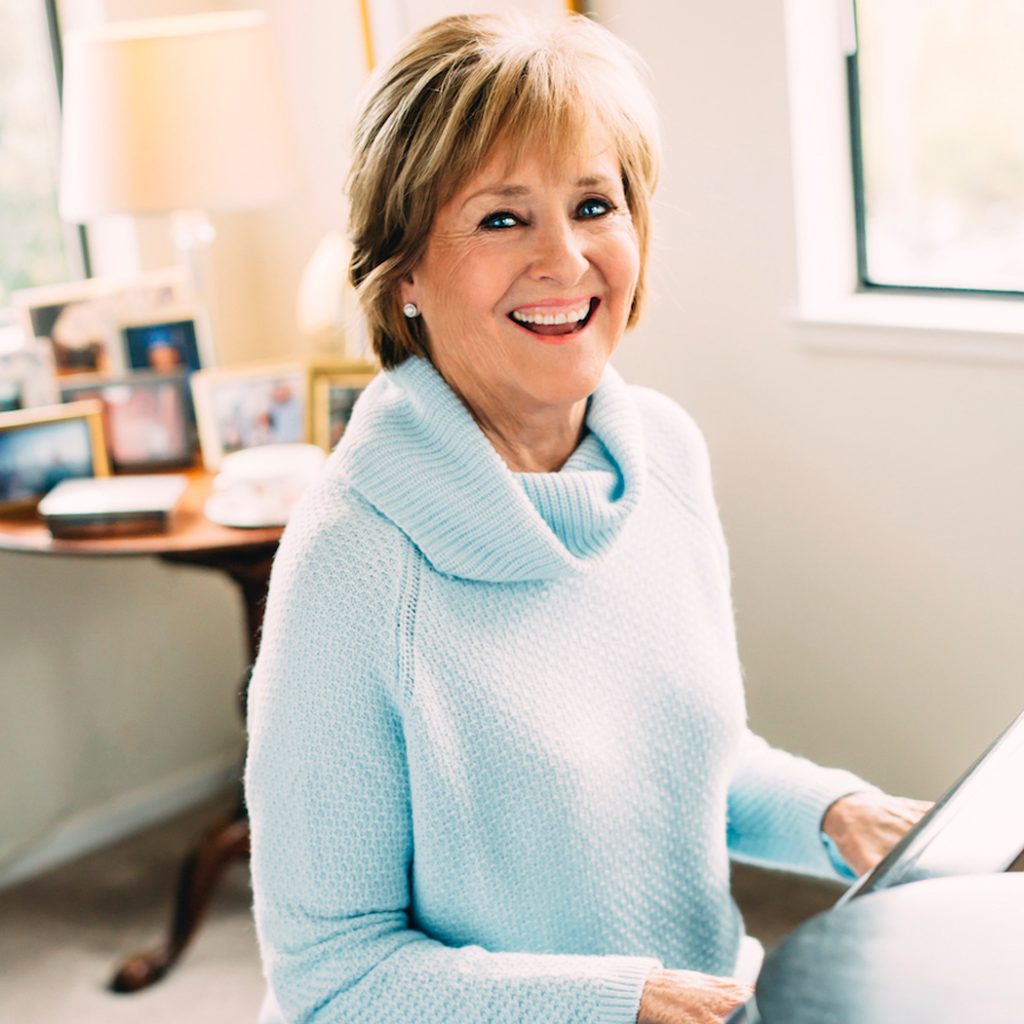 World-renowned mezzo-soprano Frederica von Stade is coming to Iowa. Beloved around the world for her vocal prowess as well as her kindness, the opera diva known as Flicka will be performing at Fairfield's Sondheim Theater on Saturday, September 16.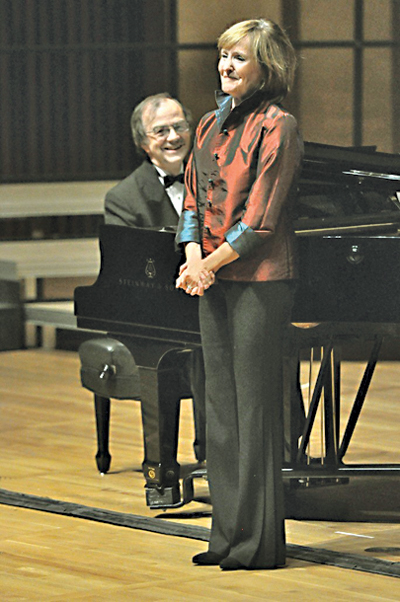 Von Stade is a champion of music education and has a long history of charity work—especially related to children. She was inspired by her accompanist and longtime friend Jim Meredith—who has connections to Fairfield—to participate in a fundraiser for Maharishi School this month. Von Stade retired from full-time singing in 2010 but still graces the stage for special performances. Iowans are extremely lucky to have this chance to experience her world-class talent. "We usually associate the term 'diva' with somebody who's a little difficult and self-centered, who may be extremely talented, but has all this other emotional baggage that sets them apart," says pianist Jim Meredith. "Flicka's none of that. She loves people and she supports people—especially young people. And when she performs, she's amazing."
Von Stade doesn't just sing for an audience, she brings them into the experience. "The audiences just adore her," says Meredith. "She relates to them extremely well. It's always a partnership."
Von Stade says she's thrilled to be performing in Iowa. "I'm excited because Jim Meredith, my pianist, has spent a long time coming to Fairfield. It's one of his passions and he loves it." She feels participating in the fundraiser is a way to "say thank you to him for all he's done for me." It's a sentiment that also showcases the generosity of spirit she's famous for.
For the Fairfield event, von Stade and Meredith have "put together a program that is a little bit biographical." The selection will give a taste of the highlights of von Stade's four-plus-decade career. Meredith adds that the concert will focus on "pieces that she's been associated with and have been meaningful to her." He says some are cute and humorous, and one set of songs contains musical adaptations of poetry that von Stade wrote.
Musical Roots
Born in New Jersey in 1945, von Stade grew up in a musical family. Although von Stade's father died in Germany during World War II shortly before she was born, von Stade's mother—who nicknamed her daughter "Flicka" (Swedish for "little girl")—made culture a priority.
"As a kid I was always singing," she says. It was, in fact, Broadway show tunes that sparked her love of singing. "I got started because I wanted to be a Broadway singer," she says. As a teen in the 1960s, von Stade and a friend would take the train into the city to watch shows in the nosebleed section. "I grew up in a pretty safe world," she says. "We'd go by ourselves at age 14 and 15 to a matinee and evening performance, and take the train home by ourselves. . . . It was the way the world was then." At around 15, she saw her first opera.
Her Met Debut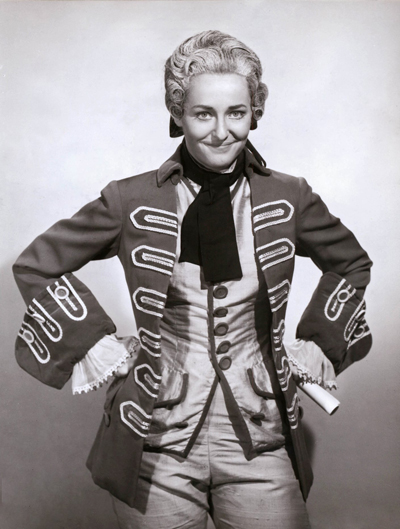 After graduating from high school, von Stade spent a year studying music in Paris, paying her way as a nanny and bartender. Then she moved to New York City, attended Mannes College of Music in New York, and took on various secretarial jobs, which she supplemented with freelance singing gigs. Her singing instructor convinced her to audition for the Metropolitan Opera in 1970.
"And it's been a wonderful life," she says. "I just thank the Lord for every single minute of it—even the bad times when I knew I wasn't singing well or things were going wrong. Walking onto the stage or into an opera house, all of a sudden there's a certain safety, because you're all doing the same thing—you're putting together a performance."
Von Stade says she loves the process of pulling things together and loves the camaraderie between the cast and crew. "No one can imagine—who isn't in the business—what it's like to be with all your colleagues. It's like being with your best friends for six weeks before a show opens and then you're a little bit disappointed because you don't see each other every day."
A Stellar Career
Since debuting with the Metropolitan Opera in 1970, von Stade has performed in operas, musicals, concerts, and recitals all over the world at celebrated performance venues that include Carnegie Hall, the Paris Opéra, the Vienna State Opera, and Covent Garden.
Heralded by critics as having one of the warmest voices of her generation, von Stade has a wide-ranging repertoire, encompassing everything from the Baroque period to contemporary composers. Particularly associated with the Mozart, Rossini, and French repertoires, as well as with contemporary American music, von Stade specialized in 19th-century French operas, bringing forgotten treasures such as those composed by Massenet back into the limelight. Acclaimed for her vast French repertoire, von Stade is known as one of the world's finest interpreters of Ravel's Shéhérazade, Berlioz's Les nuits d'été, and Canteloube's Chants d'Auvergne, as well as the work of Debussy and Duparc.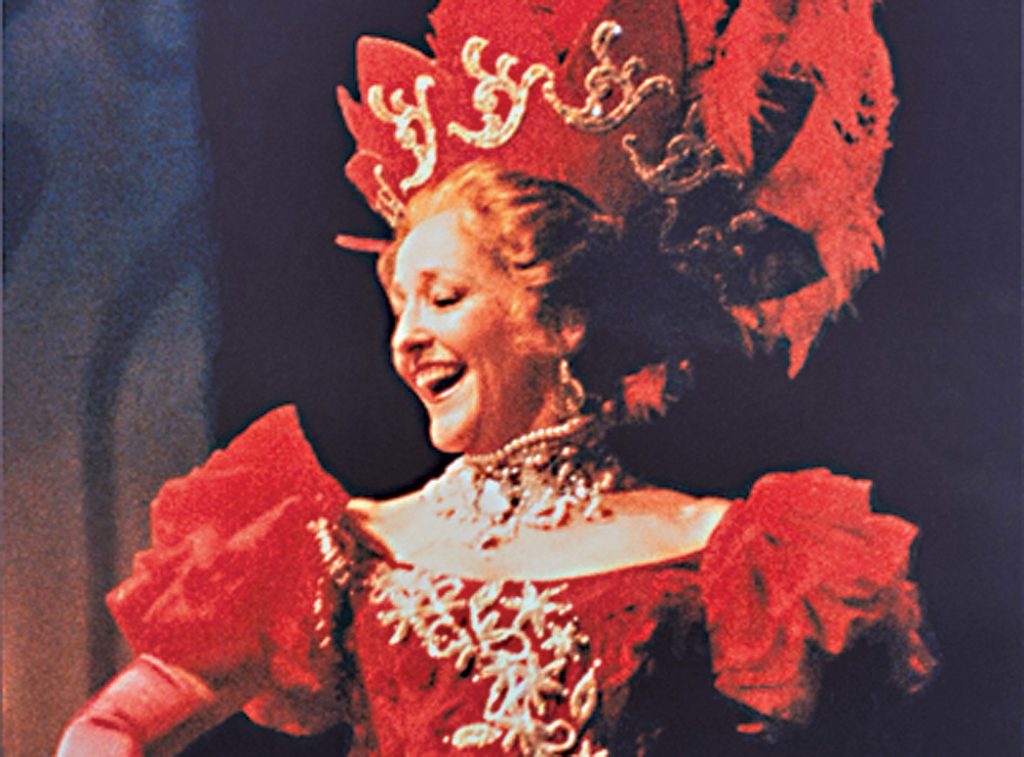 With over 57 operatic roles under her belt—roles encompassing minor parts, male and female romantic leads, and character parts—von Stade is an accomplished actor. She loves performing and looks forward to sharing beloved songs with the audience.
"They're all favorite songs at this point in my life," she laughs, when asked if she has any favorites. "I always loved singing Mozart, especially The Marriage of Figaro—I sang it well past the age of decency. The family in Figaro are a very happy family."
Cherubino, her character in The Marriage of Figaro, is technically a teenager, and one of many iconic roles she's played; she embodied him 48 times at the Met from 1972 to 1992. She also loved performing Mélisande in Pelléas and Mélisande because it was fun "to play a girl with six-foot hair."
Over the course of her career, von Stade has worked with many brilliant composers and conductors, including Leonard Bernstein, Claudio Abbado, Dominick Argento, and Jake Heggie. Argento and Heggie were, in fact, some of the many contemporary composers who crafted roles especially for her, including Tina in the Dallas Opera's world-premiere production of Argento's The Aspern Papers (1988) and Mrs. De Rocher in Heggie's Dead Man Walking (2011)—the most widely performed new American opera of the last two decades.
The Best in the Business
Von Stade is happy to share stories about the amazing people she's worked with. When she first met Leonard Bernstein, she was auditioning "for the little solo at the end of Mahler's Symphony No. 4." Since she was unfamiliar with the work, she had prepared some other things. After she sang, Lenny, as she called him, sat down and taught her Mahler's fourth symphony. She spent "two hours in his office" learning the piece, which was "extremely special," she says.
The many conductors she's enjoyed working with include Claudio Abbado, Georg Solti, Seiji Ozawa, Herbert von Karajan, and Michael Tilson Thomas. She says von Karajan, the principal director of the Berlin Philharmonic, "had a very gruff manner, but he was extremely loving to all the people that worked with him." And she considers Tilson Thomas one of her "dearest friends in the world." She says she "treasures every minute that I had to work with him. We had so much fun."
Contrary to stereotypes about volatile divas, von Stade says that "opera singers are really nice people." While she accedes that "there are stories and people's tempers get hot," that hasn't been her experience. "Because the voice is so fragile, it adds a certain vulnerability to those who perform—to singers. There really wasn't one person in my career that I didn't just admire and appreciate and have great affection for."
Von Stade is also an impressively versatile and prolific recording artist, performing on over a hundred recordings with every major record label, in genres ranging from symphonic works, sacred music, operas, and musicals to art songs, pop songs, folk songs, jazz, and comedy. She has garnered numerous Grammy nominations for best classical vocalist.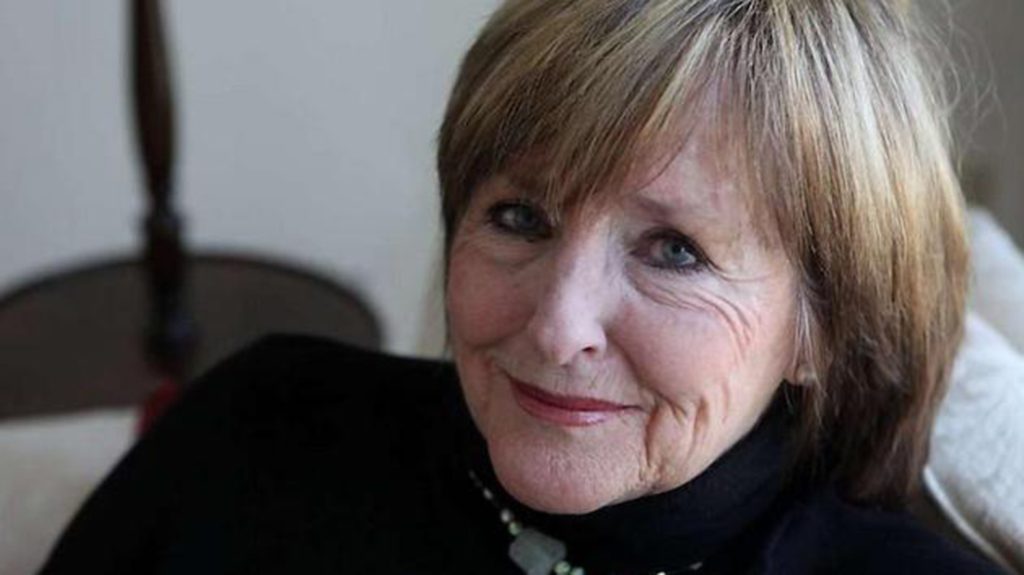 Giving Back
Von Stade feels that exposing people, especially children, to music is incredibly important. "It's a career of giving gifts. It's doing whatever you possibly can to bring joy to people, and have it yourself." She can't stand to have anybody without music in their lives, which has led to her involvement in a number of charities—most notably, the Young Musicians Choral Orchestra (YMCO) and the People's Choir of Oakland (PCO).
Founded by opera singer and educator Daisy Cecilia Newman, who passed away in 2021, the YMCO's mission is to give the best possible musical training and personal guidance to low-income students in the San Franciso Bay area. "Music gives you so much more than just singing," von Stade explains. "It gives you stature. There are kids in our summer intensive that did not play an instrument or anything. And by the end of the week, they can play a tune. Music teaches you so many things. I see it with our kids."
Participants are required to keep a 4.0 grade point average—the attainment of which is celebrated with an annual dinner. Graduates have gone on to attend prestigious music schools and Ivy League colleges such as Yale and Harvard. Jim Meredith is also one of YMCO's instructors. "We have close to a 100 percent success record," von Stade says. "It's just been terrific."
"Having lived a life of music, I would want everybody in the world to have the same opportunities to have it in their lives," says von Stade. She founded the People's Choir of Oakland with a number of fellow artists during the pandemic in 2020 in response to the increasing number of unhoused people in the area.
"We've had a lot of fun doing that," she says, adding, "With our choir, I saw the joy it gave those people just to come together. . . . It's a very underserved community in so many ways and their lives are so, so impossible. Music brings joy. I think it's very much a natural part of humanity to make music."
Tickets to the September 16 concert are available at the FACC Box Office, 200 N. Main, Fairfield. After September 5, tickets will also be available online at FairfieldACC.com.