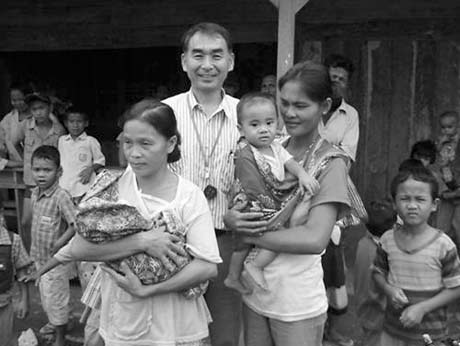 On December 26, 2004, my family woke up to the horrifying news of the earthquake in Indonesia and the subsequent tsunami that caused devastation in Southeast Asia. We were particularly shocked since our father lives in Jakarta,Indonesia, as a representative of UNIDO (United Nations Industrial Development Organization). Since we knew that he was on an island, we were extremely concerned.After contacting his office and obsessively reading the news, we finally heard from him a day later. He called to let us know that he was well and getting ready for the massive relief work that his office would be involved in.
A year prior, while pregnant with my first child, my husband and I visited my parents in Jakarta. I received a beautiful selendang baby sling and was shown how to tie the carrier in its numerous holds. I observed mothers and fathers carrying their content babies with such ease and convenience. I decided then to carry my future child in the same manner. Since my father is Japanese,my parents carried me on their backs with the traditional Japanese onbuhimo.My son and I have enjoyed the same joys of using the selendang sling and onbuhimo back carrier. When he was an infant, I was able to complete my chores with my son snuggled up against me either watching the goings-on or sleeping soundly by the sound of my heartbeat. Now that he is bigger, I've switched him to my hip, where he loves to interact.
Since our family has such a convenient connection to Indonesia, we thought that there must be something that we could do in the aftermath of the tsunami disaster. As many of you surely did, I enquired into ways that I could provide aid, but was not satisfied with just sending money. I finally had a light-bulb moment and brought the two together: HUGS—Help Us Give Slings.
This is our family's attempt to contribute to the hundreds of mothers whose babies were born in the refugee camps, as well as our effort to promote the practice of "baby wearing" among parents in the U.S. My sister and I are selling the slings purchased in Jakarta herein Iowa City and Newnan, Georgia, where she lives, to raise funds and to teach mothers the art of using the traditional baby sling. So far we have done this by word of mouth and within a small circle of friends;however, we hope to speak to any interested local groups or classes. All monies are sent back to our father in Jakarta, who has purchased more slings. While he is on mission with UNIDO he distributes the slings to mothers living in refugee camps in tsunami-affected regions, where itis received as a useful and beautiful gift.
In an email message from our father dated July 13, he writes:
"In Banda Aceh, a UN colleague took me to one of IDP [Internally Displaced Persons] camps. . . . There were at least 10 babies. I had only7 baby slings but I gave each sling to mothers. All of them were so delighted with the unexpected present. . . . There were a couple of mothers who wished to have but I did not have enough so I said that I would come back.
"I went to a local shop and bought 9 additional baby slings and three of them were handed over to the UN colleague to deliver them to the same camp.
"That was the most delightful and pleasant present we have ever made.The cost of the sling is an extraordinary price for people living in that kind of IDP camp. So the baby slings we provided were the essential but luxury gift to those mothers."
The selendang baby sling is 100 percent cotton batik, and has many uses beyond the traditional baby carrier—a blanket, sarong skirt, tablecloth,or wall hanging. You can purchase a selendang for yourself for $20, or a $5 donation will buy an Indonesian mother a new selendang.
The Selendang Baby Sling from Jakarta, Indonesia, is 100% cotton batik, 240cm x 90cm. Choose from: red, green,blue, or purple with white, blue, purple, and gold flowers, maroon or bronze with gold, green, purple, and blue flowers. The material is tied and adjusted to numerous holds and has many uses beyond the traditional baby carrier.  We have used ours as a blanket, sun protection, and as a changing surface. The gorgeous prints could be used as a sarong skirt, table cloth, wall hanging.