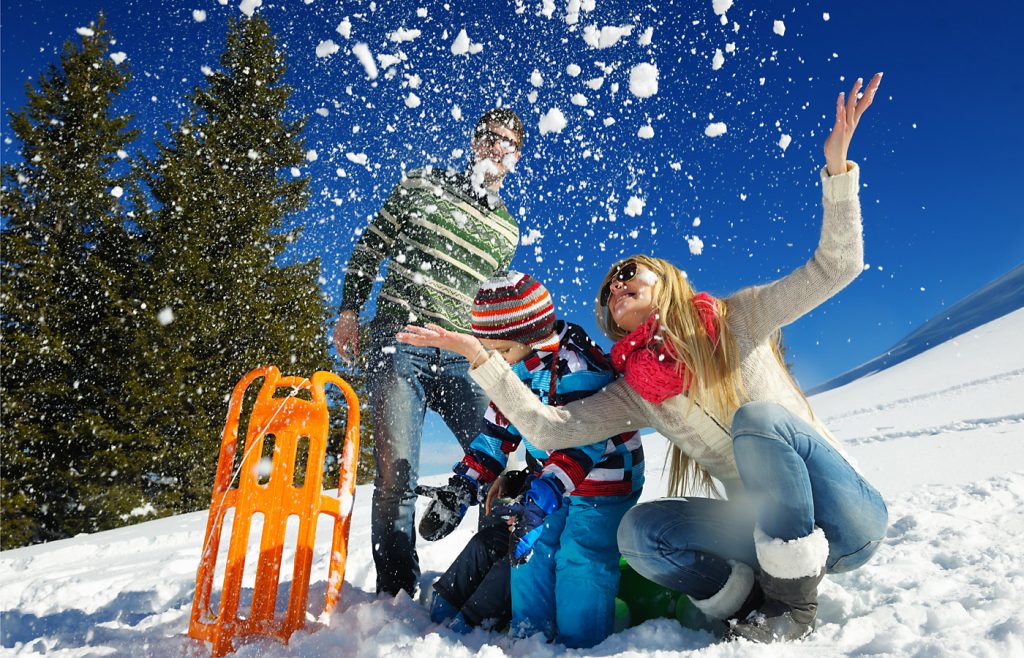 In the last few weeks my friends have been seriously pouting about the coming of wintertime, as if they'll have to succumb to four months in a cold, dark prison cell. I spent three winters in Norway before moving to Fairfield, Iowa. It was there that I fell in love with wintertime and learned to embrace nature's cold cycle—her ice, snow, and many long hours of darkness. Why not incorporate some Scandinavian customs to help make our Iowa winters just as warm and koselig ("cozy") as they are in Norway?
In central Norway, the December sun starts to go down at about 2:00 p.m. and the sun doesn't rise until 10:00 a.m. It never gets full sunlight, and it's always overcast. I asked my friends how they deal with the long, dark, and cold winters that stretch from November to March. With great cheer, many of them said, "You just get into it." Every aspect of wintertime is celebrated, ritualized, and made to the fullest.
Cold Outside, Warm Inside
Picture this: Outside it's freezing, windy, and dark, and the roads are icy. You come home, it's warm inside, candles are lit, the colors are bright and cheerful, and the curtains are open to a scene of snow lit up by the moon. The smell of bread fresh out of the oven fills the air. You put on wool slippers, sit down by a warm woodstove fire, and sip some delicious hot chocolate with a friend.
In Norway, many people experience this sort of warmth every day in wintertime. There's always a house to visit or friends drop by welcomely uninvited.
Create Magic in Contrasts
If you can't go to Norway, then bring some Norway here. Get a bread machine with a timer, and time it so it finishes baking when you get home from work. Light some beeswax or soy candles. If you don't have a fireplace, light some pine or fir incense (use the real kind, not synthetic). Don warm slippers and a fuzzy sweater and relax with your family without the TV on. Or invite someone over for hot chocolate or for no reason at all—just to be. Do this at least twice a week, and you may start to love wintertime.
Get into a winter project such as painting your rooms beautiful and bold colors—remember: gray outside, bright inside. It is typical of Scandinavian homes to have rich colors—a deep red wine color in the living room, or cobalt blue in the kitchen with matching blue and white dishes. Drapes create an atmosphere of warmth. Norwegians use thick natural fabrics that they change each season. Keep live plants around to keep the spring lively inside of your being.
Of the many homes I entered, all had candles burning, adding to the special nurturing atmosphere. The idea is to create contrast with the extreme cold weather conditions outside by creating extreme warmth and cheer inside. It's in that contrast that the magic of winter can be felt.
Ritualize Outdoors Dressing
As an impatient American girl who was used to fast-paced efficiency and instant gratification, I had much to learn when I arrived in Norway. For a while I did not own a car and had to walk everywhere—taking my daughter to and from school, traveling to the grocery store up and down big hills. So the first thing that I had to learn was how to dress myself and my daughter to be outdoors in the cold for long periods of time.
Dressing for the outside is a ritual that I have observed in every Norwegian home. A special entry room stores all the jackets, boots, hats, scarves, and mittens. It is heated, too, so you can leave damp snow pants and boots there to dry out.
The wool hats, mittens, and sweaters are most likely lovingly handmade by someone's mother, grandmother, or aunt. The Norwegians are very proud of their unique, high-quality sweaters made with a sense of timelessness during the long winter months. Each part of the country produces distinct sweater designs and motifs.
The dress starts with long underwear, and at least two pairs of socks. Next comes everyday clothing, then a wool sweater, a silk scarf around the neck, a down coat, mittens, hat, and hood, and another scarf. Are you warm yet?
In America, the likelihood of someone knitting us our own sweater is quite romantic, but unlikely. Instead, invest in several well-made wool or silk sweaters that you really love and would thoroughly enjoy wearing. You should feel great joy when you put these sweaters on. Have a variety of colorful hats, scarves, and woolen tights or silk socks that you look forward to donning. Think about choosing the colors that will uplift you, as well as the thickness, texture, and naturalness of the fibers. Look at your clothes as an additional layer of skin—they should feel that comfortable.
Vikings in the Making
When you venture outside, breathe the fresh wintery air into your lungs and oxygenate your whole mind and body. You'll find it's rejuvenating and energizing to shovel snow when you are warm and toasty all in your winter clothes. Hey, at least we have sunlight here!
In Norway, mothers put their infants outside to nap in the cold air. They say the fresh air makes them strong and healthy. They also have kindergartens outdoors with nothing but a little wind shelter, and the children play in fresh air all year long! They also sleep with the windows cracked open as another way to get fresh air.
Learn a Winter Sport
Moving your body is absolutely necessary in the winter because the cold can make us stiff and achy. Exercise will help stretch and warm the muscles plus keep you in a cheerful disposition to get out of the house and see other people. The Norwegians put skis on children as soon as they learn to walk. Skiing didn't go over too well with me. Growing up in the concrete jungle of Chicago, I never developed my adductor thigh muscles, which are specifically used for skiing.
More Saunas Than Cars
In Finland, saunas are a way of life. They outnumber cars, with one sauna for every seven people. Entire families relax and sweat together two or three times a week to de-stress, purify, and socialize.
So when you just can't get warm in winter, try a sauna. The moist heat warms you to the bone, and you'll be toasty for hours afterwards. The Finns are also known to alternate rolling in the snow naked with a hot sauna—no thanks!
For us in America, we can visit a local sauna or spa a few days per week. And since you're already there, why not include a svensk massasje—Swedish massage—to cheer you up?
Scandinavian Holiday Traditions
I was surprised to find out that Santa Claus is not a part of the Norwegian Christmas tradition. But Norwegians could have invented Christmas from the way they cozy up with family and friends this time of year, eating their traditional sweets and enjoying being with each other for days at a time. Below is a one version of a traditional holiday drink that is served from November through January with homemade pepperkake, or gingersnaps.
Recipe for Glogg
9-12 fresh crushed cardamom seeds
1 cup slivered almonds
2 cinnamon sticks
6-12 whole cloves
6 dried figs
1/2 cup crystallized ginger
1/2 cup orange peel
2 cups raisins
1 sliced lemon or orange
1 bottle of black currant juice or sweetened cranberry juice
1 bottle of apple juice
Wine or brandy to taste
Slowly bring ingredients to a boil. As soon as the mixture boils, remove from the stove and cover pot. Allow to soak overnight. Filter out the spices and fruit. Before serving, warm the liquid but don't let it boil! To each mug of hot glogg, add a teaspoon of the almonds and raisins, and serve with a spoon.
January and February seem to be the most challenging time for Norwegians and others who live in cold climates—the holidays have ended and several more months of winter remain. It's a natural time to go inward, so why not enrich new areas of your life? Explore your creativity and do things you would never do in the summer.
Finally, remember that the seasons always change, and the darkest days of winter hold the promise of spring, new growth, and light.
Bonita Carol is a mother, massage therapist, and sauna enthusiast.