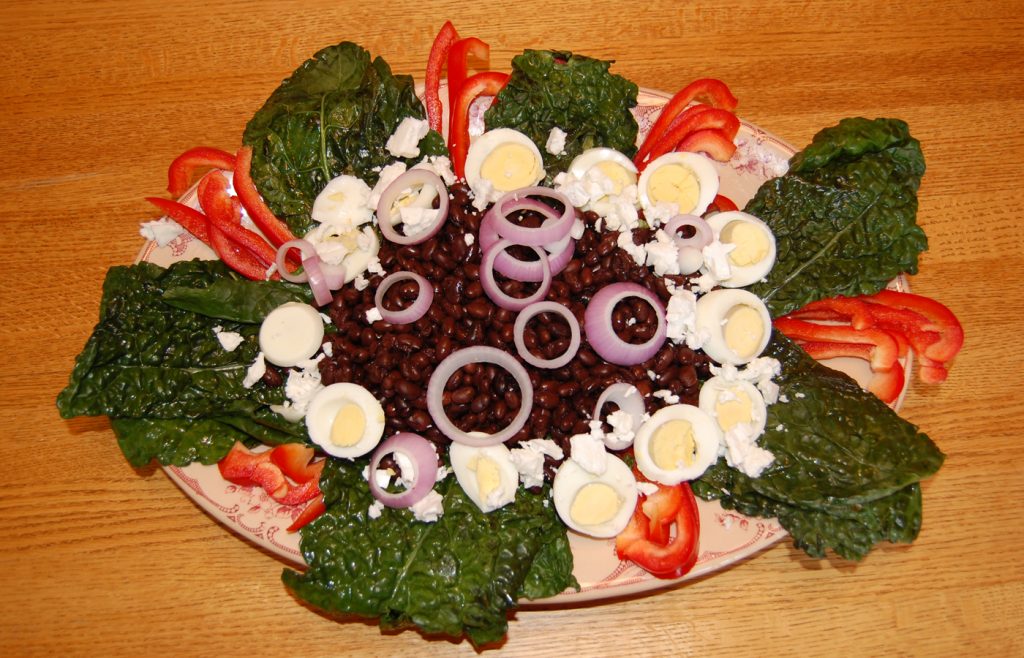 A certain kind of gummy Asian candy is banned in the U.S. because it sometimes lodges in people's throats and kills them. Often, while attempting to chew a stringy, bitter leaf of steamed kale, I worry about swallowing the resultant semi-masticated mess. Will this vegetable kill me? I wonder. So you might think I'm not an ideal candidate to participate in community-supported agriculture (CSA), especially a group that slips an alarming amount of kale into every box of veggies it gives me. Au contraire!
In a reaction akin to the Stockholm syndrome, when confronted week after unwavering week with an ancient foodstuff that looks and tastes like the Loch Ness Monster's eyebrows, I've discovered I love kale. Really, I do.
Paying a set sum to a farm at the start of the growing season in return for weekly boxes of its crops (farmers' choice) holds unforeseen advantages. Cultivating an appetite for nutritious but disgusting vegetables is one of them. The element of surprise does astonishing things for foods you despise. Because you pay far in advance, the farmer seems to be handing you a gift each week. (Actually, he is. Locally grown tomatoes, peppers, and eggplants are so luminous that you glow, too, when you eat them.) Hidden inside a special waxed box, even kale acquires the allure of a mysterious and carefully wrapped present.
CSAs entail other advantages: shopping is fast and efficient. Pints of Chunky Monkey ice cream can't throw themselves into your cart when grocery shopping entails merely driving to a nearby pickup point for your weekly delivery. Also, when magnanimous produce gleams at you from every bin and shelf in your refrigerator, it's nearly impossible to sneak away for the fleeting satisfaction of fast food.
Sadly, these advantages have negative flipsides. Even if workers are replacing your sagging dining room windows and even if this project does entail sawdust mounds,  earsplitting and potentially lethal nailgun blasts, and flies taunting you from the fruit bowl, cutting board, and salt mill, your stash of gorgeous vegetables will wither unless you cook it. Like a beloved family pet, your CSA produce requires that you make appropriate arrangements for it before you embark on vacations. Week after week you may receive foods—hot peppers, say—that inflame chronic medical conditions. The worst consequence of CSA membership for me was the impracticality of continuing to shop at the local farmers' market, where I patronized five or six vendors instead of one.
Happily, certain measures ameliorate these problems. Many CSAs permit the purchase of partial shares. Pay half as much, endure half as much kale each week. Some CSAs provide a shorter-membership option: halfway through the growing season, you can opt not to renew, a useful arrangement if you grow vegetables, too. CSAs sometimes provide online forums where members trade recipes for odd offerings (fennel) or scarily abundant ones (snake beans—our share alone could encircle the moon).
Check out Epicurious.com, an online gem for CSA members. Stymied by an overabundance of Swiss chard and beet greens? An Epicurious search yields tasty options, including the easily concocted Pasta with Greens, Goat Cheese, and Raisins. If the beet greens/Swiss chard/ raisin combination triggers your gag reflex, skim the user reviews for tips on modifications. (Never skip the reviews!)
Epicurious alleviated my kale antipathy by directing me to Julia Child's All Season Bean Salad. The unpretentious name deflected other cooks' interest. No users' reviews! My modifications produced this variation:
Easy-to-Swallow Kale Salad
2 15-ounce cans mixed chili beans (pinto, kidney, black)
1 small purple onion, divided (cut middle into rings, dice ends)
4 garlic cloves, minced
1-1/2 tablespoons oil (divided)
1/2 teaspoon salt
Sage and oregano (fresh or dried), to taste
16 to 24 kale small, tender kale leaves, whole (cut out thick stems)
1 large sweet red pepper, cut into
  32 slices
1 orange tomato, cut into eighths
2 boiled eggs, sliced
1 or 2 ounces goat cheese, diced
Sauté diced onion and garlic in one tablespoon oil until soft and fragrant. Rinse beans. Stir beans, spices, and salt into pan. When mixture is warm, immediately remove pan from heat.
In a second pan, sauté kale in one-half tablespoon oil very briefly. Remove from heat before kale turns mushy. Each leaf should retain its identity. Divide pepper slices into eight bundles; lay them parallel to and around a large platter's edges. Place two or three kale leaves between and perpendicular to pepper bundles. Scoop bean mixture onto platter, leaving peppers and kale visible. Scatter eggs, goat cheese, tomatoes, and raw onion rings over beans.
Serve with corn on the cob and fresh figs. Yum!
Click here for a list of CSAs in eastern Iowa.
Cheryl Fusco Johnson. Cheryl teaches Nia Fitness classes in Fairfield.
See the Index for Recipes, Restaurant Reviews, and more articles on Food.