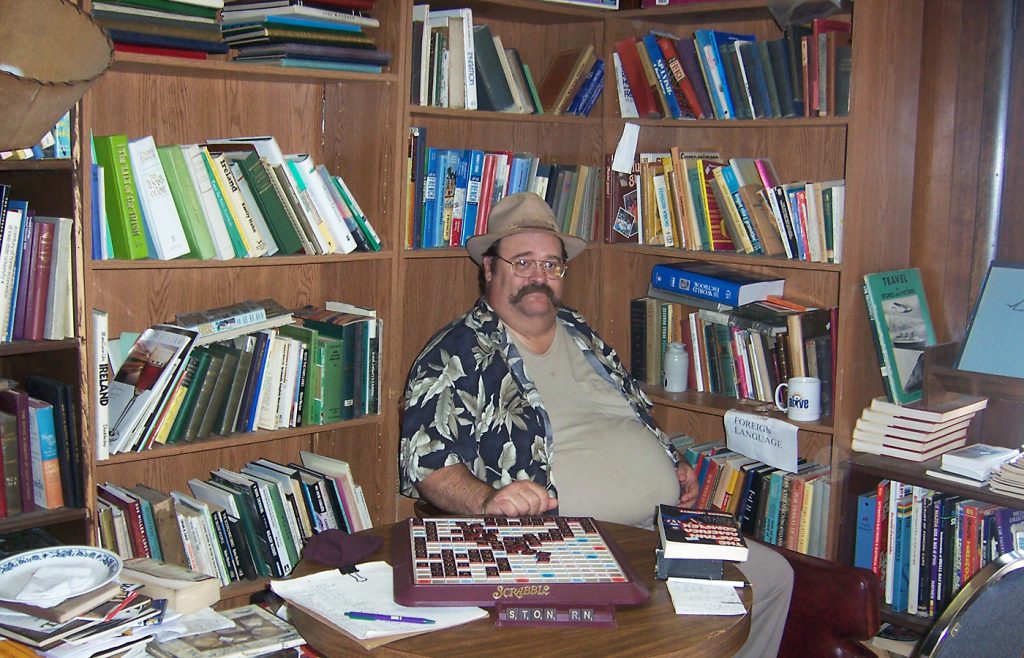 Editor's note: Well-read books closed in 2015.
Thin sheets of paper, the hue of an octogenarian's remaining teeth, threaten to flake like dander beneath my light-fingered touch. The acrid aroma of the pages fills my nostrils, my pharynx, with phantom fiberglass. No publishing year dates this clothbound copy of The Works of Carleton; however, beneath the crossed-out name of a previous owner, "Andrew" has penned his mark, adding "22-9-24" in the same brown calligraphy as his name. On the inside of the back jacket, in the same tawny ink: "My own dear sweetheart, darling [an illegible name: Isla? Lisla?] come to my arms! Yours Fraternally, Andrew."
For $10.50 the book-buyer can quench his lust for Carleton's antiquated Irish tales, but no sum of money will ever uncover who Andrew was nor reveal the story behind his passionate, professedly "fraternal" affection for an unknown lover.
Well Read Books, located on the corner of 17th and High St. in West Des Moines, is a gold mine of such mysteries. Strange relics guard the entrance to this home-turned-secondhand-bookstore: a dust-shrouded barbecue pit, a caved-in wooden bench (on which perches a well-used makeshift ashtray: a stove burner), an empty Fancy Feast cat-food can.
Passing through the heavy wooden door (garnished with a metal grill, held in place by a generous amount of duct tape), one crosses the threshold into another world. The air of this new world is heavy, dank, rich with the sour aroma of ripened paper and thick with dust. Books line the walls of the entry room, once the foyer of this large house, now the check-out desk. More than a store, Well Read Books is a museum: an uncensored sampling of tombs—and the occasional snippet of their owners' lives—throughout the ages.
A semblance of order lingers; the entryway holds foreign works, the more aged texts (a 14th English Edition Concordance of the Holy Scriptures, printed in 1850, is available for $29.95), and books to be sorted. Odd artifacts dapple the moisture-warped shelves: a jeweled pewter cross, two 1950s versions of the board game Risk, a porcelain cup, a torn piece of notebook paper on which someone has scrawled "attempts: civilian civilan." A Scrabble game, in process, spreads out over a table in one corner. In another corner, a gumball machine as laden with dust as with candy, cowers.
The first room on the left offers a selection of classics, psychology, religious, and spiritual texts. A rack of greeting cards (clearly intended for the mature: "For You, Great Grandson, on Your Birthday" and "On Your Golden Anniversary") and dated magazines (including a 1993 copy of Truckin', complete with thong-clad beauty contestants and an article on "Pro-Street Beef," $1.99) serves as the room's centerpiece.
Across the room, in the Christian section, The Extreme Faith Holy Bible (a "contemporary English version," whose only "extreme" attributes are the '80s-outfitted skydiver and other athletes on the cover) can be purchased for $3.95. A weathered 1895 copy of the New Testament sells for a dollar more.
Audiotapes, uncategorized books, and chunks of ceiling ranging in size from sand-grain to slab litter the worn carpet, which smells vaguely of cat piss. Cobwebs stitch together bowed bookcases with water-damaged ceiling tiles. In one corner, a box of flood-victim books harbors an ecological empire: molds in technicolor hues, ranging from clouded emerald to polka-dotted pink, reign over the misshapen pages.
I pick up a small book from a table in one corner: Miss Iva Carlson's Fifth Grade Reader, I am informed upon folding open the cover. Math equations and calligraphy practice sprawl across the pages inside. In one margin, the names "Jess Wilson" and "Dick Weaver" have been carefully scribed. On page 365, a small poem: "Love me little, love me big; love me like a little pig." And on page 270, outlined in black ink: "Devil's Grip." This token of Miss Iva Carlson's Fifth Grade experience can be purchased for $3.95.
Burrowing deeper into the catacombs of Well Read Books, one finds a vast selection of mystery, horror, cookbooks through the ages, 1980s bodice rippers, and children's books. Most sections have been divided into alphabetical order by cuts of manila folder. Paperbacks sell for an average of $1.50. Hardcovers average a dollar more.
Upstairs, where sunlight dances alongside dust, tombs of poetry meet vinyl records, while biographies face off with farmer's almanacs. Sports, travel, reference, art—worlds of words await.
With an ambiance not for the faint of heart (or sinus) and organization that would demoralize any list-equipped book hunter, this unusual bookstore is not for everyone. However, for the adventurer whose treasures lie in mystery, eccentricity, and the unique, El Dorado glows between the pages of Well Read Books.
Visit the Index for more book reviews and articles about Iowa authors.