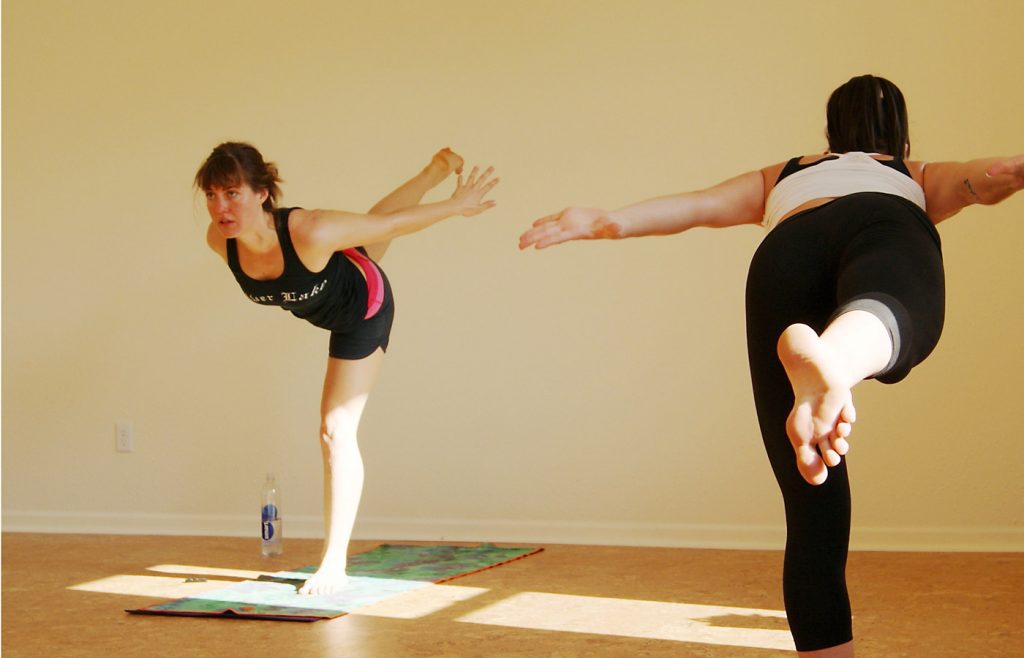 You can practically feel the endorphins pumping as you peek into the sunlit studio filled with 15 determined spinners—feet furiously pedaling—and energizing music dancing from the speakers. "Keep breathing!" the instructor hollers, and rows of sweaty cyclists exhale, keeping their eyes locked on the mirror with intense focus. Down the hall, it's a different world entirely as six bodies stretch, twist, and hold, releasing their tension from the day in a series of yoga poses. Soft music plays in the background of this studio-cum-sauna, set to a heat index of 130 degrees.
Welcome to Open Space Studio, the first Fairfield fitness center to offer hot yoga. Founded in the summer of 2009 by avid yoga-and-spin fan Meghan Dowd, Open Space recently relocated to a newly remodeled, 2,500-square-foot space in the new Orpheum Arts & Wellness Center above the Co-Ed Theatre. The expansive  space encompasses two large studios with hardwood floors and high ceilings, men's and women's changing rooms with showers, a yoga and fitness boutique store, and a private training room.
The change makes a world of difference to Dowd, who "stalked the square looking for spaces that would be a good fit."  She set her intentions high, looking for a beautiful space with an urban feel (or as urban as one can get in a town of 9,500), and last November, came across the winner.  "When I walked up here … I knew when I saw that spin room with all those windows and all that light that this could work," she relates.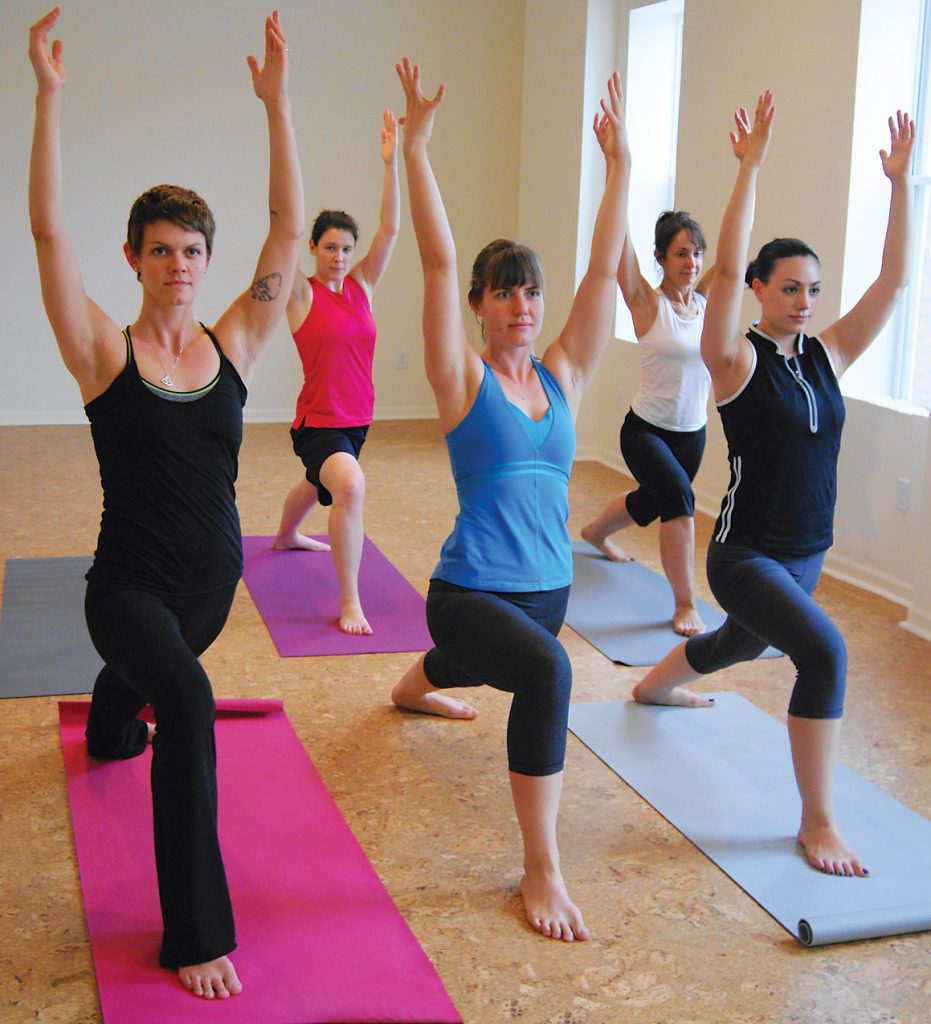 It's a big step up for a business that's not even two years old, and one that Dowd hadn't planned on starting when she moved back to Fairfield from Los Angeles in December 2008, though her yoga and spin experience during her years away were what inspired Open Space's offerings. A Fairfield native, Dowd moved to LA after graduating from Dartmouth, where she earned a degree in Environmental Studies and took her first yoga class. In LA, she took classes at Bryan Kest's Power Yoga, which, being donation-based, were not only affordable for recent grads like herself, but were also hugely popular, sometimes having lines of 100 people going out the door. Going to a class after work became the highlight of her day, and she loved that yoga gave her a workout while also instilling a deeper practice, allowing her to "quiet down from all the chaos of living in LA." While working at Warner Brothers as a writer's assistant on one-hour scripted TV dramas, Dowd would "sneak off during my lunch break to take a spin class just so I could feel sane," using the on-site gym to escape the stress of her long workdays.
Return to Iowa
When the writer's strike brought TV production to a halt, Dowd tentatively returned to Fairfield, but was quickly left wondering what she would do to stay in shape during the long, frigid Iowa winters. A friend of hers who taught yoga, and Dowd's mother, who had taken some spin classes with her in LA, encouraged Dowd to consider opening a small studio. "I knew that I would have at least one client—my mom," laughs Dowd, who launched Open Space with a four-class-a-week schedule. Soon enough, business picked up, and Dowd began the search for a superior facility.
Fast forward to April 4, 2011, the grand opening of Open Space Studio Version 2.0, if you will, which now offers 33 classes a week, including spin, yoga, hot yoga, and combo classes. Word-of-mouth marketing has been a boon in this small yet tightly connected community, as have promotional events such as "The Challenge," an online-based personal fitness challenge that requires only 15 to 20 minutes a day and can be started at any time. Current themes include arms and core strength; glutes and legs are coming up soon.
Also new to the schedule is the moderately paced "Rolling Ride" spin class. Dowd says, "It's one of my favorite classes to teach! And it's fun taking a spin class in the morning, I've discovered—you get your energy up, and it sets the tone for the day. You make all the right food choices after that!"
Hot Yoga
But perhaps the most exciting addition is that of hot yoga—a Fairfield first, and an amazing whole-body rejuvenator. Dowd first took a hot yoga class at Hot House Yoga in Iowa City with Jim Mondanaro, who teaches the Barkan method. After attending a class with guest teacher Wade Imre Morissette (singer Alanis Morrissette's twin brother), Dowd was totally sold, and became determined to share this enlivening technique with Fairfield. She has completed a 200-hour registered yoga teacher certification at Hot House.
So what's the big deal, you may wonder, about hot yoga? Is it worth sweating through the 100-degree temp with 60 percent humidity? Dowd believes so. The heat detoxifies the body, increases circulation, and allows muscles to stretch further and become more supple, resulting in reduced stress and a more focused mind. "Our philosophy is that everybody can come to any class," she explains, "you just have to find the modifications and work from where you're at." She offers classes of 60, 75, and 90 minutes, so that students at every level can be challenged.
The hot yoga studio was crafted with as many eco-friendly choices as possible, from energy-efficient radiant heat panels to odor- and mold-resistant cork flooring made from renewable materials, helping to create a dust- and allergen-free environment.
The First Step
What's next in store for Open Space? Meghan aspires to "become recognized as a premier fitness studio of SE Iowa," attracting people from all over the region and becoming "a hub of activity." She continues, "My goal would be to have a really full schedule . . . and to pull people from all parts of the community . . . [creating] a unifying space."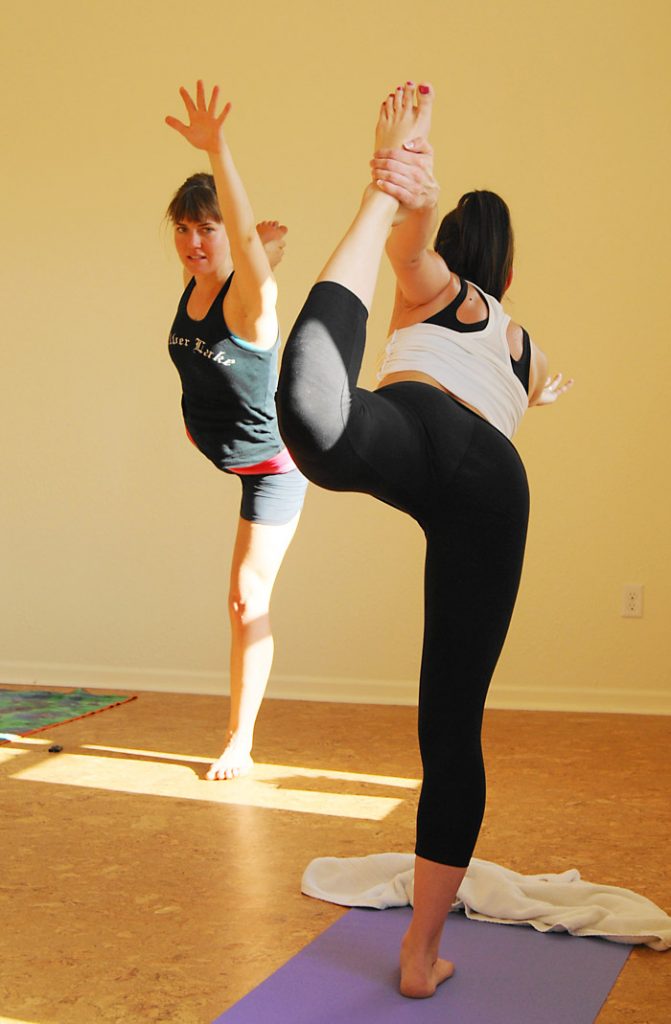 As for newbies to spin or yoga, Meghan encourages everyone to give it a shot. "I think that it's just really important to come and try a class, and then come back and try another one, because you will see a change … a significant change. It's not always easy the first time, but just getting in here is a big step. It's a very welcoming group of people here—we're not fitness fanatics, we're just coming here and having a good time.
Open Space will hold an open house on Friday, May 6, during the art walk. For more information, visit Open Space Studio.