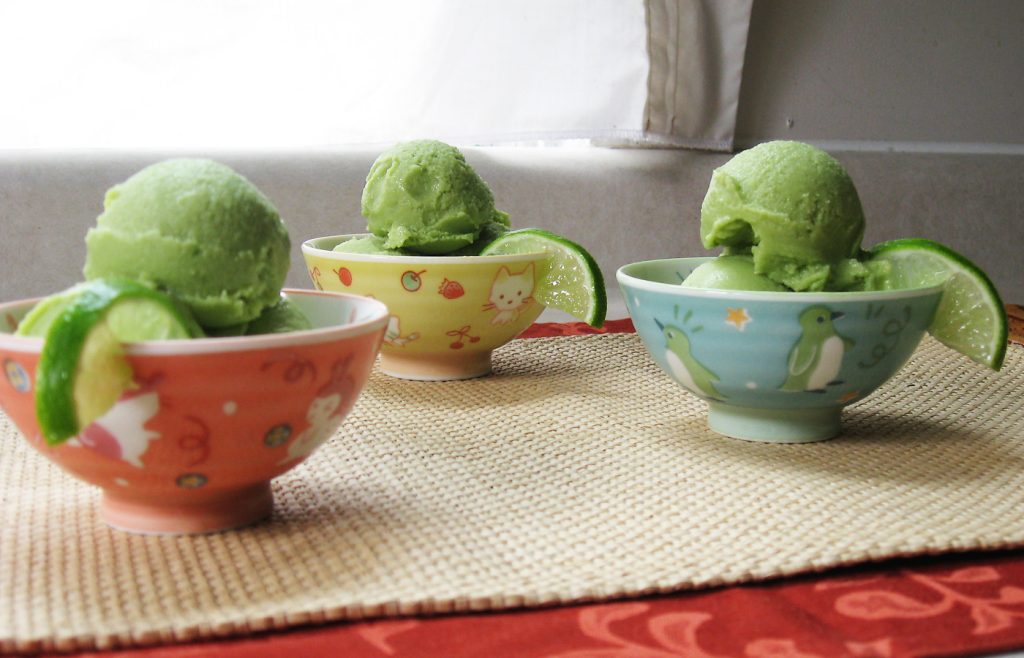 When I was a kid, summer meant living in my bathing suit and flip flops, and hanging out at the pool with friends or lounging in the shade with a good book. And, of course, eating popsicles, ice cream, and other frozen treats.
Sadly, I no longer get to spend all my summer afternoons swimming and reading, but I do still enjoy a cold, creamy treat on a hot summer day.
Avocado Lime Sorbet
(Makes 4 cups)
I used to believe that guacamole was the ultimate in all things avocado, but then I tried this sorbet. After finishing this creamy, sweet, and tart confection, you may be tempted to lick the bowl clean.
1 cup sugar
1 Tbsp. lime zest, green part only
2 cups ripe avocado, about 3 avocados
2/3 cup fresh lime juice, from about 3 limes
1 cup water
Process sugar and zest in food processor about two minutes.
Add avocado, lime juice, and water and process until smooth. Strain mixture through a fine mesh sieve into a shallow bowl and discard the solids. Cover the bowl and freeze for about 2 hours.
Return to food processor and process until smooth. Or, if you have a stick blender, simply scrape down the sides of the bowl and blend the mixture right in the bowl.
Repeat the freezing and blending two more times, then freeze for 1 to 8 hours before serving.
Best if served within 24 hours.
Coconut Fruit Pops
(Makes 8)
These popsicles showcase all the delicious fresh fruits that are available this time of year. The addition of coconut milk leads to a creamy perfection that leaves all store-bought popsicles behind.
3 cups fresh fruit, such as raspberries, blueberries, peaches, or strawberries, peeled and chopped
2/3 cup sugar
½ cup light coconut milk
Combine all ingredients in a blender and puree until smooth. Strain through a fine mesh sieve and discard the solids.
Fill popsicle molds with the mixture and freeze at least 3 hours before eating. Store in the freezer for up to one week.
Variations
Multi-colored Pops. Make two half-batches using two different kinds of fruit. Fill the popsicle molds halfway with the first batch and freeze for 1 hour. Fill popsicle molds the rest of the way with the second batch and freeze popsicles for 3 more hours before eating.
Coconut Fruit Sorbet. Make the coconut fruit mixture into a sorbet using the same method given in the avocado lime sorbet recipe.
Ice Cream Brownie Sandwiches
(Makes 12)
Brownies and ice cream brought together as a sandwich. What could be better?
8 oz. unsweetened baking chocolate
1 cup butter
2-1/2 cups white sugar
2 eggs
2/3 cup milk
1 Tbsp. vanilla
2-1/2 cups flour
1 tsp. salt
1 tsp. baking soda
1 cup chocolate chips (optional)
1 quart of your favorite ice cream
Preheat oven to 375° F.
Line a 9 x 12-inch pan with foil, leaving a two-inch overhang, and grease well.
Melt chocolate and butter together in a small, heavy-bottomed saucepan on low heat. Set aside.
Whisk together sugar, eggs, milk, and vanilla.
Stir in flour, salt, and baking soda until just blended.
Stir in chocolate chips if using.
Spread batter evenly in pan. Bake 35 to 40 minutes (do not overbake).
To Assemble:
Allow the brownies to cool completely.
Soften ice cream by setting it out on the counter for about 40 minutes.
Remove brownies from pan using the overhanging foil to pull them out.
With a serrated knife carefully split brownies into two layers.
Spread softened ice cream evenly over the bottom layer and cover with the top layer.
Wrap tightly in plastic wrap and freeze for at least 3 hours.
Cut into 12 individual servings. Serve right away or wrap individually and freeze for up to one week.
See the Index for Recipes, Restaurant Reviews, and more articles on Food.