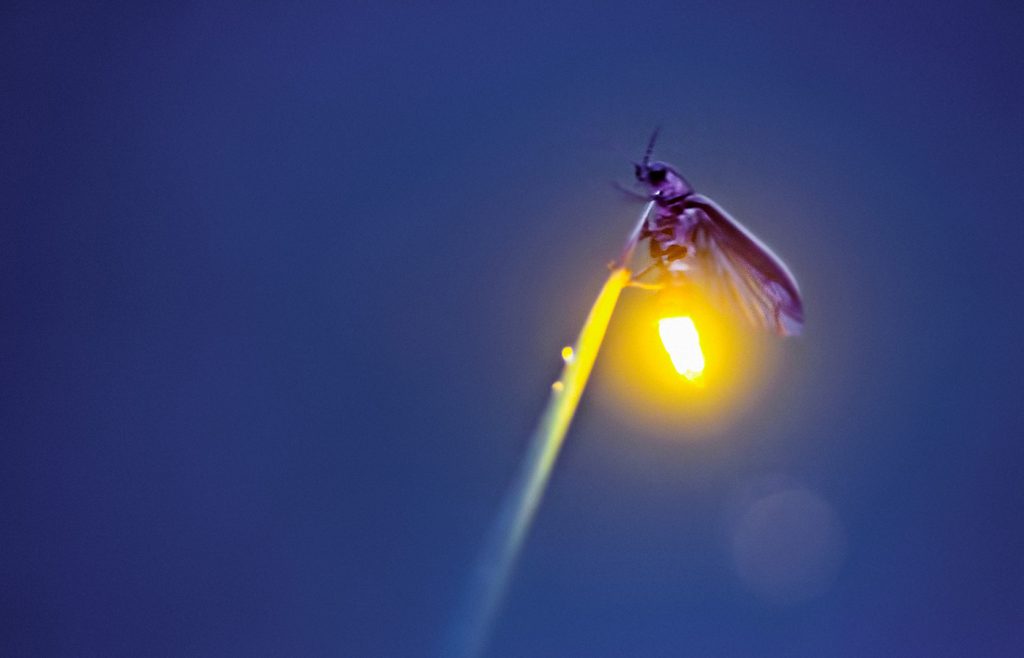 The little luminary pictured above was photographed by award-winning photographer Radim Schreiber, of Fairfield, Iowa. The photo, entitled Amber Firefly, claimed this year's Smithsonian Magazine Photo Contest in "The Natural World" division.
A designer, photographer, and videographer at the Sky Factory for nine years, Radim has won several national and international photography competitions, including the 2008 and 2009 Rainforest Alliance's "Picture Sustainability" Photo Contest and the 2010 Galapagos Conservancy Photography Contest. Below, Radim discusses lighting, lenses, and all things Lampyridae.
Christine Schrum: What draws you to nature/macro photography?
I love nature. It brings me strength, joy, and connection with myself. I find nature photography very therapeutic and relaxing. Often there's lots of clutter in my mind, and nature brings stillness and peace. When I look through the viewfinder, the camera and lens become extensions of my vision, and I can contemplate nature on a deeper level and appreciate its beauty. When I manage to capture the perfect moment in a photograph, there is great stillness and joy. Time is frozen, and there is no place for mental clutter and stories. I seek this connection with nature and I want to communicate it to others with my photography and audio/visual presentations.
You're particularly captivated by fireflies. What's the fascination and how long have you had it?
Fireflies are very rare in the Czech Republic, so when I saw them in such numbers in Iowa, I was mesmerized.
I have dreamed about photographing fireflies since I started photographing insects more than 10 years ago. For at least three years I have been out almost every summer night photographing fireflies around Fairfield.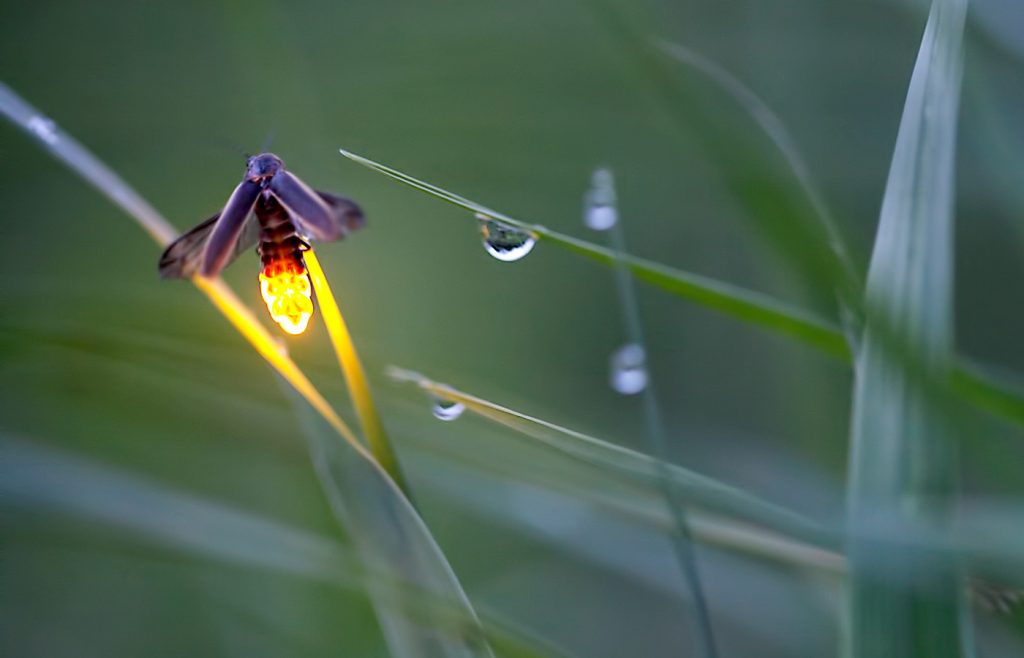 I hear you've braved ditches, swamps, mosquitoes, and chiggers to obtain fantastic firefly photos. Any crazy/amazing anecdotes to share?
Chiggers are worse than mosquitoes. One time a chigger bit me inside my belly button and I felt sick and feverish for a few days. I also have some bad memories with poison ivy. I actually had to go to the hospital after one macro shoot. When I was in college, I sometimes came to class with soaked shoes, but I was happy that I got beautiful shots.
Let's talk technique. What can you tell us about your equipment and process?
Photographing fireflies is very challenging! Night photography requires longer exposures, manual focus, and the use of a tripod, but fireflies are constantly on the move, so I often end up with blurry photos anyway. For firefly macro work, my shutter speed needs to be as fast as possible, so I try to photograph during dusk hours before it gets very dark and I use the highest usable ISO, often 3200. I have to take many thousand photographs before I get a few great ones.
When it comes to cameras, I use a 21 megapixel Canon 5D Mark II DSLR with Canon 100mm F/2.8 lens to photograph fireflies. I also try to create images that are true to nature. For that reason I do not use flash or software manipulation techniques.
You recently held a multimedia exhibit at the Teeple Hansen Gallery in Fairfield. Tell us about the experience you created for visitors.
It was my first solo show, and I created a complete summer night ambiance. All the photos were illuminated with small pin lights and the room was filled with the sounds of crickets and frogs. People were very joyful, reconnecting with memories from their childhoods. I believe that the night ambience helped to bring these nostalgic moments. I am looking forward to showing my multimedia exhibit and photography in other cities.
You've researched fireflies widely; what's the most important thing our readers should know about them?
Fireflies are diminishing in numbers and I hope that one day they don't become an endangered species. Other interesting facts: their bioluminescent glow doesn't radiate any heat; even the most advanced technologies have not been able to reproduce that.
Also, birds and other animals don't eat fireflies because they are toxic. Female fireflies are not born toxic; they gain their toxicity by eating male fireflies.
You've traveled the world over for photography—personally, professionally, and as a result of winning awards. Can you share some highlights?
Most of my highlights are when I discover some new beautiful place or an animal, and special light. Recently I had the opportunity to photograph Basilisk lizards and Yellow Eyelash vipers in Costa Rica. But even though I have lots of great memories from remote places, I still consider seeing fireflies as one of my most magical experiences.
Last year, during my night photographing, I went to Lamson Woods near Fairfield; it was pitch black and full of fireflies. They were illuminating my path. I felt like I was in a fairy tale. Often I discover that best things are right here, close to my home. I consider this true not only for my photography, but also in my personal life.
 What is life? It is the flash of a firefly in the night. It is the breath of a buffalo in the wintertime. It is the little shadow which runs across the grass and loses itself in the sunset. —Crowfoot Siksika Chief, 1830-1890
To see more of Radim's firefly photography, visit www.FireflyExperience.com. You can also see his portfolio at www.RadimPhoto.com.