TV Shows: February 22-28
From the 2011 Oscars: the PS22 Choir performs "Somewhere Over the Rainbow."
I'm trying to be optimistic about the Academy Awards (Sunday, Feb. 26, 6 p.m., ABC). I hold out hope for an enjoyable ceremony even after last year's fiasco with hosts James Franco and Anne Hathaway; even after Eddie Murphy dropped out of hosting this year's event in favor of the (too?) familiar Billy Crystal. Yes, the Academy nominated all the obvious movies and performances, the ones that waved big "CHOOSE ME!" signs. And, yes, like most viewers, I plan to do my taxes during Best Sound Editing and the many other technical awards that matter only to the recipients.
So what do I have to look forward to? A loopy speech by Meryl Streep, a poignant one by Viola Davis, or a dreamy one by Michelle Williams for Best Actress; I'm good with any of those. A Best Supporting Actress win for Bridesmaids' Melissa McCarthy (I told you I'm trying to be optimistic). And, of course, another awards-season appearance by the dog from The Artist. If he doesn't show up at the Kodak Theater, I'll just have to go see him in the movie again. Really—he's that cute.
Memphis
Sunday, Feb. 26, 1 pm (PBS)
Memphis turns the radio dial back to the 1950s to tell the story of a white DJ, named Huey Calhoun (Chad Kimball), whose love of music transcends race lines and airwaves. (Photo
courtesy of Broadway Worldwide)
Here's a deal for you: Instead of shelling out $100-plus to see Memphis on Broadway, you can see it for free on PBS. (I'll bet you didn't know that reading this column can actually save you money, did you?) The broadcast marks the first time a Best Musical Tony winner has aired on national TV with its original principals while the show is still touring and running in New York.
Montego Glover plays Felicia Farrell, a young black singer whose career is on the rise, in Memphis, winner of the 2010 Tony Award for Best New Musical. (Photo
courtesy of Broadway Worldwide)
Memphis is set at a significant moment in history, when racial barriers were about to fall in the South. A white Memphis DJ (Chad Kimball) develops an interest in rhythm and blues songs, not to mention the African American beauty (Montego Glover) who wails the forbidden music in a Beale Street club. The show isn't exactly profound, but it offers a fun evening of singing and dancing while using the social issue as set dressing.
Question: Where was American Idol when the stunning Glover worked at Disney World as an unknown singer in the mid-2000s? Asleep at the wheel, as usual.
Celebrity Apprentice
Sundays, 8 pm (NBC)
Donald Trump abandoned his presidential campaign to return to reality TV. And you know what? If his presidency were as entertaining as the new season of The Celebrity Apprentice, I'd consider voting for him.
So far, Trump has toned himself down to become almost statesmanlike. He's firm with the grade-Z celebrities vying to win his business competition (Arsenio Hall, George Takei, Aubrey O'Day), but not overbearing. During the elimination segment, he judiciously weighs the contestants' reasonable comments while quickly dismissing their self-serving ones. When you think about it, that wouldn't be a bad approach for presidential cabinet meetings. As '80s pop star Debbie Gibson sagely observes, "Mr. Trump has a great B.S. meter."
Trump in 2016? With Gibson as V.P.?
Eastbound & Down
Sundays, 9 pm (HBO)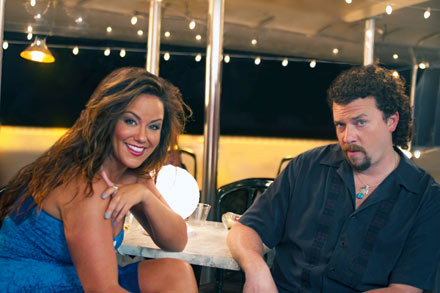 Katy Mixon and Danny McBride from HBO's Eastbound & Down.
In the new season, star pitcher Kenny Powers (Danny McBride) has become a pathetic loser as both a man and an athlete, struggling through minor league games in South Carolina. The humor springs from the fact that Kenny doesn't know how pathetic he is. Eastbound & Down shows the macho personality at its most benighted: swaggering even when there's nothing to swagger about. This week, Kenny is left in charge of the infant son he wants nothing to do with, as that would involve thinking about someone other than himself. After failed attempts to pawn the baby off on others, he decides to send him down the river in a basket, putting the best possible face on it: "Find your destiny!"
When Will Ferrell shows up as Ashley, a car dealer bent on destroying Kenny, the portrait of male behavior becomes even more demented. If you thought Kenny was self-involved, Ashley takes it to even more perverse extremes, with Ferrell clearly enjoying himself.
The ending, in which Kenny escapes from Ashley's clutches, is mock-heroic—though in a satire this unhinged, "mock" doesn't seem like a strong enough word.
American Experience
Tuesday, 7 pm (PBS)
"The Amish" profiles the strict religious sect that renounces modern technology and believes the world is just a pass-through on the way to eternity. There are about 250,000 Amish people, concentrated in rural communities in the Canada and the U.S., including Iowa. Interestingly, they're dwarfed by the 20 million tourists who come to gawk at them each year. "Is it any different than going to Disneyland?" asks a puzzled Amish farmer as he watches another tour bus drive by.
The documentary gives us a front seat on that bus, filming the Amish lifestyle up close. We watch them read the Bible, ride around in buggies, and read the Bible some more.
To be honest, I think I prefer Disneyland.