Tiny warbling vireos serenaded from the treetops as the group wandered down grassy paths in Lacey-Keosauqua State Park. (Photo © Helen Blake)
Binoculars in hand, two dozen dedicated birdwatchers gathered early in the morning on Saturday, May 12, to look for elusive warblers at Lacey-Keosauqua State Park in Keosauqua, Iowa. May is the ideal time to see many types of warblers as they migrate through the state on their way north. Diane Porter shared her extensive knowledge as she led the group through the woods, and "birdsong guru" Corey Holden of Keosauqua helped identified their songs, long before they were visible.Wildlife photographer Helen Blake generously shared her photos of the walk.
Birders spotted (or heard) nearly a dozen different types of warblers, plus a number of other colorful and uncommon birds, including Baltimore orioles, summer tanager, scarlet tanager, pileated woodpecker, yellow-billed cuckoo (heard but not seen), phoebes, spotted sandpiper, vireos, and Indigo buntings. At Ely Ford, where the group initially gathered, everyone got a glimpse of the bald eagle in a giant nest which has been there for several years, a ways down the river on the opposite side.
This photo of the Tennessee warbler highlights the warbler-watcher's dilemma: warblers are often extremely hard to spot, as they prefer treetops and can easily be obscured by leaves. (photo © Helen Blake)
The yellow throated vireo (photo © Helen Blake)
The scarlet tanager (photo © Helen Blake)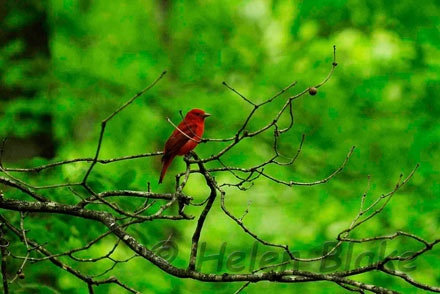 The summer tanager (photo © Helen Blake)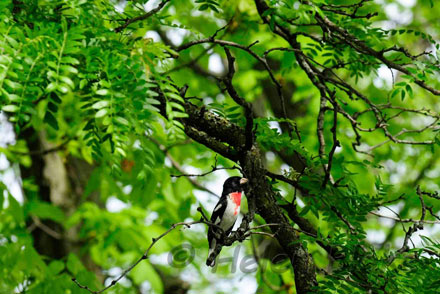 Rose-breasted grosbeak (photo © Helen Blake)
Indigo bunting (photo © Helen Blake)
Great crested flycatcher (photo © Helen Blake)
At the end of the warbler walk, birders took a break at a picnic table at Ely Ford, with Diane Porter in front. (photo © Helen Blake)