East West Riverfest is a mega-celebration of the arts, with events on both side of the MIssissippi in the Quad Cities.
The summer may be winding down, but don't despair, the fun's not over yet! Some of the best festivals in Eastern Iowa take place in August and September. These festivals offer something for everyone—from filmophiles, brew enthusiasts, and art appreciators, to music lovers, families with kids, and sand-castle aficionados—sometimes all at the same event!
Bix Beiderbecke Memorial Jazz Festival
August 2–5
Davenport
If you love traditional jazz from the '20s and '30s, then head over to Davenport, the hometown of Leon "Bix" Beiderbecke, for some of the best jazz from that era played over four days in three different venues.
Bix fans can join the historical bus tour highlighting Beiderbecke's childhood home and other historical locations, including venues that he played. There will also be a graveside service and concert at his resting place on Saturday morning.
Festival performers include Wally's Warehouse Waifs, the Manny Lopez Big Band, the Jim Cullum Jazz Band, Andy Schumm & His Flatland Gang, the Barehanded Wolfchokers, and many more.
15th Annual Hardacre Film Festival
August 3–4
Hardacre Theater, Tipton
Hugo Dillon and Molly Ryman in Things I Don't Understand, which will be screened at the Hardacre Film Festival.
Attracting filmmakers and moviegoers from as far away as New Zealand, Iowa's longest-running film festival offers a chance to view independent and underground cinema. Movie lovers will see brand-new independent films just hitting the festival circuit, none of which has been screened in Iowa before.
The festival lineup this year includes feature-length films The Entertainers, On the Mat, The Sheik and I, Souvenirs: Healing After War, and Wonder Women! The Untold Story of American Superheroines.
The festival will also include filmmaker Q&As, a wine tasting, and live music. While you're in the area, be sure to check out Celebrate Tipton, a citywide arts and entertainment event featuring live music, fine art shows, kids' activities, food vendors, and a street dance.
Sand in the City
August 10–12
Downtown Iowa City
Giant sandboxes filled with fantastical sand sculptures will line Iowa Avenue from Clinton Street to Linn Street in downtown Iowa City during the fundraising event for Summer of the Arts. Each sand team works with professional sand sculptors and local architects to build incredible sculptures using more than 200 tons of sand! Attendees can use Sand Dollars to vote for their favorites, get into the Kids FUN Zone, or purchase beverages.
Other events include art exhibits, a culinary row, and live music by Surf Zombies, Tony Brown, Apollonia, Tallgrass, Neil Hewitt, Brushfire, Jake McVey, North of Forty, and Renegade.
Rollin' on the River Blues Festival
August 17 & 18
Victory Park, Keokuk
Every August, families and friends come together on the banks of the Mississippi to celebrate the quintessential American music genre known as the blues, with great company, delicious food, and live music by blues greats. The festival also offers instrument workshops and other activities for younger fans free of charge.
The 2012 lineup includes Iowa Blues Challenge winners Serious Business, eclectic singer and guitarist Craig Erickson, slide guitarist Eric Sardinas, local favorites the Mahoney Cousins, Iowa Blues Challenge winners the Pain Killers, Blues legend Eddie Taylor Sr.'s daughter Demetria Taylor, and the rule-breaking, award-winning band the Nighthawks.
Midwest Old Threshers Reunion
August 30—September 3
Old Threshers Grounds, Mount Pleasant
Vintage farm machinery parades around the Mount Pleasant square in the Midwest Old Threshers Reunion.
Celebrate our agricultural heritage at this family friendly event. In its first 50-plus years, the Old Threshers Reunion has grown to be the largest event of its kind in the country. Approximately 50,000 people from every state and around the world visit.
Old Threshers has something for everyone, including antique tractors, cars and trucks, steam engines, trolleys, great food, antiques, a kids' area, a log village, an Old West town, daily parades, nightly concerts, and much more.
Grandstand entertainers are Country Gold, Glen Templeton & LoCash Cowboys, Thompson Square, and Eli Young Band.
Iowa Women's Music Festival
September 1
Upper City Park & the Englert, Iowa City
This popular festival has two parts—a free afternoon of live music in the park, followed by another concert at the Englert for which admission is charged.
Kim Char Meredith, EmJay, Coles Whalen, Big Bad Gina, Erika Luckett & Lisa Ferraro, Sharon Jackson Band, Camille Bloom, and the Recovery will all be performing live at the park. Bring lawn chairs and blankets, and get there early for the best seats. This family friendly event will also feature a kids' area and craft, food, and merchandise vendors.
In the evening festivalgoers can head over to the Englert for more live music: a double bill of Cris Williamson and Ferron & Bitch at 8 p.m. Ferron & Bitch will also be showing their film Thunder.
East West Riverfest
September 7–16
Quad Cities
This ten-day celebration of the arts, culture, and heritage of the Quad Cities features over 300 events in 100-plus venues on both sides of the Mississippi. The first weekend features the Beaux Arts Fair, the Quad City Symphony Orchestra's Riverfront Pops Concert, and the Viva Quad Cities Fiesta. The following weekend visitors can attend the Celtic Festival and Highland Games, Riverssance Festival of Fine Art, and Brew Ha Ha. There is something to do every day, including theater, workshops, tours, and many free events.
Landfall Festival of World Music
September 19–22
CSPS Hall, Cedar Rapids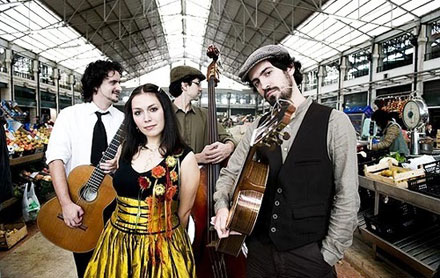 Landfall Festival brings in a beguiling mix of world music acts, like Deolinda, from Portugal. (photo: Rita Carmo).
This world music festival aims to use music as a means to bring together people from different backgrounds, creating spaces where they can learn about each other, listen to each other, get in a groove, and get down.
The first Landfall Festival took place in 2008, just a few months after Cedar Rapids was flooded. Since then, the Landfall stages have welcomed hundreds of musicians, singers, and dancers, representing dozens of countries and all six continents, allowing audiences to experience outstanding music from around the globe.
This year's headliners include Deolinda, from Portugal, with their hip-hop take on the traditional fado; Hanggai, from China, with their affinity for American cowboy songs; as well as Movits from Sweden, Terakaft from Mali, and MC Ra from Tunisia.

Lincoln Highway Arts Festival
September 22
First Street, Mount Vernon
Art lovers, this festival is for you. Started primarily to provide eastern Iowa artists a venue to showcase their talents, the festival now attracts artists from all over the Midwest. Because the festival is juried, only 50 of the best artists will be showing their work in a two-block area in one of the "10 Coolest Small Towns in America."
If you find yourself needing a break from all the amazing artwork, check out the delicious food, live music, and art demonstrations that the festival offers.