Robert Wolf
Throughout his career as a teacher, journalist, editor, author, and small-press publisher, Robert Wolf, the director of Free River Press, has focused on giving a voice to people whose experiences might otherwise go unnoticed.
"Like Walt Whitman and Studs Terkel," a Booklist reviewer wrote of Wolf's American Mosaic, "Wolf hears America singing, and he wants us all to listen."
In 1989 Robert's penchant for giving everyday folk a voice blossomed during writing workshops he taught in a men's homeless shelter in Nashville, Tennessee. National Public Radio aired an All Things Considered episode on the workshops, which included men, women, homeless, and non-homeless participants.
A year later Free River Press was born as a nonprofit educational corporation. By 1991 the fledgling press had published six books by homeless people. That same year, Robert moved to Iowa with his multitalented wife, artist and folksinger Bonnie Koloc, who was born in Waterloo.
Robert Wolf leads a writing workshop.
Somehow Robert convinced local farm families to participate in writing workshops and publish their work in a book called Voices from the Land. The first of many Free River Press tomes to focus on rural issues, this book was featured on NPR's Morning Edition and in a widely disseminated Associated Press story.
Living in Iowa, Robert witnessed firsthand the Midwest's economic challenges and concluded that regionalism could alleviate some rural problems. Aired on Iowa Public Radio, his six-part commentary, Developing Rural Regional Economies, won the Sigma Delta Chi Award for Best Radio Editorial of 1994.
Robert then initiated two regional surveys, compiled in The Northeast Iowa Book (1997) and The Iowa River Corridor Book (2004). Supervised by a professional photographer, local students produced photo essays for the books, while at colleges and schools, adults and students wrote the stories for it.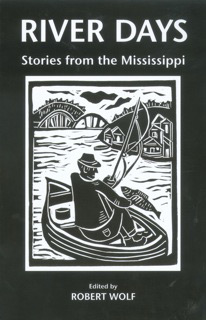 River Days, one of many books published by Free River Press, features a cover illustration by Bonnie Koloc.
Today Free River Press is headquartered in Decorah, with its stated mission to create "an enduring collection of Americana . . . written primarily by people without literary ambition."
Encouraging people to write fosters conversations, and innovative ideas can spring up when people converse. After reading two guest newspaper columns Robert wrote about the need to create greater regional self-sufficiency, a group in Decorah met to discuss bartering. A local time bank was set up, and it now has 100 members.
"Recently, I spoke with a young farmer who moved to Iowa from Colorado to become part of the family farm as a result of reading some of the Free River Press farm books," Robert said. "Whereas 20 years ago people thought I was a little nuts for advocating regionalism, now I hear it popping up fairly frequently in conversations."
Robert continues to conduct writing workshops all over the U.S. Even for people with literary ambition, writing is often daunting. So how does Robert succeed in getting everyday folk to record their thoughts? During a six-year teaching stint at Chicago's Roosevelt University, Robert taught composition classes and developed an orally oriented writing technique.
"Student writings became fuller and more interesting when I asked students to tell the class what it was they intended to write," Robert said. "Since students would oftentimes give very abbreviated versions of their ideas, this naturally led me to ask them questions about their subjects and to have other students ask questions."
Nonstop writing became part of his technique, as well. Robert had used tips from Jack Kerouac's essay "Essentials of Spontaneous Prose" in his own writing to good effect. "When everyone had told his story, I advised the class to write their stories as quickly as possible, so as not to get hung up on word choice or grammar."
Student feedback was part of his process, too. Robert recorded writing strategies in Jump Start: How to Write from Everyday Life, published by Oxford in 2001.
In 2010 Free River Press launched a weekly half-hour radio program, American Mosaic, which includes music, interviews, and writings produced during workshops. "New media are crucial in spreading the gospel of regional self-reliance," Robert said.

©2012 Cheryl Fusco Johnson