TV Shows: Jan 9-15, 2013
Writer/actor Lena Dunham as Hannah in Girls (Jessica Miglio, HBO)
Part of me would love to be 26-year-old Lena Dunham: widely hailed as a comic genius when her series Girls premiered on HBO last year. Another part of me wouldn't want to be Dunham at all: forced to show that season one wasn't a fluke by delivering an equally brilliant season two. But the premiere episode (Sunday, January 13, 8 p.m.) proves that Dunham has plenty more up her sleeve. The tattooed writer-director-star continues to find fresh laughs, fresh poignancy and fresh idiocy in the lives of her four young characters, who struggle with post-college life in New York City.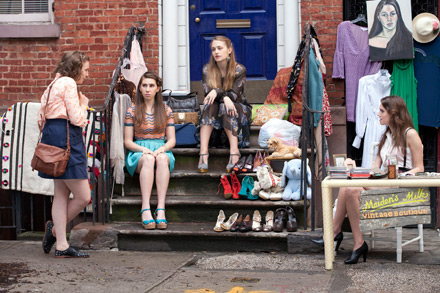 Lena Dunham, Zosia Mamet, Jemima Kirke, and Allison Williams in Girls (Jessica Miglio, HBO)
In this week's episode they revert to form, acting selfishly or stupidly in their relationships with men. Hannah (Dunham) manages both selfishness and stupidity by dropping Adam (Adam Driver) for someone else. Adam is not only disabled (after a car accident that was Hannah's fault), but also smitten with her after a long spell of indifference. That would have been Hannah's dream come true mere weeks ago, but now she's uttering extravagant promises to the new guy: "I'm going to make logical, responsible decisions when it comes to you!"

Anybody want to lay odds?
1600 Penn
Thursday, 8:30 pm (NBC)
Whatever good President Obama has done for the country, he's been terrible for comedy. Presidential humor reached a peak during George W. Bush's administration but has all but flatlined during Obama's, with even Saturday Night Live unsure of how to satirize him. The new sitcom 1600 Penn overcompensates for the lack of farce coming out of the current White House by dreaming up a hapless fictional president (Bill Pullman) with an out-of-control family. In place of wit and subtlety, the series goes for broad gags involving the president's trophy wife (Jenna Elfman) and goony son (Josh Gad).

Then there's the leaden dialogue. A visiting dignitary tells the president, "Your trade deal will crumble like your nation's aging infrastructure!"

Sorry, NBC, but so will your sitcom.
Enlightened
Sunday, 8:30 pm (HBO)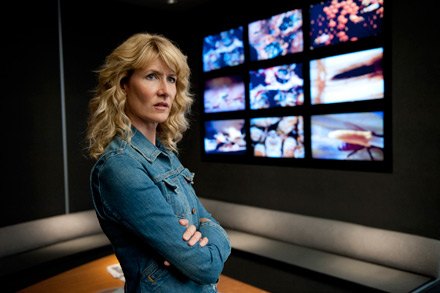 Laura Dern in Enlightened, season 2, episode 1 ( HBO)
Amy is a dim bulb who thirsts for enlightenment. In season one of HBO's excellent series – created, produced by and starring Laura Dern – Amy set off on a New Age quest for higher consciousness after a mental breakdown. In the season-two premiere, she commits herself to a new quest: bringing down the corporation that has reduced her to a data-processing drone.
Dermot Mulroney as jouralist Jeff Flender in Enlightened (HBO).
Dern does a skillful job of establishing Amy as one hot mess. For all her interest in serenity, this woman could explode at any minute, taking out innocent bystanders like her mother (Diane Ladd) and ex-partner (Luke Wilson). The genius of Enlightened is that it creates sympathy for Amy's crazy stabs at transcendence. In this week's episode, she justifies stealing confidential documents to expose her company's corruption:

"For two minutes there I felt worth something. Like I was doing something – something real. And I was alive. It felt good to feel alive for once, and not just dead and plastic and numb."

Enemies of the dead and plastic and numb would be well advised to tune in to Enlightened.
Continuum
Monday, 7 pm (Syfy)
A beautiful cop arrives from the future with a skintight gold jumpsuit and an arsenal of cool hologram weapons. Keira Cameron (Rachel Nichols) is accidentally swept back to 2012 while pursuing terrorists, a few of whom are swept back with her. In this new fantasy series (imported from Canada), Keira must tangle with them while negotiating an unfamiliar world.

The pilot is fascinating in the early scenes set in the future. Unfortunately, it soon turns routine as Keira hooks up with a detective (Victor Webster) and a teenage computer genius (Erik Knudsen) from the present. Cue familiar chase scenes and banter.

To be honest, though, I plan to keep watching. Continuum had me hooked at "a beautiful cop arrives from the future with a skintight gold jumpsuit and an arsenal of cool hologram weapons."
American Experience: "The Abolitionists"
Tuesday, 8:30 pm (PBS)
If you missed last week's premiere episode, you need to starts watching "The Abolitionists," a three-part documentary on the 19th century heroes who risked all to end slavery. This week, you will recoil from a U.S. government that recommitted itself to slavery with the Compromise of 1850. Then you will thrill to the abolitionists' refusal to back down in the face of tremendous pressure.

William Lloyd Garrison, Harriet Beecher Stowe and John Brown play a part in the drama, but the episode revolves around the wondrous Frederick Douglass, the slave turned antislavery crusader. It would be foolish to try to paraphrase this most eloquent of Americans, so let me just quote his pre-Civil War rebuke to fellow reformers who advocated half measures:

"There is not a nation on earth guilty of practices more shocking and bloody than are the people of the United States at this very hour. It is not light that is needed, but fire. We need the storm, the whirlwind and the earthquake!"

As we all know, that's exactly what was on the horizon.