Mavis Staples performs at the Englert Theater in Iowa City on Thursday, February 21, 2013.
Perhaps you were lucky enough to catch Mavis Staples perform at the Grammys a week ago—now you can see this national treasure perform live at the Englert in Iowa City on Thursday, February 21, at 8 p.m.
On Grammy night, Mavis performed a rendition of "The Weight," honoring the late singer/drummer Levon Helm of The Band, along with Brittany Howard of Alabama Shakes, T. Bone Burnett, and Zac Brown.
A soul and gospel legend, Mavis Staples holds a special place in music history. With her bold, Grammy-winning album, You Are Not Alone, the legendary vocalist adds a remarkable new chapter to a historic career. Staples is a Rock and Roll Hall of Famer, a Grammy Lifetime Achievement Award winner, and a National Heritage Fellowship Award recipient. VH1 named her one of the 100 Greatest Women of Rock and Roll, and Rolling Stone listed her as one of the 100 Greatest Singers of All Time.
About her newest album, You are Not Alone, Staples says, "All of these songs are me, but in a different way, with a different sound. The phrasing, the tempos, the arrangements are different, but the messages are the same things I've been saying down through the years. They're about the world today—poverty, jobs, welfare, all of that—and making it feel better through these songs."
She produced the album with fellow Chicago native Jeff Tweedy (of Wilco), who says he owns everything Staples ever recorded. "Mavis is the walking embodiment of undaunted spirit and courage," says Tweedy. "She's an ever-forward looking, positive example for all human beings. And she sounds like she's in the prime of her life."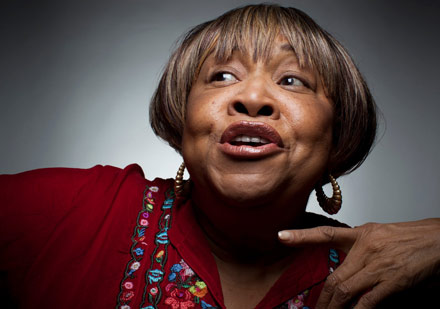 Mavis Staples
"I wanted to make an album where every song had meaning," Staples says, "where every song told a story and would lift you up and give you a reason to get up in the morning. And I know it's going to feel really good singing these songs on stage."
Don't miss her earthy, soulful voice, which is sure to warm your soul on a cold February night in Iowa.