Matt Steigerwald, proprietor of Lincoln Café in Mount Vernon (photos by Robyn Photography)
Lincoln Café, an independent restaurant that serves locally sourced, organic foods whenever possible, features two lunch specials and three dinner specials a day—elegant, "honest" food that blends farm-fresh flavors with high-end culinary trends. Lincoln Winebar, three doors down from the café, offers a casual venue for catching up with friends over a bottle of wine and a wood-fired pizza. The Café and Winebar are located in Mt. Vernon, about 20 miles west of Cedar Rapids. For more info, visit foodisimportant.com or call (319) 895-4041.
Please give us a little background on your training and career highlights.
Matt Steigerwald: I was raised in North Carolina, and had a good deal of cutting my teeth at some of the best restaurants in the Raleigh-Durham area, including the highly lauded Magnolia Grill, under chef and owner Ben Barker.
I also helped open a great place called Vertigo in Raleigh in the early '90s, and headed up the kitchen at Helen's in Richmond, Virginia—one of the city's best places. So southern food is in my blood.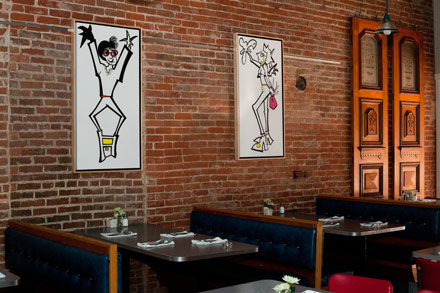 Who or what inspired you to become a chef?
Living in Chapel Hill, I was around the soul of the great Bill Neal just after he passed. Though I never got to work with him, his food influences me still. My biggest inspirations, however, were my parents and family. The kitchen was the center of our house. Mom and Dad loved to cook and entertain, and the big picnic-style table that was in our kitchen then is now the center shared table at the Lincoln Winebar. Folks eat pizza and drink wine around it every night.
If you could create a dream menu of three to five courses, what would it include?
A dream menu would include some fresh, simple shellfish to start. French white wine, oysters, grilled prawns, then a salad of all the good things coming up that day: sweet corn, squash, some chèvre, a good Italian red. Then a simple roast pork shoulder, herbs, some good bread, chilies. And for dessert, some great gelato, espresso, and biscotti . . . and some bourbon, please.
What do you end up eating at home by yourself? 
The food we make at home keeps getting closer to the food I enjoy cooking at the café every day. Simple, strong-flavored, shareable dinners with local stuff when I can, and world flavors always—Mediterranean, American South, Southeast Asian—all of these influences come into play.
What advice do you have for aspiring chefs?
The only advice I have is to find a chef you like and go work for them. Put your head down, focus, read, and hustle.