TV Shows: May 1-7, 2013
The cast of Zach Stone Is Gonna Be Famous: Bo Burnham, center, as Zach, with (left to right) Armen Weitzman, Caitlin Gerard, Shelley Hennig, Kari Coleman, Tom Wilson, and Cameron Palatas.
Viral-video star Bo Burnham is well cast as a would-be viral-video star in Zach Stone Is Gonna Be Famous (Thursday, 9:30 p.m., MTV). He plays Zach Stone, a motormouth high school dork obsessed with his post-graduation plan: making a reality show about his life. With a two-man video crew in tow, he puzzles his family and friends by playing to the cameras throughout the ordinary moments of the day. At breakfast, for example, he calls for a retake when he's dissatisfied with his reaction to the news of distant relative's death.
"Really, Jesus, REALLY?" he cries, gesturing to heaven in his new-and-improved reaction. As his parents look on in horror, Zach says, "Annnd…scene! Nailed it!"
In one way, Zach's project is about reshaping reality. He's intent on making himself seem more fascinating than he really was in high school for an imagined audience. Thus, he joins a parade of American characters – Huck Finn, Jay Gatsby, Holden Caulfield – who specialize in reinvention. And of course, a modern kid like Zach would accomplish such a transformation via DIY video.
But in another way, Zach's project is born of fear. As friends prepare to leave for college, he throws himself into his project as a way to stabilize his suddenly unstable world. Over the course of the first episode (co-written by Burnham), we perceive desperation in Zach's bravado. And that lends this farce an unexpected depth.
Zach Stone Is Gonna Be Famous looks to be one the spring's best new shows. As Zach himself would say: Nailed it!
Manhunt
Wednesday, 7 pm (HBO)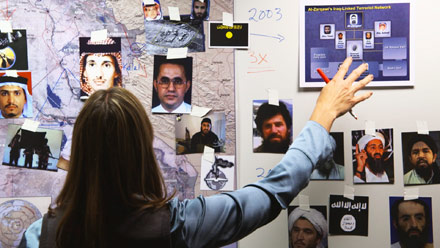 Manhunt tells the true story of the two-decade search for Osama Bin Laden.
This is a documentary version of Zero Dark Thirty, taking us deep inside the CIA effort to combat Osama Bin Laden. We meet the analysts and operatives who spent entire careers on the project, beginning when Al Qaeda had yet to be ID'ed in the 1990s. The analysts are largely female, and one of them insists this is no accident: "We [women] have patience and perseverance, and we're not always looking for the sexy payoff immediately."
The analysts explain how they connected the dots as fragmentary intelligence emerged about a new kind of terrorist organization. Before 9/11, male supervisors accused them of spending too much time on Bin Laden, using stereotypes about women like "overly emotional."
"Yes, we were borderline obsessed," says analyst Cindy Storer. "But I thought it was for a good reason."
There you have it, folks: the understatement of the decade.
Rihanna 777
Monday, 7 pm (Fox)
Global superstar Rihanna performs in the exclusive world premiere concert documentary, RIHANNA 777, airing Monday, May 6, on FOX. ©2013 Fox Broadcasting Co. (Photo: Meredith Truax/FOX)
RIHANNA 777: Global superstar Rihanna performs in the exclusive world premiere concert documentary, RIHANNA 777, airing Monday, May 6 (8:00-9:00 PM ET/PT) on FOX. ©2013 Fox Broadcasting Co. Cr: Meredith Truax/FOX
This documentary captures Rihanna's "Unapologetic" tour, in which she performed seven concerts in seven days in seven cities around the world. Word has it that Fox bid for the rights to Rihanna 777 so it could develop a relationship with her, hoping to put her on the judges' panel for one of its vocal competitions.
Rihanna in the Fox documentary Rihanna 777.
But I suspect Rihanna 777 is a better showcase for her talents (i.e., singing and striking trashy poses) than American Idol or The X Factor, which would require skills outside her area of expertise (i.e., talking).
Newlyweds: The First Year
Monday, 9 pm (Bravo)
Bravo's series about four fledgling couples notes that 50% of American marriages end in divorce. I wonder if that number rises to 100% for couples who allow reality-show cameras into their bedrooms. Such lovebirds don't mind if people see them bickering, or making love, or revealing intimate details. Can a marriage last if a woman tells a national TV audience that her husband "farts all the time"? Should it?
The only ones who appear to have a chance in Newlyweds: The First Year
are the gay couple. While the three male-female pairs flaunt their immaturity, Jeff and Blair are able to talk through their problems like adults. They exhibit a sense of perspective in their relationship, as when Jeff says, "It's just a matter of us learning that we won't always be who we want the other to be."
To judge from Newlyweds, gay people might be traditional marriage's last, best hope.
Dear Mom, Love Cher
Monday, 9 pm (Lifetime)
Cherilyn Sarkisian and Georgia Holt, El Centro, California, in May 1946. Georgia was just shy of 20 years old and the father is her first husband, John Sarkisian. The documentary Dear Mom, Love Cher premieres Monday, May 6. (Photo by Courtesy of Georgia Holt Copyright 2011)
Where on Earth did Cher come from? I never thought about it before, but it couldn't be anywhere normal, right? Dear Mom, Love Cher affirms that the unconventional singer/actress/force of nature did indeed emerge from an unconventional background. The documentary is Cher's affectionate portrait of her mother, Georgia Holt, who didn't conform to Norman Rockwell's ideal of the post-World War II housewife. She married seven times and mostly raised her two daughters by herself while living in poverty on the fringes of the Hollywood dream.
Cher and her mother, Georgia, in Dear Mom, Love Cher.
Georgia had walk-on roles as "the beautiful girl" on Ozzie and Harriet and I Love Lucy but never struck it rich, as her Arkansas family thought she might. In the meantime, she slid around the era's repressive social norms, determined to set her own course. Now in her 80s, Georgia is embarking on an unlikely singing career.
Dear Mom, Love Cher reminds me how much I love the fringes of the Hollywood dream.