TV Shows: May 8-14, 2013
Chris O'Dowd and Michael McKean on Family Tree
Christopher Guest earned a place in my pantheon by pioneering the mockumentary with his script for 1984's This Is Spinal Tap. Since then, as a writer-director, he's perfected the style in one big-screen gem after another: Waiting for Guffman, Best in Show, A Mighty Wind. His approach has been imitated on TV by the likes of The Office and Parks and Recreation.
So you can understand why Guest would claim a right to his own TV series. This week, he premieres Family Tree (Sunday, 9:30 p.m., HBO), in which an English sad sack named Tom (Chris O'Dowd) delves into his family background. To judge from the pilot, however, a half-hour timeslot isn't Guest's forte. He not too interested in plot or punchlines, the sitcom's stock-in-trade. Like his movies, Family Tree is episodic, relying on the actors improvising lines for their quirky characters.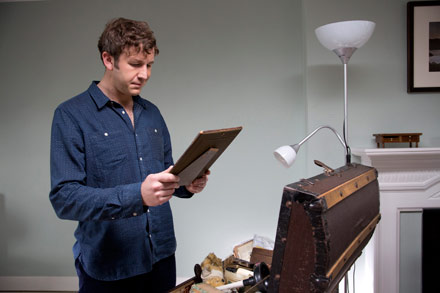 Chris O'Dowd on Family Tree
But at least the movies have climaxes. Nothing much happens in this week's episode of Family Tree, and the improvisation is hit-or-miss. Even the characters with potential (like Tom's sister, who communicates her inner feelings through a monkey hand puppet) aren't on screen long enough to make an impression.
Of course, there's an upside to hit-or-miss improvisation. Maybe Family Tree will score more hits in next week's episode.
Survivor: Caramoan
Sunday, 7 pm (CBS)
The remaining Survivors anxiously await their next challenge duringon SURVIVOR: CARAMOAN, airing Wednesday, May 8 (© 2013 CBS Broadcasting Inc. All Rights Reserved).
I'm not looking forward to the Survivor finale as much as I am the live reunion show that directly follows it. That will mark the reappearance of Brandon Hantz, the cracked contestant who made the most spectacular exit in the series' history. In a March episode, Brandon went berserk on camera, threatening fellow contestants. He dumped out his tribe's supply of food and appeared to be building toward a violent confrontation. His tribe took the extraordinary step of declining to participate in an immunity challenge so they could vote him out on the spot. Host Jeff Probst had to give Brandon an impromptu back massage in a desperate attempt to calm him down.
The thirteenth episode of SURVIVOR: CARAMOAN airs Wednesday, May 8. (© 2013 CBS Broadcasting Inc. )
So that brings us to the reunion show. Does CBS have an in-house SWAT team in case of emergency? Or will Brandon be wheeled into the studio muzzled and strapped to a dolly, à la Hannibal Lecter?
10 Buildings That Changed America
Sunday, 9 pm (PBS)
Host Geoffrey Baer at Dulles Airport, in front of the terminal designed by Eero Saarinen on 10 Buildings That Changed America on PBS.
This wonderful documentary offers a chronological tour of America's most influential buildings, from the neoclassical Virginia State Capitol by Thomas Jefferson to the whimsical Disney Concert Hall by Frank Gehry. We learn that American architecture is characterized not by a single style, but by an eagerness to invent new forms.
10 Buildings That Changed America shares anecdotes and analysis of such buildings as Frank Lloyd Wright's Robie House (the inspiration for ranch houses) and Ludwig Mies van der Rohe's Seagram Building (the inspiration for modern skyscrapers). My favorite segment concerns 1956's Southdale Center in Edina, Minn., the first modern indoor mall.
It turns out that malls were conceived by a utopian socialist, Victor Gruen, who deplored the unsightly commercial strips proliferating in the suburbs. Gruen wanted to create a community center, so he built Southdale's 72 stores around a garden court to mimic an urban setting. Sadly, his larger vision—of houses and schools clustered around the mall—went unrealized. As a result, Southdale became a part of the suburban sprawl Gruen so loathed.
The next time you wash down a Cinnabon with an Orange Julius, don't forget to tip your hat to the utopian socialist who made it all possible.
XOX, Betsey Johnson
Sunday, 7 pm (Style)
Lulu Johnson and Betsey Johnson (photo: Matthias Clamer/Style)
It's not easy to find yet another sorta-celebrity who'll make an interesting reality show subject. But Style has struck pay dirt with the loopy clothing designer Betsey Johnson. A skin-and-bones septuagenarian, Johnson still dresses in the punk-princess style she popularized in the 1980s. It's a style best suited to teenagers, but so what? Johnson stays young by flirting with every good-looking hunk within reach. At a comeback party for her brand, she does splits on the dance floor in a gold-lamé tutu.
Betsey's daughter, Lulu, also appears in the series. Lulu is a clothing designer herself—a more tasteful one—and she hopes for a breakthrough with her new line. But first she has get out from her mother's shadow. She drags Betsey to therapy sessions and complains about her domineering nature. If only she can get Betsey to tone it down, Lulu thinks, she'll be able to come into her own.
Yeah, good luck with that project.
Family Tools
Wednesday, 7:30 pm (ABC)
This new sitcom tries to get our attention by piling on the chaos and kookiness. An earnest screw-up (Kyle Bornheimer) takes over his dad's fix-it business, surrounded by cra-a-a-zy coworkers and family members. His teenage cousin (Johnny Pemberton) keeps pestering him to starts a positive-message rock band. His assistant (Edi Gathegi) keeps setting up booty calls on work time. All the actors shout their lines, as if straining to be heard over the oppressive soundtrack.
Chaos and kookiness don't count for much in the absence of creativity and cleverness. I'd rather listen to a positive-message rock band than watch another episode of Family Tools.