Nancy Bekel and her mother, Lucille Teeter, will be closing the doors of Teeter Cleaners on May 17. Teeter Cleaners has always been known for its meticulous, high-quality work and cheerful customer service.
After 67 years in business, Teeter Cleaners will be closing its doors on Friday, May 17. Lucille Teeter, who started Teeter Cleaners with her husband Beryl in 1946, is finally retiring, along with her daughter, Nancy Bekel.
Three weeks ago, 90-year-old Lucille suffered a heart attack, and during thetime Nancy spent in the hospital with her mother, she realized some major changes were in store. "I thought it's time for me to take care of her. So I came back and told the girls [at Teeter's] I was going to close."

Nancy and Lucille invite their cherished customers to a farewell open house on Tuesday, May 14, 2-4 p.m. at 111 E. Broadway.
We spoke with Nancy recently to find out more.
Will anyone take over the business?
If someobody would come along that would like it, we would be more than happy to sell it to them. Everything's happened so quickly, we haven't had time to advertise it. We'd rather sell it to somebody who knows what they're doing because we have a good reputation and we would like that to continue on. So right now we're just closing. (Teeter Cleaners can be reached at 472-4431.)
Your mom and dad started Teeter Cleaners?
Yes, they started 67 years ago.
Was Lucille still working at the time of her heart attack?
Yes, she was doing the bookwork. She still owns the business. She was still doing all of our basic stuff, keeping track of our tickets, making the deposits, and everything. She'll be 91 in June.
How long have you been working at Teeter's?
You know, I can't tell you how long because I just sort of eased into it. I was 3 years old when they opened. So I spent most of my life here. After I got married and had kids, I was here, and when they started school, I just worked when I could. When the kids were in junior high I started full time. Of course, Dad died 21 years ago, so I've been pretty much running it. I've been here all my life.
This happened so quickly. You're no longer taking in any work, but do you still have clothes that you need people to pick up?
Oh yes, we do!
And how is your mother doing now?
She's doing really well. We're going to take her back home and we anticipate she'll be totally on her own again. But I feel I need to be available. When I was working 12 hours a day, I just couldn't keep up with her care.
Are you going to miss the business?
Oh yeah!! To a point, it will be a relief, but I will miss it. We have the best customers! I'm not one that likes changes. I got up every day, I came to work every day, I knew what I was supposed to do when I walked in the door. That's going to be a big change for me. I'll be 71 this summer, but I just knew it was time for me. It wasn't a hard choice to make.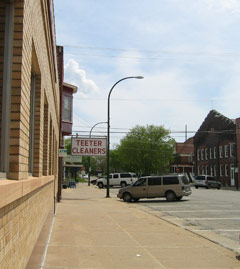 The Teeter Cleaners sign on West Broadway.