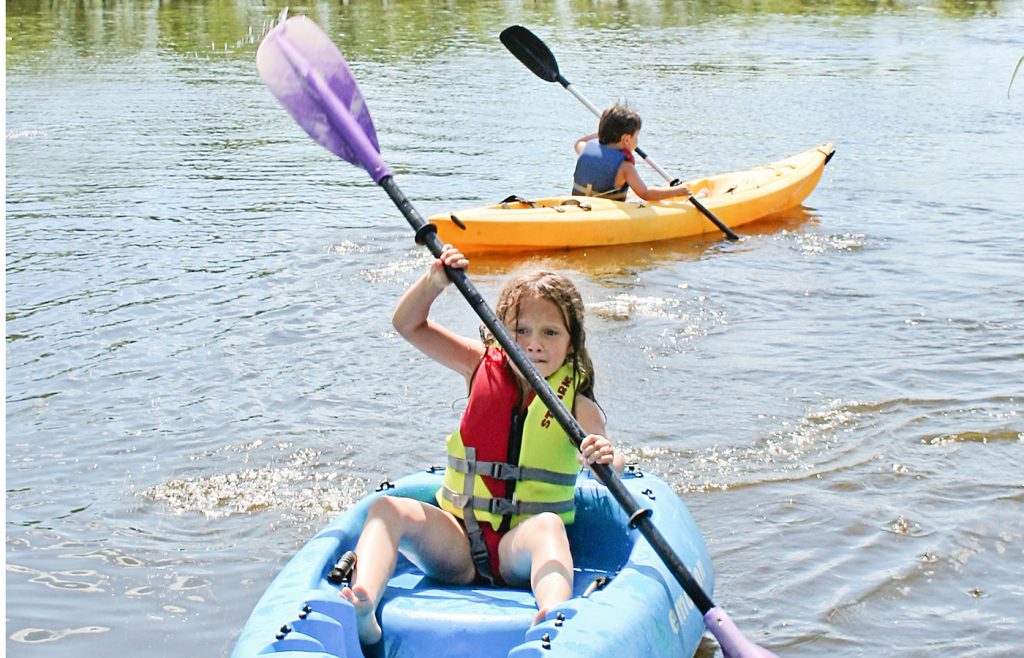 In the past few years I have picked up two addictions—I mean hobbies—that have dramatically changed my life. One is birding, and the other is kayaking. Sometimes I have the good fortune of doing both at the same time. I blame my fall into kayaking on my co-worker Ron Meyers.
We had been canoe partners on several occasions and both enjoyed paddling on all three of our local rivers. I showed up at work one day to find he had purchased a kayak. Ron told me of its ease in handling and how quickly one could master the basic strokes. He talked about how it felt to sit so close to the water and paddle quietly next to birds and other animals. My, but I was envious! It wasn't long before I had purchased a used kayak and experienced kayaking for myself. Ron accompanied me on my maiden voyage on Pleasant Lake and I was hooked immediately.
"I knew you would like it," he said.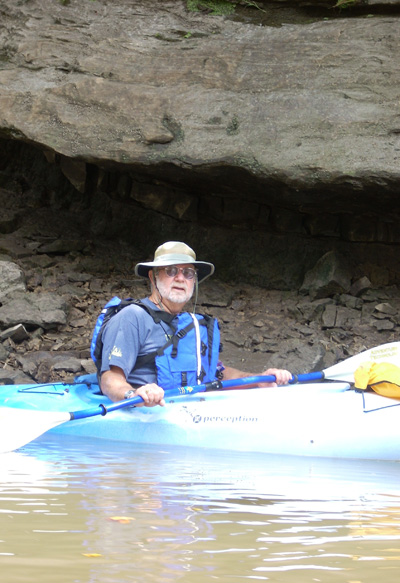 That was five years ago. Since then, I've taken a kayak course and switched from a sit-in kayak to a sit-on-top kayak. (I'm a husky gal and find sit-on-tops easier to get in and out of). Last summer, 14 of my family members and friends converged on the Root River in Southeast Minnesota for our first W.A.C.K. (Women's Adventure Club Kayaking) Adventure.
Don't expect to see me doing any whitewater, though—I've neither the skill nor the courage for that. And I'm not much of a camper, so you won't see me loading up my kayak with supplies for a weeklong trip in the boundary waters. For me, kayaking is simply a low-key but wonderful way to experience and explore nature. And fortunately, there are plenty of places to discover locally.
River Kayaking
My favorite river to kayak is Cedar Creek in Jefferson County. This small river is, in my opinion, a hidden gem. Access is not always the easiest, though, and water levels vary greatly throughout the year. The prettiest parts of the river start about a mile below Turkey Run Wildlife Area, where the river returns to its natural meandering after having been straightened by the Corps of Engineers many years ago.
The Skunk and Des Moines rivers both offer easier access, but you'll need to make yourself aware of any low-head dams along the way. An easy stretch on the Skunk is between Mac Coon Access and the old Highway 34 bridge.
On the Des Moines River, I would recommend access from Douds in Van Buren County down to Austin Park. As with all river kayaking, the hardest part is working out transportation logistics at your put-in and take-out points.
Lake Kayaking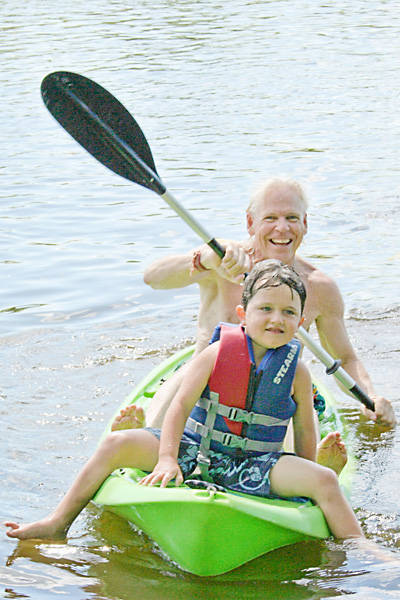 One Sunday last month I spent two hours with friends Meg and Gerry paddling around the edge of Fairfield's Pleasant Lake in Waterworks Park. It may not be a large reservoir, but it was a perfect spot to explore when we only had a few hours of daylight left. (Hey, we saw 27 species of birds!) Another favorite spot to paddle is Lake Seguma in Keosauqua. You'll find lots of nooks and crannies to paddle into and there are at least three boat ramps, each giving you access to different areas of the lake.
Other area spots worth checking out are Lake Wapello, Lake Geode, Lake Rathbun, Lake Red Rock, and the backwaters of the Mississippi.
Finding the Perfect Kayak
Kakaying is such a fast-growing hobby that there are lots of places to purchase them, from online sites to any of the big sport outfitters. But I would recommend getting a more personal touch by going to places like Crawdaddy Outdoors in Waverly, Canoesport Outfitters in Indianola, or River Basin Canoe and Kayak in Burlington. These businesses hold clinics and demonstrations where you can "test drive" a kayak. They can instruct you on the fundamentals of paddling and can help you pick out a kayak that best fits you and meets your needs.
Once you have your kayak, no doubt you'll tell your friends how easy it is to handle and how quickly you mastered the basic strokes. You'll tell them how it feels to sit so close to the water and paddle softly right next to birds and other animals.  My, but they'll be envious! And it won't be long before they purchase their first kayak, and you'll accompany them on their maiden voyage. And they'll be hooked.
Therese Cummiskey is a now-retired naturalist with the Jefferson County Conservation Board. Learn more about Jefferson County Park.