Brandon Routh as Superman in Man of Steel.
I have never really liked Superman as a comic character. I find the set-up boring: basically, he's invincible and only a variety of deus ex machinas can momentarily weaken him. However, I can't deny the enduring love people have for Superman. Despite an extremely patchy film history (Superman II is really the only good one), it remains a prized property and undoubtedly Superman movies will keep being trotted out every few years.
Brandon Routh as Superman in Man of Steel.
In 2006 Bryan Singer made Superman Returns, one of the worst and most tedious tentpole films in history. Seven years later, Zack Snyder, no stranger to pompous superhero pics after helming the overstuffed Watchmen, delivers Man of Steel. Exceedingly serious, long (150 minutes), and loaded with the patented Christopher Nolan gritty mythos (he served as a producer), Man of Steel makes Superman Returns seem like Superman III (you know, the goofy one where Richard Pryor was a computer hacker). But it's much, much better. Budgeted at an astonishing $270 million, Man of Steel is appropriately spectacular. The extended Krypton intro has a real sense of awe to it and the panoramic aerial swoops throughout the film are much more beautiful and impressive than they have any right to be.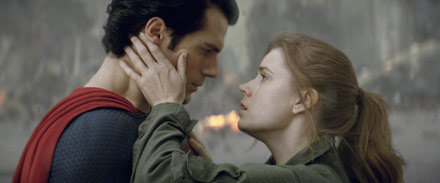 Brandon Routh and Amy Adams in Man of Steel.
The performances are generally strong. Henry Cavill, even more shredded here than he was in Immortals, is not as good as Christopher Reeve but is immeasurably better than the wan Brandon Routh. Amy Adams is a tough and appealing Lois Lane, and Russell Crowe and Kevin Costner add some prestige as Superman's father figures. Best of all is Michael Shannon's searing bombastic turn as General Zod. Shannon, easily one of the best actors working right now (see Take Shelter for proof), seems to be having a ball as the ferocious Zod.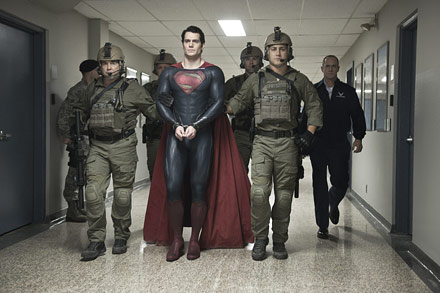 Man of Steel
The last hour of Man of Steel is fairly boring. Zod and Superman basically destroy a city while punching each other around 1,500 times. These superhero climaxes have become increasingly dull as they get more and more "spectacular." I really don't think anyone is that wowed by CGI anymore, unless it's of a game-changing variety like Avatar. Nonetheless, despite the bombast, I liked Man of Steel better than Iron Man 3 (which got better reviews). I can't say I get much out of these movies, but I'm obviously older than the target audience. Man of Steel is a decent way to pass an afternoon and worth the price of the ticket. That's about as high as I can go on superhero movies these days. B-