Danny Walker Jr. makes faces with perennial funny man Jim Carrey.
While baling hay on the Walker farm in mid July, Dan Walker, his son Toby, and their crew came into view of a large jet prominently parked on the tarmac at the neighboring Fairfield Municipal Airport. Dan asked if anyone knew who owned it. "It belongs to Jim Carrey," said one in-the-know worker.
The view from Dan Walker's farm in Fairfield.
Celebrity news travels fast in a small town, and word had it that the Canadian-born movie star had traveled to Fairfield to stay at a local health spa.
Dan perked up when he heard the news, since his son Danny Jr. had always loved Jim Carrey's comic movies and watched them over and over again. For years Danny had told his parents that he wanted to meet the movie star, so Danny's mom, Heidi Salmonson, jumped at the opportunity to make it happen. She got in touch with the health spa, and a short time later, a staff member got back to her with the exciting news: "Come to the dining hall at 12:15."
"Danny wanted to get there in plenty of time," said Heidi, "so we showed up about 12. We were escorted downstairs and there was Jim Carrey, sitting in the dining hall at a table. He stood up and came towards Danny and shook his hand." The two chatted mostly about movies, and Jim talked about being a parent and what it was like raising his daughter, who is now 26.
"I was standing to the side to just let Danny interact with Jim on his own," Heidi said. "But Jim turned to me and also shook my hand, a nice firm handshake."
Danny Walker Jr. holds his newly autographed videotape.
Danny had brought a VHS tape with two of his favorite Jim Carrey movies on it, Liar, Liar and Bruce Almighty, and they asked if he would autograph it. Jim wrote: "To Danny, my new friend."
Then Jim suggested taking pictures, and the staff member who had arranged the meeting snapped the photo at the top of the page.
"Jim Carrey had put his arm around Danny and told him to make the funniest face he could, which Danny did, and then Jim copied it," Heidi said. "Everyone left with big smiles."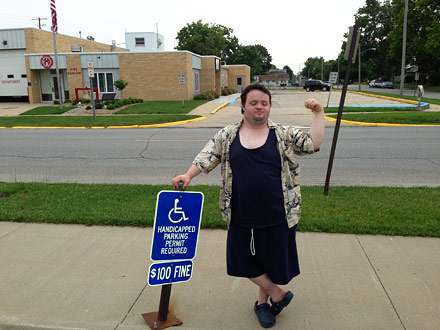 Danny Walker Jr in Fairfield.