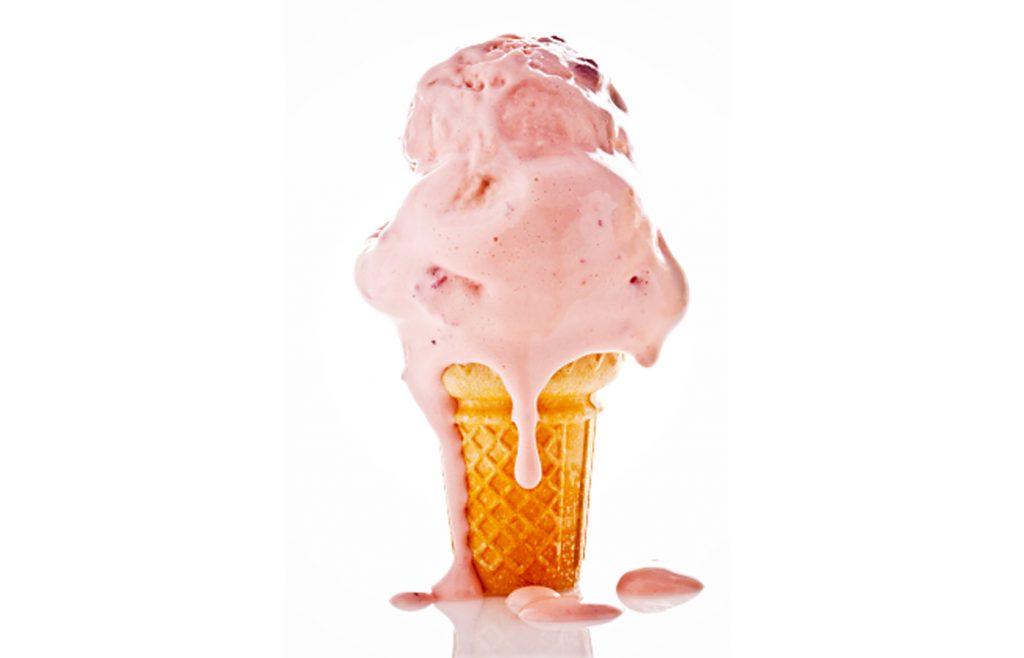 Nothing beats the cold, creamy goodness of homemade ice cream on a hot summer day. And it's certainly easy to do with an ice cream maker.
Don't have an ice cream maker? Not a problem. Make delicious homemade ice cream by following the directions at the end of this article.
To get started, try our spectacular recipes for caramelized peach, key lime pie, or raspberry ice cream. Or use the ice cream base recipe to experiment and make your own flavors.
Each recipe makes around 1½ quarts. For the best results, prepare the ice cream base and other ingredients the day before and chill overnight. Then make the ice cream whenever you have time the following day. Place your ice cream storage containers in the freezer to chill during churning to prevent melting.
Enjoy the ice cream soft right after churning, or freeze for two hours for a consistency that is better for scooping.
Ice Cream Base
This ice cream base is adapted from Joy of Cooking. For a richer base, substitute half-and-half for the whole milk, or increase the cream by ½ cup and decrease the milk by the same amount. Make up your own ice cream recipes by adding flavorings and 1 to 2 cups of crushed cookies or chopped candy or fruit.
1½ cups whole milk
1½ cups heavy cream
½ to 3⁄4 cup granulated sugar
1⁄8 tsp. salt
3 large egg yolks, beaten in a small bowl
Place milk, cream, sugar, and salt in a saucepan and bring to a simmer on medium heat, stirring to dissolve the sugar. Remove from heat.
Whisk in ½ cup of the cream mixture from the saucepan into the eggs, then whisk the egg mixture back into the cream mixture in the saucepan.
Cook on low, stirring constantly for 3 to 5 minutes, until the mixture is thick enough to coat the back of a spoon. Do not allow the mixture to boil.
Strain mixture through a sieve to remove solids. Chill for at least two hours before using in any of the recipes.
Caramelized Peach Ice Cream with Ginger-Peach Option
Caramelized peaches are added to either vanilla or ginger ice cream. You can add the peaches during the churning or layer them with the ice cream base after churning to create a swirl.
1 recipe of ice cream base made with ½ cup sugar
¼ cup grated fresh ginger root (optional)
1 Tbsp. vanilla extract
Make ice cream base as directed. If you're making the ginger-peach option, add the ginger in the beginning. When the mixture comes to a simmer, continue simmering for 5 minutes before proceeding with the recipe.
Stir in the vanilla after the custard is finished cooking.
Caramelized Peaches
4 very ripe peaches, blanched and peeled
½ cup granulated sugar
Cut peaches into ½-inch slices over your saucepan in order to capture all the juices. Stir in sugar.
Cook over medium heat, stirring constantly, about 20 to 25 minutes, until the peaches are soft and the sugar and juices have been reduced to a thick, syrupy caramel.
Mash the peaches into desired texture and chill for at least two hours.
Churn the chilled ice cream base according to your ice cream maker's directions.
Add chilled caramelized peaches during the last 5 minutes of churning, or for a more distinct swirl, layer the churned base and the peaches in thirds and then swirl briefly with a spatula.
Key Lime Pie Ice Cream
I first had key lime pie ice cream this past 4th of July at the Trolley Car Diner on Germantown Avenue in Philadelphia. It was so good I had to make my own. Persian limes can be substituted for the harder-to-find Key limes if necessary.
1 recipe of ice cream base made with  ¾ cup sugar
1 Tbsp. lime zest
1⁄3 cup lime juice
1 cup coarsely crushed graham crackers (8 crackers), plus more for garnishing
2 drops green food coloring (optional)
Make ice cream base, stir in food coloring (if using), and chill as directed before churning according to ice cream maker's directions.
Add lime zest and lime juice halfway through churning.
Layer churned ice cream and crushed graham crackers in thirds and swirl briefly with a spatula.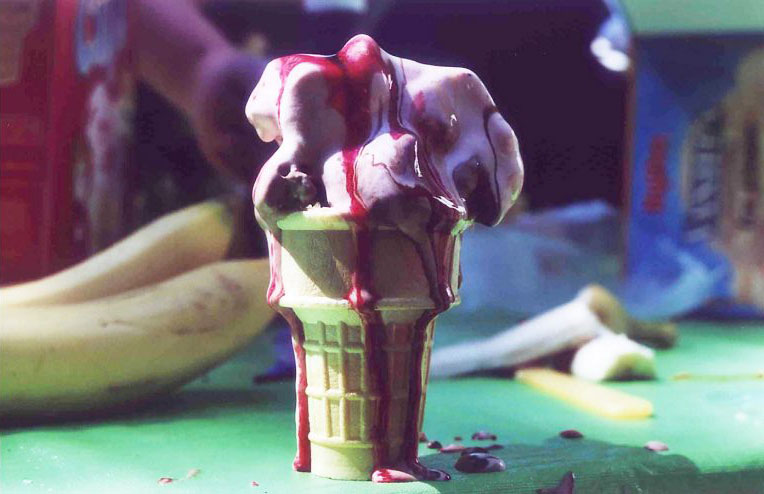 Raspberry Ice Cream
You can use fresh or thawed frozen berries in this recipe. Measure before you thaw. You can also substitute blackberries for some or all of the raspberries.
1 recipe ice cream base made with  2⁄3 cup of sugar
½ tsp. almond extract
3 cups raspberries plus 2 Tbsp.  granulated sugar
Make ice cream base, stir in almond extract, and chill as directed.
Puree raspberries and sugar in a blender and strain out seeds with a sieve.
Stir strained puree into chilled ice cream base, place in ice cream maker, and churn according to directions.
***
Directions for Making Ice Cream Without an Ice Cream Maker
After you have chilled your ice cream base, cover it and place it in the freezer. Wait 45 minutes, scrape down the sides of the bowl, and then whip the ice cream using an immersion blender (the easiest option), a food processor (consider freezing the ice cream directly in the food processor canister), or a wooden spoon. This will help to break up any ice crystals and give you the creamiest ice cream possible. Repeat the stirring process two more times, for a total of three times. After the third time, stir in any additional ingredients. Freeze for 45 more minutes and then serve.
Raspberry Ice Cream: Add the raspberry puree before starting the freezing and beating process.
Key Lime Pie Ice Cream: Add the lime juice and zest after the third beating. Layer the ice cream with the crushed graham crackers and then swirl briefly with a spatula. Freeze for 45 more minutes and then serve.
Caramelized Peach Ice Cream: Stir in the peaches after the third beating. Freeze for 45 minutes and then serve.