TV Shows: Sept. 11-17, 2013
Hotshot detective Jake Peralta (Andy Samberg) gets a new captain (Andre Braugher) in the new comedy Brooklyn Nine-Nine. (©2013 Fox Broadcasting Co., Eddy Chen/FOX)
Many of us were concerned when Andy Samberg retired from Saturday Night Live last spring. Would the comic genius get trapped in more forgettable movies like Hot Rod, then disappear?
We needn't have worried. Samberg stars in Brooklyn Nine-Nine, a single-camera sitcom that perfectly showcases his talent (Tuesday, 7:30 p.m., Fox). He plays hotshot detective Jake Peralta, who jokes his way through investigations and clashes with his by-the-book captain (Andre Braugher). You won't be surprised to see that Samberg – known for his absurdist SNL videos – finds just the right level of deadpan weirdness. (The pilot features a memorable sight gag with Jake in tie, holster and underpants.) You might be surprised to see him slip so effortlessly into a leading-man role. Jake is not only silly, but also confident in a sexy way.
Andy Samberg stars in the new comedy Brooklyn Nine-Nine. (©2013 Fox Broadcasting Co., Eddy Chen/FOX)
"Humility over!" Jake announces after a brief attempt at self-effacement. "I'm amazing!"
I would have to agree.
Haven
Friday, 9 pm (Syfy)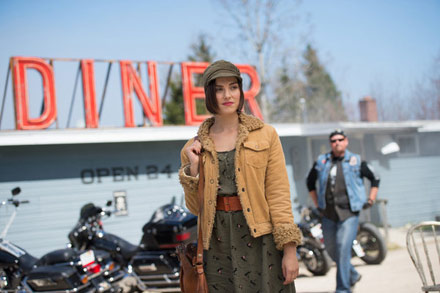 Kate Kelton as Jordan McKee in Haven (Photo by Michael Tompkins/Syfy)
Haven is based on Stephen King's tale of a Maine town plagued by "Troubles." The Troubles are deadly phenomena – tornadoes, lightning, etc. – caused by residents with unwanted paranormal powers. At the end of last season, heroine Audrey (Emily Rose) seemingly sacrificed herself to end the Troubles, dying in a sort of supernatural storm. But season four opens with Audrey creepily transformed and local cop Nathan (Lucas Bryant) now determined to end the Troubles by sacrificing himself.
Eric Belfour as Duke Crocker, Emma Lahana as Jennifer Mason, Lucas Bryant as Nathan Wuornos, Adam Copeland as Dwight Hendrickson, Richard Donat as Vince Teagues,and John Dunsworth as Dave Teaguesin Haven (Photo by Michael Tompkins/Syfy)
How to respond to such a nightmarish scenario? With wisecracks, of course.
Haven has a knack for keeping things tense while not taking itself too seriously. The town's residents are easy to like, though I can't get behind their obsession with ending the Troubles. Then there'd be no season five.
Sleepy Hollow
Monday, 8 pm (Fox)
This new dramatic series takes the fish-out-of-water gimmick to unintentionally funny extremes. Revolutionary War soldier Ichabod Crane (Tom Mison, playing a version of the Washington Irving character) wakes up in the 21st century after a battle with the Headless Horseman. Ichabod tries to convince a feisty modern-day detective (Nicole Beharie) to join him in preventing the Horseman from unleashing hell on earth. For some reason, this involves keeping him from finding his head.
When the authorities get wind of Ichabod's story, they throw him in the loony bin. A similar fate may await the Fox executives who greenlighted Sleepy Hollow.
Dads
Tuesday, 7 pm (Fox)
In this new sitcom from Seth MacFarlane, Warner (Giovanni Ribisi) and Eli (Seth Green) must put up with their insufferable fathers (Martin Mull, Peter Riegert). Warner resorts to knocking back a Scotch to survive a night with his dad, who makes offensive comments about gays, Asians and Puerto Ricans. "The Chinese are lovely, honorable people," he says, "but you can't trust them!" The laugh track goes wild over that line, making you wonder if it's a laugh track left over from the 1950s.
The problem with Dads is that, like Warner and Eli, viewers have to put up with these insufferable fathers. And that proves impossible. Anybody have a bottle of Scotch?
The New Atlanta
Tuesday, 9 pm (Bravo)
Apparently there's an endless supply of vain, shallow, pretentious subjects for Bravo reality series. The latest ones are based in Atlanta, but they do the same things as their counterparts in New York, Hollywood and Orange County. They sneer at each other's hair, clothes and partners until the inevitable fight breaks out. "You got a problem with me? Then say it to my face!"
One cast member is notably weirder than most reality stars: an "entertainment consultant" with shades and a shaved head named Vawn. This guy gives Kanye West a run for his money in the self-love department. "I do not miss!" he informs a singer who's hired him to boost her career. Vawn instructs his protégé to look in the mirror and repeat "I am a star" with different shades of emotion in her voice, as directed by him. "Sad!" he barks. "Elegant! Arrogant!"
I predict that Vawn himself will become a star after The New Atlanta premiere. But I'm saying that with a "sad" emotion in my voice.