TV Shows: Oct. 2-8, 2013
Will Arnett as Nathan Miller in The Millers, Thursday, Oct. 10 (Photo: Sonja Flemming/CBS ©2013 CBS Broadcasting, Inc. All Rights Reserved)
Multi-camera, laugh-track sitcoms have been in decline, but The Millers is one that works (Thursday, 7:30 p.m., CBS). Nate (Will Arnett) and Debbie (Jayma Mays) have always kept their distance from their insufferable parents (Beau Bridges, Margo Martindale), but that becomes impossible when Mom and Dad break up. She moves in with Nate, he moves in with Debbie, and madness ensues.
Bridges does one of the best dumb acts I've ever seen on TV, while Martindale specializes in inappropriate behavior. Their fight about whether he masturbates correctly is one of the fall season's funniest scenes.
Margo Martindale as Carol Miller, Will Arnett as Nathan Miller, Jayma Mays as Debbie, and Beau Bridges as Tom Miller (Photo: Richard Cartwright/CBS ©2013 CBS Broadcasting, Inc. All Rights Reserved)
Then there's the scene where Mom crashes a party with Nate's friends. Nate is horrified at first, but finally gives in and dances with her because he knows it will make her happy. "This is either gonna be very sweet or very creepy," says Nate's friend Ray (JB Smoove), observing the spectacle.
The genius part is: It's gonna be both.
Ironside
Wednesday, 9 pm (NBC)
NBC resurrects the 1960s-70s series, with Blair Underwood in the Raymond Burr role of a wheelchair-bound detective. Oddly, Ironside doesn't much concern itself with the psychological and physical challenges of a disabled cop. The wheelchair just seems like an accessory from the prop shop as our hero behaves like many other TV cops: striking steely poses, bedding hot babes, etc.
What really excites the filmmakers here is police brutality. They lionize Ironside and his colleagues for torturing suspects, illegally entering residences, even hanging people from rooftops. Hey, if the goal is catching criminals, no method is too extreme, right?
Well….
Given the NSA scandal, Ironside's timing couldn't be worse. As the government monitors our phones and computers, I don't think American viewers are in a mood to stand up and cheer for a police state.
Welcome to the Family
Thursday, 7:30 pm (NBC)
Justina Machado as Lisette Hernandez, Ricardo A. Chavira as Miguel Hernandez, Fabrizio Guido as Demetrio Hernandez, Joseph Haro as Junior Hernandez, Ella Rae Peck as Molly Yoder, Mike O'Malley as Dan Yoder, Mary McCormack as Caroline Yoder in Welcome to the Family. (Photo by: Art Streiber/ © NBC Universal, Inc.)
The parents of Molly (Ella Rae Peck), an underachieving white girl, are overjoyed at her high school graduation. "Suck it, doubters!" her dad exclaims. "She's Arizona State's problem now!"
Meanwhile, the parents of Junior (Joseph Haro), an overachieving Latino, are overjoyed for a different reason. He's giving his valedictorian's speech and preparing for a college career at Stanford. As he reads the speech from his laptop, he gets a message from Molly: "I'm pregnant."
Thus begins an excellent culture-clash sitcom. Welcome to the Family throws two unlikely families together and forces them to get along. Mostly they don't, and the comedians work wonders with resentment and misunderstanding. Mike O'Malley and Mary McCormack are particularly good as Molly's parents, trading mordant wisecracks about her limitations.
To everybody's dismay, Molly and Junior decide to get married. It's a terrible decision that, as a viewer, I fully support. The worse things go for these two, the angrier their parents will get, and the funnier Welcome to the Family will be.
Sean Saves the World
Thursday, 8 pm (NBC)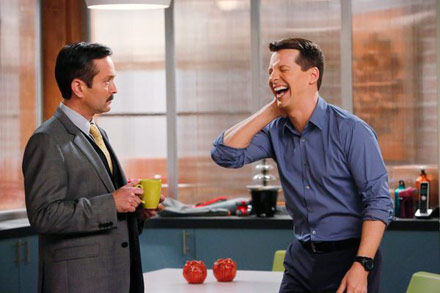 Thomas Lennon as Max and Sean Hayes as Sean in Sean Saves the World (Photo by Vivian Zink/NBC)
Sean Hayes (Will and Grace) plays a gay single dad in this would-be kooky sitcom. The problem is that it tries to be kooky in ways that would have made sense to Lucille Ball. The rest of us have moved on.
Hayes hams it up with a mean boss (Thomas Lennon) and an overbearing mother (Linda Lavin). He delivers his zingers at top volume, as if that might make them funnier. To his loudmouth mom: "Your voice arrived here 10 minutes ago AND IT'S LOOKING FOR YOU!"
Samantha Esler as Ellie and Sean Hayes as Sean in Sean Saves the World (Photo by Vivian Zink/NBC)
With this declamatory style, Hayes appears to be playing to the studio audience. I hope they enjoy Sean Saves the World, because I doubt anyone else will.
The Originals
Thursday, 8 pm (CW)
Members of a vampire clan are in the midst of a thousand-year spat that leads them back home to New Orleans. There they get involved in a turf battle with witches and werewolves that, one senses, may take another thousand years to resolve. Most viewers do not have that kind of time.
Various immortal beings mope around the French Quarter with solemn expressions, making portentous statements with an emphasis on every single word. "I…will…not…be…manipulated," promises vampire-werewolf hybrid Klaus (Joseph Morgan), the most solemn of the bunch.
Schooled in the supernatural soap opera of Twilight, the teenage target audience may just enjoy this new drama. As for me, I…will…not…watch…another…episode.