Alt-J
In recent years, the UK has emerged as a hotbed of experimental music that's blended with creative vocals. In 2013 two UK bands, Alt-J and Spiral System, released CDs that affirm their stature in both composition and performance. But each band approaches their music very differently. This month, let's look at Alt-J.
The four members of this wonderfully quirky band originally met in fine arts and literature classes at Leeds University in 2007. The band consists of Gwil Sainsbury (guitar/bass), Joe Newman (guitar/ vocals), Gus Unger-Hamilton (keyboards), and Thom Green (drums). The name "Alt-J" refers to the Greek letter Delta, the symbol for "change," that can be typed on a Mac OS-X computer by the key sequence Alt + J.
It took five years to create the Mercury Prize-winning CD called An Awesome Wave, which was released in May 2012. Music critic Jenny Smith of NME hears it this way: "On the surface, this is smart alt-pop, but Alt-J have messed with the formula just enough to make this a brilliantly disquieting debut. In refusing to submit to the rigors of a genre, they might just have made themselves masters of their own."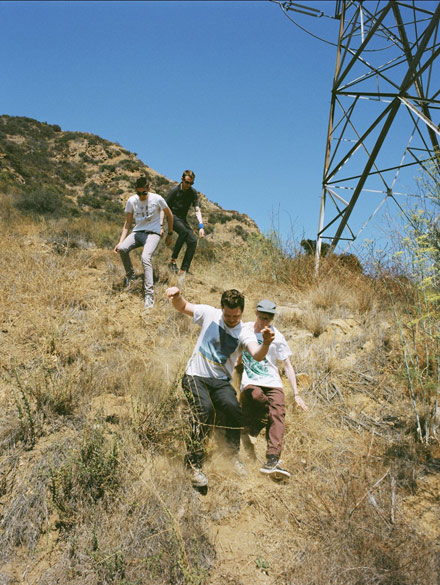 Alt-J
The Alt-J stew blends flavors of folk, pop, hip-hop, trip-hop, plus indie electro-beats, piano runs, and synthesizer wash, while often returning to a pleasant acoustic guitar backdrop. Listeners will marvel at their use of interspersed instrumentals. Some of the compositions could benefit from more continuous phrases, with hook melodies that would allow the mind to sail along, like in the traditions of pop, folk, and blues. Yet the overall experience is so intriguing. It may take a few listens to get hooked, but then you'll want to come back to hear Alt-J's unusual new approach to songwriting.
In Interview magazine, Aimee O'Neill spoke with lead singer Joe Newman about the band's unique style: ". . . we're kind of absentmindedly sounding like no other band at the moment," he said. "It's not something we're aware of, just something we're told. We work very hard, and in some cases we spend years on songs trying to get it right—refining it, picking things out, and changing things around."
Begin exploring Alt-J with these tracks:
• "Tessellate" (meaning to cover a floor with a mosaic of one shape) offers lyrics that may explain the band's symbolic theme:
Triangles are my favorite shapes
Three points where two lines meet
Toe to Toe, back to back, let's go, my love; it's very late
'Til morning comes, let's tessellate.
This track possesses highly creative, integrated segments of color, upfront vocals, and backward electronica similar to that used by the Beatles.
• On "Something Good," the song takes a turn in unexpectedly pleasant directions. Precise percussive rhythm diverts into an interlude of cascading piano (with sustained pedal), flowing effectively as a break.
• "Interlude 1" is a short a cappella piece that reminds us that, "Like all good fruit, the balance of life is in/The ripe, and ruined." This piece blends perfectly into:
• "Fitzpleasure," the perfect companion after "Interlude 1," begins with a cappella vocals, followed by percussion and a wild flurry of weird yet intriguing vocals, keyboards, and bass guitar.
• "Taro" is another piece that grabs my sonic heart. Worldly, adventurous, and epic in scope, it's perhaps the most creative piece on the album, revealing unusual rhythms, electronics, space, and interesting vocals.
Listen to Fringe Toast every Wednesday, 8-10 p.m., Central Standard Time, on KRUU FM 100.1 in Fairfield, Iowa.