TV Shows: Jan 8-14, 2014
Woody Harrelson and Matthew McConaughey star in True Dectective on HBO (photo: James Bridges).
Matthew McConaughey turned in a performance for the ages in Dallas Buyers Club, and damned if he doesn't turn in another one in True Detective (Sunday, 8 p.m., HBO). He plays Rust Cohle, a one-of-a-kind Louisiana detective investigating a murder with occult overtones. We watch Rust and his partner, Martin Hart (Woody Harrelson), track the killer in 1995, and also testify about it in 2012, when a similar case crops up. But don't get the idea that True Detective is a standard police procedural. Every hour in the eight-episode series plumbs the depths of the human heart.
Kevin Dunn in True Dectective on HBO (photo: James Bridges).
Martin is an outgoing family man, Rust a cynical loner, and the actors explore the very specific tensions in their relationship. Harrelson gives one of the best performances I've seen all season, but even he can't top McConaughey. Granted, Rust is the juicier part: an odd, erudite, haunted macho man, inclined to philosophize about man's folly. Rust discourses about time, death and God, doubtful about the meaning of life. Martin pushes back on his pessimism every step of the way: "For a guy who sees no point in existence, you sure fret about it an awful lot."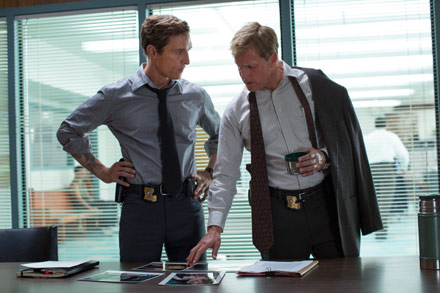 Matthew McConaughey and Woody Harrelson in True Dectective on HBO (photo:Michele K. Short).
I could say the same thing about True Detective. This is existential fretting of the highest order.
Golden Globe Awards
Sunday, 7 pm (NBC)
Who does not love these funny girls? Tina Fey and Amy Poehlerare gonna maket the 71st Annual Golden Globe Awards on Sunday, Jan. 12, must-watch TV. (Photo: Art Streiber/© NBC Universal, Inc. )
Tina Fey and Amy Poehler return as hosts. In my long, checkered career of making predictions about live TV, I've never felt more confident is saying that satisfaction is guaranteed.
Enlisted
Friday, 8:30 pm (Fox)
It's been awhile since the last great military sitcom. Enlisted brings the genre into the Arrested Development age with a single-camera style heavy on irony. And judging from the pilot, the series could give M*A*S*H a run for its money.
Super-soldier Pete Hill (Geoff Stults) makes a misstep in the heat of battle in Afghanistan, after which he's relegated to a pathetic unit in Florida. This is where the Army misfits mow lawns and look for lost dogs, and it's also where Pete rejoins his two soldier brothers. Derrick (Chris Lowell) and Randy (Parker Young) are the biggest misfits of all, the one smart aleck, the other not smart in any way. Pete must come to terms with them as both family members and as soldiers under his command. Yeah, good luck with that.
Enlisted is dense with absurd dialogue and sight gags, and the cast pulls them off masterfully. This is the rare military comedy that deserves a 21-gun salute.
Banshee
Friday, 9 pm (Cinemax)
Antony Starr in Banshee (photo: Gregory Shummon/courtesy of Cinemaxl, Inc. )
In Cinemax's stylish thriller, master thief Lucas (Antony Starr) masquerades as a sheriff in a small Pennsylvania town, where he surreptitiously continues his criminal activities. Last season ended with an apocalyptic showdown between Lucas and the frightening Ukrainian gangster Mr. Rabbit (Ben Cross). The bloodbath caught the attention of the FBI, and season two begins with an agent named Racine (Zeljko Ivanek) investigating Lucas' deeply suspicious sheriff's office. Racine is Banshee's latest memorable character, a cynical, chain-smoking SOB determined to ferret out the truth before cancer kills him.
It's hard to believe that Racine allows Lucas to continue as sheriff. And that Mr. Rabbit survived being shot at point-blank range. Then again, Banshee's goal is not to be realistic, but to be fun. Mission accomplished.

Lost Girl
Monday, 7 pm (Syfy)
Ksenia Solo as Kenzi in Lost Girl (Photo: Syfy, © NBC Universal, Inc).
The new season begins with no trace of Bo (Anna Silk), everybody's favorite sexy crime-fighting succubus. She vanished in a puff of smoke at the end of season three, so this week's episode focuses on her partner in the supernatural detective agency, Kenzi (Ksenia Solo). Kenzi more than holds the screen in a plot about stolen memories, culminating in a face-off with a terrifying snake-man (Star Trek's George Takei). She's a wisecracking scamp with an impressive power: the ability to make people swoon through touch. The soundtrack goes WHOOOSH, and the person she touches experiences ecstasy, even if he doesn't want to.
Anna Silk as Bo, Sadie LeBlanc as Susan, and Gabrielle Miller as Caroline in Lost Girl (Photo: Syfy, © NBC Universal, Inc).
I like Lost Girl up to the point where it gets too silly. The relentless jokes make it hard to take the dramatic elements seriously, and furthermore…
WHOOOSH.
Um, what was I saying? Oh, yes — I like Lost Girl. I like it a lot.
Switched at Birth
Monday, 7 pm (ABC Family)
This extraordinary drama is about two high school girls, Bay (Vanessa Marano) and
Daphne (Katie Leclerc), whose families unite after their kids were switched at birth. But it's not the plot that makes the series extraordinary; it's the multiple deaf characters, including Daphne. They sign throughout each episode, and some scenes take place entirely in American Sign Language, with subtitles.
Switched at Birth also happens to be a delightful family melodrama. In the season three premiere, Bay takes a college art class while Daphne struggles with school and community service. Leclerc offers an appealing portrait of a girl with a big heart and watchful eyes who must try harder than most people to get through a day. She meets a friendly boy in a wheelchair (RJ Mitte) who wryly comments on the world's view of them: "Look at us, a gimp and a deaf girl. That sounds like the start of a really bad joke."
No, it sounds like the start of a really good season.