TV Shows: Feb.19-25, 2014
Steve Zahn is Clark in Mind Games.
Clark (Steve Zahn) is a disgraced academic with bipolar disorder. Russ (Christian Slater) is his perpetually exasperated con-man brother, just out of prison for fraud. This odd couple starts an ethically questionable business that can alter the way people act, based on Clark's experimental research on "adrenalized implantation." In the pilot of Mind Games (Tuesday, 9 p.m., ABC) they test out their method to help a sick kid who's having problems with the medical establishment. The idea is to sneakily put thoughts into the heads of key decisionmakers and thereby influence their behavior. The brothers attempt this feat by sending members of their six-person team undercover, in disguise. The ruse threatens to fail spectacularly.
Mind Games is like a funnier Mission: Impossible. The actors are resourceful, particularly Zahn as a genius with infinite shades of insanity. The script is playful, and the relationships even have emotional substance. I believe this is one of the best shows of the 2013-14 season — or did ABC sneak that thought into my head through adrenalized implantation?
Masterpiece Classic: Downton Abbey
Sunday, 8 pm (PBS)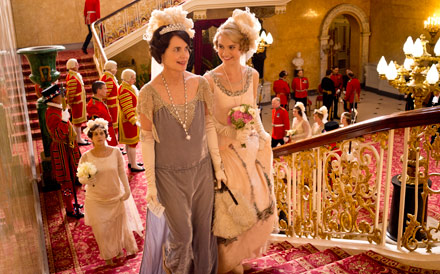 Elizabeth McGovern as Cora and Lily James as Lady Rose in the final episode of season 4's Downton Abbey. (photo: ©Nick Briggs/Carnival Film and Television Limited 2013)
Downton Abbey erases the memory of last year's artlessly tragic conclusion with a more satisfying season finale.
Rich American relatives Harold and Martha Levinson (Paul Giamatti and Shirley MacLaine) visit the Crawley family in 1920s London, scandalizing the reserved aristocrats with their improper New World behavior. Mary (Michelle Dockery) has recovered from the sudden death of husband Matthew (the dramatically unmotivated shocker from last year's finale) to the point where she can flirt drolly with two suitors. The family plots to retrieve a purloined letter, and stuffy butler Carson (Jim Carter) contemplates the prospect of having fun — within strict limits, mind you. The family also faces a terrible moral choice: whether to turn in a servant who committed a crime or to repay his loyalty with their silence.
Elizabeth McGovern as Cora, Countess of Grantham, and Hugh Bonneville as Lord Grantham in the final episode of season 4's Downton Abbey. (photo: ©Nick Briggs/Carnival Film and Television Limited 2013)
For Downton Abbey fans who couldn't care less about the plot, rest assured that there are plenty of gay balls and elegant outfits. Best of all, there's a showdown between the American and English grande dames, MacLaine's Martha and Maggie Smith's Violet. It's as vicious as Alien vs. Predator, though this battle is waged with arched eyebrows and almost imperceptible put-downs. You may be stunned to see who wins.
Ripper Street
Saturday, 8 pm (BBC America)
Last year I turned off the pilot of this period drama, grossed out by the violence. But other critics liked the tale of detectives investigating the seedy side of 19th century London, so I thought I'd check out the season-two premiere.
It's true that Ripper Street does a good job with its setting, evoking grimy pubs and opium dens. But within seconds, a cop is thrown from a second-story window and lands…well, it's too gruesome to describe in detail. I tried closing my eyes, but the sound effects were so awful that I had to reach for the mute button, too. I turned up the volume when our detective heroes (Matthew MacFayden, Jerome Flynn) took the grievously injured cop to a hospital, only to hear an angry surgeon tell them, "Remove yourself from my operating theater or I shall remove your nose from your face!"
I shut off the TV, fearing he meant that literally.
About a Boy
Saturday, 10:07 pm (NBC)
Someone had the odd idea of remaking the charming About a Boy with actors devoid of charm. In this sitcom version, David Walton takes the Hugh Grant role of Will, a lovable scamp who pretends to have a kid to get chicks; in this case, though, replace "lovable" with "insufferable." As single mother Fiona, Minnie Driver is so nasty that you can't get around to hoping she finds a father figure for her lonely son, Marcus (Benjamin Stockham).
The pilot includes a contrived scene in which Will saves Marcus from making a fool of himself at a talent show. True, the talent-show audience stops booing, but I doubt anyone watching About a Boy will.
Growing Up Fisher
Sunday, 9:38 pm (NBC)
You usually sense the strain when a sitcom tries to be "different." So I expected the worst from Growing Up Fisher, about a family with a blind father. But rather than seeming gimmicky, the concept works effortlessly. Chalk it up to a great cast, along with the fact that executive producer DJ Nash based the show on his own life. As absurd as it can be, Growing Up Fisher communicates authentic family feeling.
Despite his disability, Mel (J.K. Simmons) cuts down trees with a chainsaw, plays football with son Henry (Eli Baker) and teaches daughter Katie (Ava Deluca-Verley) to drive. Narrated by the adult Henry (voice of Jason Bateman), the pilot scores laughs with Mel's refusal to admit impediments. But it also poignantly shows how this clan hangs together, even after Mel and wife Joyce (Jenna Elfman) decide to get divorced. Mel moves into his own apartment, gets a guide dog, and realizes it's not such a bad thing to rely on Henry's help.
"For Dad," says the narrator, "this would be the beginning of an amazing journey."
Ditto for viewers of Growing Up Fisher.