The Iowa State Savings Bank, built in 1906 in southeast Cedar Rapids, is now the Parlor City Pub. Owner Jon Jelinek brought the building back after it was inundated with floodwaters in 2008. (photo: Cindy Hadish)
Customers flock to Parlor City Pub & Eatery in Cedar Rapids for the music, food, drinks, and social scene, but owner Jon Jelinek points to the building's vintage atmosphere as another attraction. Housed in the former Iowa State Savings Bank built in 1906, the pub sports retro Cedar Rapids business signs, black and white photos, and historical memorabilia that blend perfectly into the period interior.
A back room at Parlor City features tin ceilings and retro signs from Cedar Rapids businesses. (photo: Cindy Hadish)
"You can't replace 100-year-old buildings," said Jelinek, who brought the bank building back to life after Cedar Rapids sustained epic flooding in 2008. "Once they're gone, they're gone."
Jelinek is in the process of restoring four other buildings, including two houses in the city's New Bohemia neighborhood, exemplifying a trend toward renovation that has made its way to Iowa.
"It's happening nationwide," said Siobhan Spain, interim director for the non-profit Center on Sustainable Communities (COSC), based in Des Moines. "The greenest building out there is an existing one."
There are economic incentives as well. Historic tax credits can cover up to 25 percent of rehabilitation costs for homes that qualify and nearly half of the costs for commercial buildings.
The Deconstruction Alternative
In March, COSC teamed up with the University of Northern Iowa-based Iowa Waste Reduction Center to promote another alternative to demolition: deconstruction, the process of disassembling building parts for reuse and recycling. Spain said deconstruction is emerging as another way to prevent materials from going into the landfill and keep local resources within the community.
Hardwood floors made from old-growth forests, for example, are impossible to replicate, she said, but can be salvaged from older buildings. "There is a lot of material that's better quality than what you can buy today," Spain said.
She noted that many factors go into the decision of demolition vs. renovation vs. deconstruction. Barns that otherwise would be demolished are a "no-brainer" for deconstruction, Spain said, explaining that some buildings, especially those that contain toxic materials like asbestos, are complicated to tear apart.
Spain said deconstruction provides important social, economic, and environmental benefits. Advantages include diverting debris from landfills and protecting resources through reuse.
Deconstruction preserves the invested embodied energy of materials, Spain said, thus conserving energy that would be required to harvest or manufacture new materials. The National Trust for Historic Preservation notes that it takes 35 to 50 years for a new energy-efficient building to save the amount of energy lost in demolishing an existing building.
While Spain said it isn't realistic to think everything can be diverted from the landfill, two "Rethinking Demolition" workshops last month helped create awareness of what can be done through deconstruction, in addition to restoring older buildings.
"It just makes sense on so many levels," she said. "There's definitely a market for it."
Materials that are readily recyclable or salvaged include bricks, concrete, asphalt roofing, drywall, rock, and carpeting. Even though these are often taken to the landfill, Spain said markets exist for these materials to be reused or recycled.
Restoring Old Buildings
Preservation groups throughout Iowa also note the value of restoring buildings in lieu of razing them. Examples include relocating several houses in the Waterloo area to make way for new roads, and moving the 1,500-ton National Czech & Slovak Museum & Library in Cedar Rapids to higher ground in 2011 after the building was flooded in 2008.
In Dubuque, IBM chose to move into the historic Roshek Building, a nine-story former department store, citing the company's corporate commitment to sustainability. Dubuque has seen a higher increase in property values after historic properties have been rehabilitated.
Iowa City's Friends of Historic Preservation offers workshops and operates the Salvage Barn, a shop that sells historic architectural items, keeping those materials out of the landfill and serving as a source for homeowners to find historically appropriate and ecologically friendly parts.
A new group called Save Cedar Rapids Heritage formed in response to the demolition of two historic churches in 2011 and 2012. The nonprofit works to preserve historic resources by developing reuse strategies, as well as raising awareness of the value of historic properties.
Iowa's Main Street communities also cite the success of historic preservation as an economic development tool. One of the newest Iowa Main Streets, in Marion, is seeing an influx of redevelopment, while others continue to reap benefits, including the district where Jelinek's Parlor City Pub is located.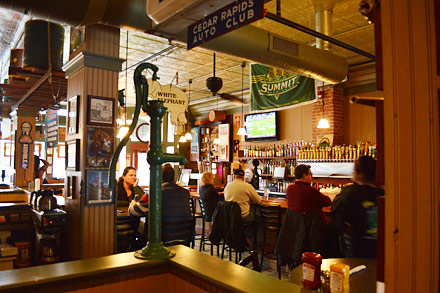 Customers sit at the bar inside Parlor City Pub & Eatery in Cedar Rapids, surrounded by historic photos, business signs, and other memorabilia. The more than century-old building is an example of the trend toward reusing structures, rather than razing them. (photo: Cindy Hadish)
Jennifer Pruden, executive director of the Czech Village/New Bohemia Main Street District in Cedar Rapids, noted that some of the hottest buzzwords include "sense of place," "quality of life," and "creative placemaking."
Pruden said an area's quality of life can draw a talented workforce, bring in new residents, and encourage new investment.
"The long-term quality and character of an area like our Main Street District is directly related to the willingness to identify, protect, and enhance those places that define and differentiate it," she said. "In many of those character-defining places, aesthetic, cultural, and social factors are tied to historic buildings."
For more information, visit the Center on Sustainable Communities and the Iowa Waste Reduction Center