Russell Crowe and Jennifer Connelly in Noah.
The book was better. Apparently, writer-director Darren Aronofsky (Black Swan, The Wrestler) felt unrestricted by the original story—maybe he figured no one has read it since Sunday school, so who would notice a few updates?
At a glance, his Noah version of the stormy end of the world does resemble the Genesis story of the Old Testament. Russell Crowe plays Noah, who is charged with building an ark to save the creatures of the planet while the Creator floods the earth to destroy the human race. But then Aronofsky gets creative. He personifies the evil of mankind in a warrior tribe led by Tubal-Cain (Ray Winstone). He generates a gaggle of giant animated rock creatures that provide the muscle for building the ark. And according to my notes from Sunday school, he altered Noah's family—from three married sons and a nearly invisible wife to three unmarried sons, an adopted daughter, and a liberated spouse fashioned in shabby-chic couture who puts Noah in his place no matter what he thinks God told him. This is what we call an adapted screenplay.
Russell Crowe and Jennifer Connelly in Noah.
But these innovations to the Bible tale are the least of it. A bigger issue is the story line that takes its own trajectory and doesn't necessarily make sense. And worst of all, the brittle dialog is so stilted that not even Methuselah can save this production, nor can the power team of Russell Crowe, Ray Winstone, Jennifer Connelly, and Anthony Hopkins.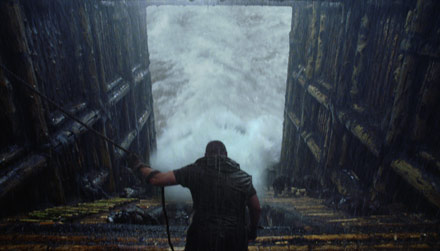 Noah: here comes the flood.
To summarize, Noah is pretty far from entertainment. It's a strange, fabricated story that needs an epic rewrite. My advice: stick with the book. Or wait for the Broadway musical. D