TV Reviews: Sept. 17-23, 2014
Fox¹s new dramedy Red Band Society features guest star Wilson Cruz, who is joined by the USC Trojan marching.band, as they visited Children's Hospital Los Angeles. © 2014 FOX Broadcasting Co.
Executive produced by Steven Spielberg, Red Band Society is the first masterpiece of the fall TV season (Wednesday, 8 p.m., Fox). Nevertheless, it features a premise that practically screams "don't watch this." A half-dozen very sick kids live together in a hospital. If that sounds off-putting, wait till you meet Charlie (Griffin Gluck), a boy who narrates the story while unconscious. "Yeah, this is me talking to you from a coma," he says. "Deal with it."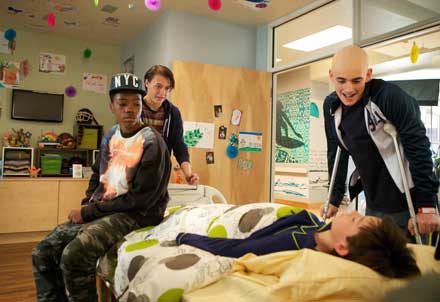 Brian Bradley, Nolan Sotillo, Griffin Gluck and Charlie Rowe in Red Band Society. © 2014 Fox Broadcasting Co.
Given plot points about cancer and cystic fibrosis, Red Band Society might have been too sad or too sentimental. Instead, the series hits the sweet spot: It's moving without being manipulative. Part of the secret is a sense of humor. The kids tease and taunt one another, and they're in turn teased and taunted by a no-nonsense nurse (Octavia Spencer). But what really set Red Band Society apart are the characters and their relationships. The actors burrow deep into their roles, finding nuances in such types as a cruel cheerleader (Zoe Levin), a sharp-tongued anorexic (Ciara Bravo) and a jock facing an amputation (Nolan Sotillo).
The series uses dreamy rock music to great effect, along with a Shakespeare leitmotif. With disaster on the horizon, the kids pull together like the band of brothers in Henry V: "We few, we happy few…." They dub themselves the Red Band Society, and if you can resist their charms, you're made of stronger stuff than I am.
Madam Secretary
Sunday, 7:30 pm (CBS)
Téa Leoni plays U.S. Secretary of State Elizabeth McCord, who's pressed into service after her predecessor's plane crashes. Normally a comic actress, Leoni doesn't have the gravitas for this role, which I guess is why she wears glasses to look more intelligent.
Then again, I don't think even a top dramatic actress would be credible speaking dialogue on the order of: "Free speech is a constitutionally protected right!" This new series strikes one wrong note after another, unable to convince us that we're really hearing high-level diplomatic talk. The script just doesn't seem smart enough.
Maybe the writers need to wear glasses.
Gotham
Monday, 7 pm (Fox)
This new series delves into Batman mythology in a novel way. The pilot is less pretentiously dark and ugly than the last three decades of Batman movies, with stronger storytelling. It doesn't gloss over Bruce Wayne's traumatic childhood, but instead dwells on the experiences that turn him into a masked vigilante. When Bruce's parents are killed, a rookie cop named Jim Gordon (Ben McKenzie) tries to solve the crime while wading through the moral morass of the Gotham Police Department.
The series has just the right proportion of realistic motivations to comic-book exaggeration. We meet embryonic versions of Catwoman (Camren Bicondova), the Penguin (Robin Lord Taylor), Two-Face (Donal Logue) and the Riddler (Cory Michael Smith), all ready for the psychological jolt that will turn them into criminal freaks. The cinematography's admixture of neon and grime does justice to comic-book graphics – the ink practically comes off on your fingers.
Oddly, Bruce himself (David Mazouz) is only a minor part of the pilot, and Batman doesn't show up at all. But that's okay – it just makes you all the more eager for next week's exciting episode.
Scorpion
Monday, 8 pm (CBS)
You know how annoying it is when someone constantly tells you he's smarter than you are? That's the experience of watching Scorpion, a new drama that keeps insisting its misfit-hacker hero, Walter (Elyes Gabel), is BRILLIANT! WITH AN IQ HIGHER THAN EINSTEIN'S! But it's one thing to say that and another to make us believe it.
In the pilot, Walter doesn't seem all that special, even when he leads a band of fellow misfit geniuses in saving 50 planes during a communications outage at LAX. In fact, he seems kind of dumb when he takes time out from the crisis to brag about himself at great length to a pretty waitress (Katharine McPhee).
No one wants to spend an hour each week with such an arrogant, petulant, self-satisfied protagonist. Even producers with normal IQ should have been able to figure that out.
Forever
Tuesday, 9 pm (ABC)
For some reason, Dr. Henry Morgan (Ioan Gruffudd) cannot die. After, say, a catastrophic New York subway crash, he merely reappears in the river, stark naked, and resumes his puzzling life. This has been going on for 200 years, starting with the time he got pushed off a ship for defending a slave while wearing a puffy-sleeved shirt. In our own day and age, Henry tries to figure out the secret of his immortality with his gruff yet lovable sidekick (Judd Hirsch).
Given the nutty premise, Forever could have been interesting. But it's way too concerned with fitting into a prime-time formula. Of course Henry is a male-model type, and of course he begins a flirtation with glamorous detective (Alana De La Garza). He acquires a diabolical antagonist (yawn), has a tragic love in his past (natch) and ends the pilot as a dashing action hero (who'd have seen that coming?).
In one of his philosophical voiceovers, Henry muses, "Just imagine all the things you could do with eternity."
I wish Forever had done something more with it.