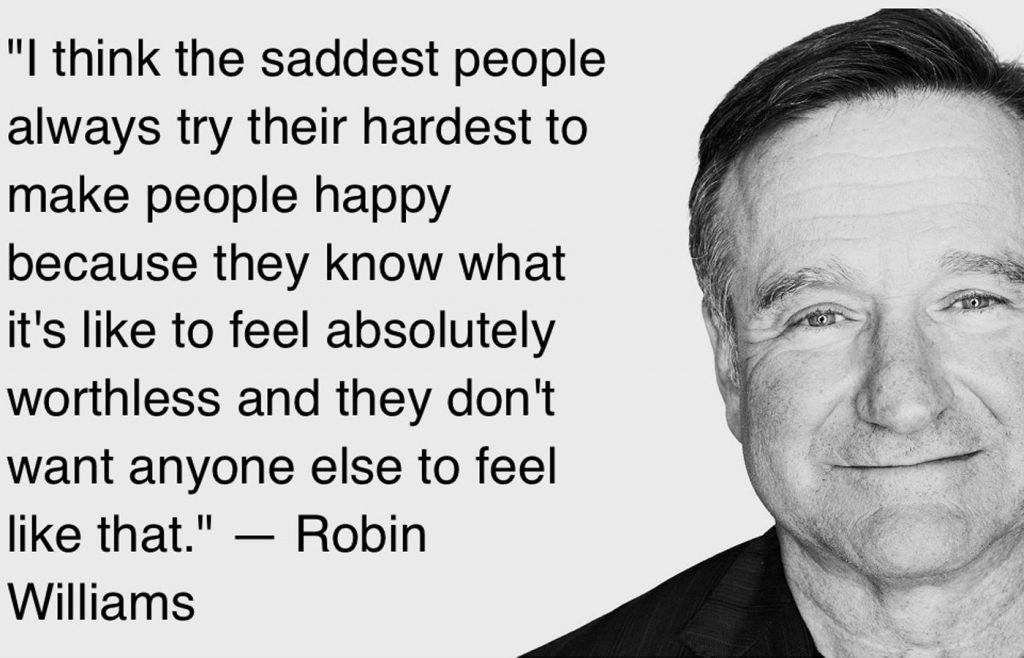 You may recall seeing the striking black-and-white posters around town last summer, featuring a rare, somber image of comedian Robin Williams, who completed suicide on August 11, 2014.
Yes, completed. This points to one of the first lessons learned at the Fairfield Cares inaugural event, the one that these posters were announcing. It illustrates that something as subtle as our choice of words can reduce stigma and start transforming attitudes toward mental health.
The Fairfield Cares event held at the Public Library on September 7 attracted a standing-room only crowd, and Mayor Ed Malloy officially proclaimed that day as Fairfield Suicide Prevention Day.
Suicide remains the second leading cause of death for Iowans aged 15–40. In 2013, 419 adults and 26 teenagers completed suicide in Iowa, a 17 percent increase from 2012, and the highest rate since 1989. So as you can see, we have our work cut out for us. But we are making strides.
Last September, an article on suicides in Fairfield in the publication Little Village poignantly illustrated the problem with mental health awareness in our community. And now volunteers are working towards a solution. The Fairfield/Jefferson County Mental Health Alliance (FMHA) is a broad-reaching organization that has organized a number of events over the last several months. It works with Fairfield Cares, the organization dedicated solely to suicide awareness and prevention. Below are some noteworthy accomplishments that demonstrate what a small but passionate community can achieve in a short period of time.
Mental Health Milestones in Jefferson County in 2014
• Anyone having a mental health crisis can now go to the Emergency Department at Jefferson County Health Center to be connected with a counselor. JCHC also has a web page dedicated to suicide prevention, which can be found under their Services tab.
• A two-hour community QPR Training, run by the Crisis Center of Johnson County, educated members of our community on how to "question, persuade, and refer" those in need of assistance.
• A five-session workshop, Beating the Winter Blues with Greater Purpose, is currently in progress, based on the Blue Zones' "Finding Purpose" materials.
• A new multipurpose support group called Reach Out now meets Thursday evenings at 7:30 p.m. at the offices of Toni Johnson, 506 N. Main Street. You are invited!
• A mental health lecture series has been started on the MUM campus. Next one is March 8.
• The new radio show Mental Health Matters with Dr. Scott Terry airs on KRUU-FM 100.1 Tuesdays at 6:30 p.m. and Thursdays at 12:30 p.m.
What's Next?
So what's next? More meetings, more formal training, more public lectures, and more goals!
But we need more community input as well. Grassroots community organizations such as this thrive on diverse perspectives, input, skills, ideas, and volunteers. So get on a list and get in the know:
• To get involved in mental health awareness initiatives, send an email to Scott@ArdentCenter.com to get on the mailing list and see what's going on.
• If you are a mental health professional or paraprofessional in Jefferson County and would like to be listed in the mental health resource directory, please send details to the email address above.
• If you are primarily interested in suicide prevention and awareness, reach out to info@fairfieldcares.com.
• And if you are ever having a crisis and feel the need to talk to someone for your own well-being, you can always call the National Suicide Prevention Lifeline at (800) 273-TALK (8255) to be connected with a trained counselor.
Joe Gass is a volunteer with Fairfield Cares and the Fairfield/Jefferson County Mental Health Alliance.