Emily Fotis has just produced another coloring book for big kids called Wild Things.
Walk into any bookstore or craft shop these days and you'll find hundreds of coloring books—not just for kids, but for adults. Coloring is the newest art hobby craze, and now it's gone mainstream.
"Before last year we had only one shelf of adult coloring books in the activity book section," says Russ, a manager I met at the Coralville Barnes & Noble early in November. That day I counted 16 shelves of coloring books, plus a huge display of coloring books and pens topped with a giant "Coloring" sign. And none of these were in the children's section.
Why the boom in adult coloring? Russ says it's a way to decompress from the stresses of the day, and it can be social. "You see groups of people gathering in a coffee shop to color and chat," he says.
If you're lucky, you'll find the coloring books of Fairfield artist Emily Fotis, who was way ahead of the coloring curve with her American Fraktur Paint-and-Color Book in 2004. Now, in response to requests from fans, she has released a new standout, Wild Things: A Color-In Book for All Ages, in time for the holidays.
For Emily, coloring is not just something to pass the time. It's a creative act. "My goal from the beginning was to help others create art," she says. In a kind of reverse artistic process, she first paints original works of art and then traces outlines of the images for kids or adults to color or paint.
In Wild Things, Emily features 32 colorable outlines of her works, with flora, fauna, and geometrics straight from her imagination to the canvas. All 32 originals—created in vivid oil, gouache, pencils, and ink—are featured as thumbnail images inside the covers, for color inspiration. She designs her books with high-quality ivory paper, printed on one side to prevent bleed-through from paints or inks. Outlines are sepia-colored for a delicate, finished look, and pages are perforated for easy removal.
"These are elements I pioneered in my first book but are now fairly common due to demand," says Emily. "I've tried to make it easy for people to create their own works of art."
To see Emily in action, I visit her small but charming studio and home in Fairfield, a fixer-upper she transformed to an Arts and Crafts style wood-and-tile gem.
As a creator of coloring books, Emily emphasizes the value of line quality, which she developed at age 17 by taking calligraphy lessons from master calli-grapher John Stimson. "If you have good line quality, you can design anything," she says.
I admire her painting of a flower in earthen watercolors hanging on her studio wall—an outline of which is featured in her first coloring book of Fraktur paintings. Emily first glimpsed Pennsylvania Dutch Fraktur art in Antiques magazine and fell in love with the calligraphy and symbolic folk-art imagery. Although most Fraktur art died out in the 1850s, she reinvented it in her own style, after Stimson taught her to make paints from richly hued pigment stones collected from Cedar Creek.
Emily picks up a stone of earthen red hue from her collection and grinds it on a handheld black basalt inkstone, traditionally used in Japanese Sumi-e painting. "These rocks are made of iron oxide, so they're really soft," she explains. "When you grind them on the hard inkstone, they create a powder. Combine with water and gum Arabic for thickener and you have paint."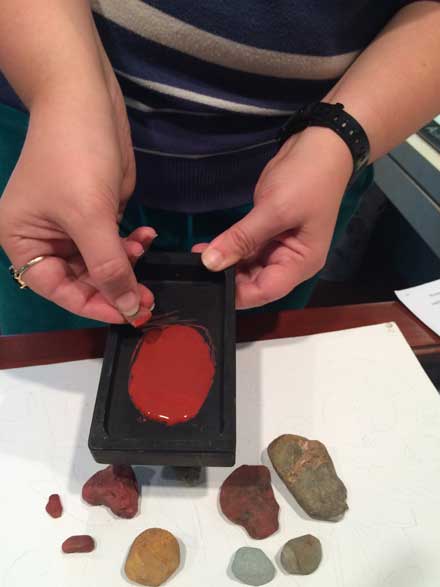 Emily Fotis makes her own paints from local stones.
She applies these subtle colors to antique papers for her Fraktur art. "There's something Zen about grinding your own paints," she says. "You feel a real connection with the materials. You smell the earth, and when you mix the stones with water, you smell rain."
Emily believes her childhood, spent exploring the woods outside her Ohio home and drawing every day without the pressure of technology, was a formative influence on her art. She points to a portrait of William Morris, who founded the Arts and Crafts Movement in opposition to the Industrial Revolution, and says simply, "He's my hero."
Being a self-taught artist, she also feels a kinship with folk artist Laurel Burch. Emily's gift for harmonious color and pattern—and her bold use of line and rich hues—have led admirers to compare her work to that of both Morris and Burch. Emily's distinctive style illuminates Wild Things and her forthcoming coloring book, Old Playful's Book of Impractical Cats, due in 2016.
At 32, Emily has already established an indie press, Inkstone Arts, to publish her work and eventually the work of others. Her ultimate goal is to bring art to people worldwide, by licensing her designs for everyday objects such as ceramics, accessories, textiles, greeting cards, and wallpapers.
"The tagline of my website is 'Bringing Art to Life,' " says Emily. "I want to bring art to people who wouldn't necessarily value its importance or have time to explore it."
She also wants kids to have the freedom to develop artistically. "I'm grateful for my childhood," she says. "I had time to explore who I am and what I want to do and what I want to offer the world. If I can help people do that for themselves through my coloring books and my art, I would love that."
To learn more about Emily, visit EmilyFotis.com/.
Wild Things is available at Prairie Lights in Iowa City, Health & Wholeness in Fairfield, and Amazon.com. Source readers can use code IASOURCE for a 15% discount at Amazon, through January 2016.