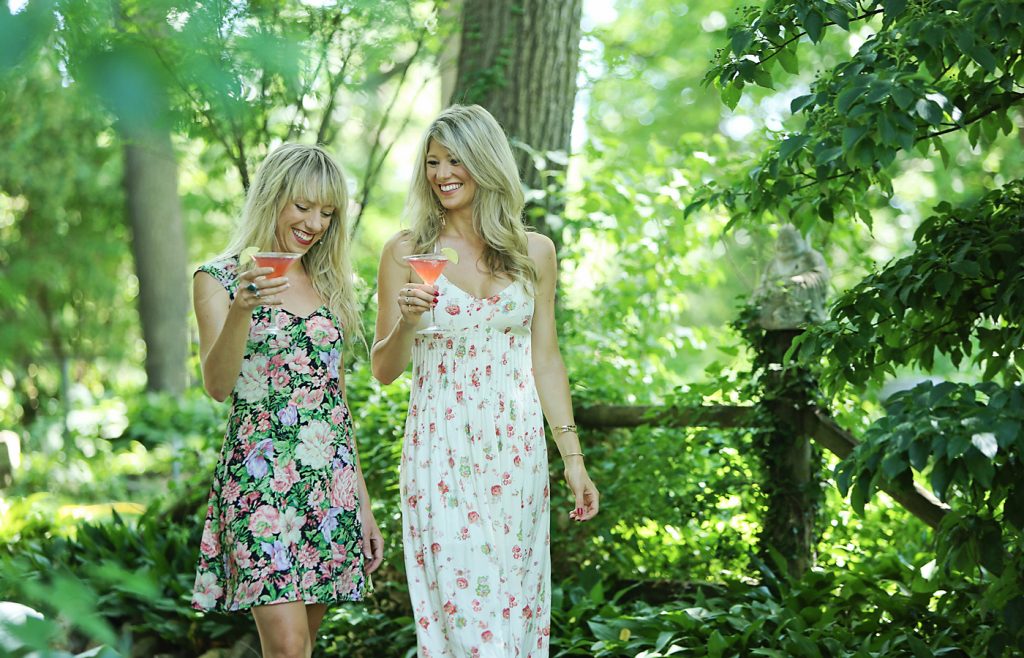 The power of great words lies in their ability to reframe perspectives, broaden horizons, and open up new worlds. The fewer words involved, the more power they hold. You hear "Why not?" and suddenly you've quit your chemistry job to start gardening. Or maybe you see "Garden to Glass" on a paper menu at that farm-to-table restaurant you drive an hour out of your way to visit, and it dawns on you that after gardening for 10-plus years, it's time to look to the garden for drink inspiration. Your view of gardening is never the same.
The power of small towns lies in their ability to interweave people in unexpected and unknown ways—hopefully uncovering useful connections. And so you find yourself sitting at a local bar that happens to be manned by people who are as interested in garden-inspired drink creations as you are. You have the herbs and they have the know-how. Your view of cocktails is never the same.
Garden to Glass
I'm not sure anymore how it all went down, but one evening when my husband Tim and I were at the Cider House in Fairfield, we got to chatting about using herb-infused simple syrups in drinks with Clint, Cider House owner and tender of the bar that night. "Definitely," Clint kept saying. "Bring in syrups and we'll mix up a bunch of drinks and try them all!"
You might recognize the Cider House as winner of "Best Burger in Iowa," and yes, the burgers are the best I've tasted in a long while. More amazing, I think, are the four owners, who are really into what they do—to the point that you'll get into it too, and when you walk out the door you'll take a little of that enthusiasm with you. So Tim and I were pretty excited to come back with some herb-infused syrups and see how the garden might come to life in a glass.
The Simple in Simple Syrup
You'll find all kinds of cocktail recipes that call for simple syrup, which is basically sugar water. Adding herbs takes simple syrup to a new level. Interestingly, everyone seems to have a unique way of making this straightforward syrup, to the point that it's almost an art. Here's what I like to do:
Put a pot of water on to boil. As it heats up, stuff a handful of fresh, clean herbs into a quart jar. Add 1 cup sugar. When the water reaches a rolling boil, slowly and carefully pour 1 cup of it into the jar. Let it all steep together for 5 minutes until it's well past steaming. Screw on a lid and shake the jar to mix in the sugar. Be careful—if the water hasn't cooled enough it will generate steam as you shake, and hot water may spurt from underneath the lid. Alternatively, you can dissolve the sugar by stirring the mixture with a spoon. Once the water has cooled to room temperature, run the mixture through a cheesecloth or paper towel to filter out the herbs.
While this method is quick  and easy, it doesn't produce long-lasting syrups. Keep your syrup in the fridge and use it within two weeks.
Alcohol Not Included
You can use garden-inspired simple syrups to flavor a variety drinks made with or without alcohol. I love to make lavender simple syrup, which is equally good splashed into champagne or lemonade. Lemon verbena and mint simple syrups make great additions to teas, and mint syrup also shines in this refreshing and non-alcoholic version of the classic mojito:
Add 1.5 ounces of mint simple syrup and the juice of half a lime to a glass. Fill the glass halfway with club soda and stir everything together. Taste and add more mint syrup if desired. Add in a few fresh mint leaves and ice and then fill the glass the rest of the way with the soda. Enjoy!
All Together Now
Whatever you have to say about alcohol, love it or hate it (maybe both, depending on how much you drank the night before), it carries an undeniable social bent. It has the ability to bring people together. Thus it seems fitting that the following drink was concocted in the small town of Fairfield at the Cider House. It was made by Clint, the kid I knew from grade school, and enjoyed by myself and Tim and Samara, who works with us and who also went to school with Annalisa and Hopi, two other Cider House proprietors. Also Annalisa happened to have visited our farm about 10 years back when we first started gardening. And it turns out that Cole, the fourth Cider House owner, buys our herb plants through the At Home Store on the Fairfield square. Which we didn't know until we all sat down and started talking over drinks.
The garden-to-glass creations we tried, which featured rosemary, lemon verbena, pineapple sage, and lime basil syrups, were all pretty spectacular, but one in particular was, in Clint's words, "Yahtzees!" I agreed. It may be my drink for life. You can ask for the Yahtzee or other garden-inspired creations at the Cider House. You can also follow this recipe to recreate the drink at home if you're feeling garden inspired and adventurous:
1.5 oz. pineapple sage syrup
1.75 oz. tequila
0.25 oz. lime juice
0.25 oz. lemon juice
1.75 oz. cranberry juice
Shake well and pour into a highball glass filled with fresh ice. Garnish with a lime wedge and enjoy.
Here's to great words and small towns!
Jocelyn and Tim Engman are the proprietors of the new Pickle Creek Herbs Tasting Room and Gift Shop, 104 S. 3rd St., Fairfield.