Charlotte Cain's later work included gouache watercolor paintings on antique Indian paper.
ICON GALLERY IS DEVOTING September and October to the work of Charlotte Cain with a retrospective exhibit through October 22, 2016.
"We lost our dear Charlotte last year," says ICON Director Bill Teeple. "I can't begin to express what an important force she was in the Fairfield art scene. It has been our desire since she passed to honor her life as an artist with an exhibit at ICON. She was not only a great artist; she was an amazing human being, and we want to honor her for that."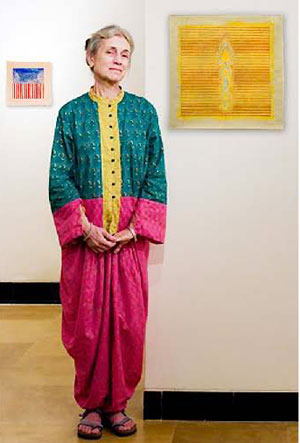 Charlotte Cain
Charlotte and her husband, Michael, founded the School of Art at Maharishi University of Management. She has an international reputation for her unique gouache paintings, and was an inspiring teacher and an inspiration to other artists.
The exhibition will touch on all major periods of her career. Since graduating from the Rhode Island School of Design, she was interested in abstraction and pattern. This led to an important series of hangings done in machine needlework. She was also inspired by pattern in nature. In the last 15 years of her life, she found her groove doing Indian-inspired gouache watercolor paintings on antique paper after working with one of the greatest living masters of Indian miniature painting. This master's principal transmission to Charlotte was the practice of meditative brushwork. Her work integrates Western abstraction with Asian spiritual sensibilities.
Infinitely Yellow, a painting on fabric by Charlotte Cain.
"My paintings are places where I re-enact forms encountered in life to express devotion to all of life," Charlotte wrote in her artist statement. "While traveling or at home, as well as in meditation and dreams, inspirations arise from human-made or natural forms that resonate intuitively. Much of my traveling has been in the United States, but I have spent more than a decade gathering inspirations in India and recently Peru. At home, I find inspiration in folk and fine artworks and in nature. Meditation is an inseparable part of living, like breathing, while visions in dreams are sublime gifts."
Big Navy Stars is an early knitted work by Charlotte Cain.
Adds Teeple, "She was an angelic soul that had the gift of empowering material objects with spiritual power."