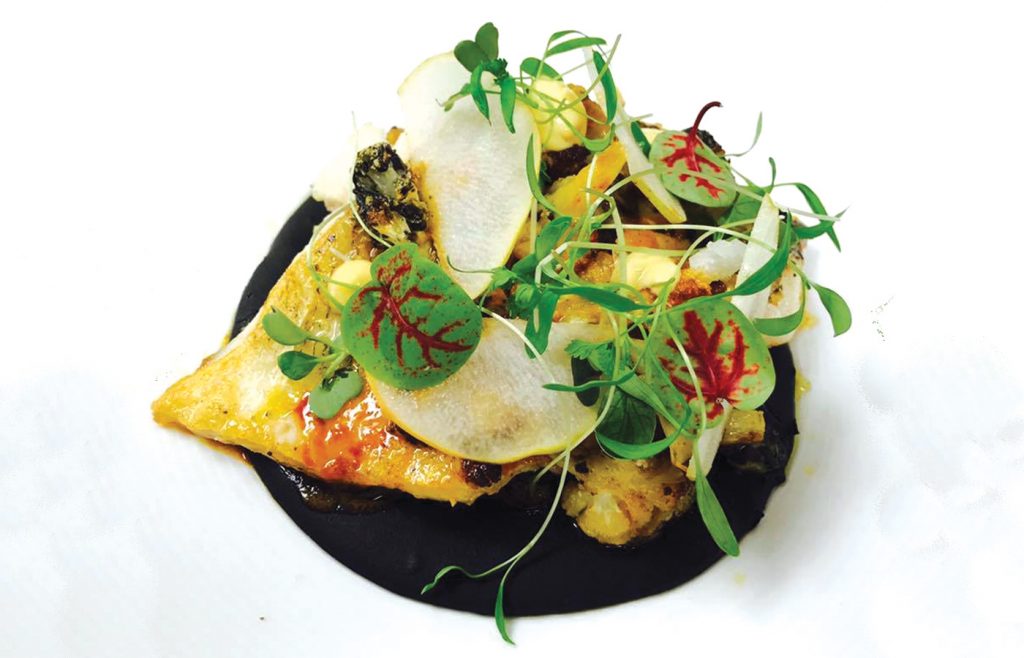 NORTHSIDE BISTRO closed in January 2018.
NORTHSIDE BISTRO in Iowa City has a mission to use what's right in our own backyard and make it into an artful dining experience. From the tin ceiling and barnwood paneling recycled from Sugar Bottom Stables, to the meats and produce sourced from two dozen area farmers, to the handmade local pottery on the tables, the Bistro works hard to support the local economy. Chef Eric Johnson and owner Andy Diep are passionate about their meat and produce suppliers and do everything in their power to create dishes that do justice to Iowa's bounty. We asked chef Eric Johnson (who worked in two Michelin-rated restaurants along with Diep) to tell us more about their commnity-driven restaurant.
What inspired you to become a chef?
Eric Johnson: I became a chef by accident. I was in trouble during high school and ended up needing something to fill my time while I was expelled. With the help of my home ec teacher Marta Brooks, I was able to graduate on time and then continued my career as a cook, learning through work. On top of that, I grew up learning from great cooks—my parents, grandparents, and aunts were a big influence.
What's your favorite part about developing new recipes?
We try to not repeat ourselves, so we're constantly pushing forward to offer our guests new and creative dining. On top of that, we are very much about refinement. All of our recipes get weighed to the gram, so that no matter which chef is making the item, it will be constantly the same.
We have started something called Saturday projects, where our chefs get reign of the kitchen to put a dish together. Our staff are constantly experimenting with new things. It keeps us from becoming complacent.
How it's done: Northside Bistro makes its fermented bourbon hot sauce in recycled Mississippi River Distilling Company barrels.
If you could create a dream menu, what would it include?
A tasting menu, with several courses, where the customers are adventurous.
Having a meal with all of our farmers would be a great experience, just so they can see our enthusiasm for what they are producing.
What food trends do you find particularly inspiring?
I wouldn't say we follow many trends besides being Iowa farm-to-table and trying to be a community-driven restaurant, meaning that we purchase plates from local potters, built the restaurant with reclaimed goods from Sugar Bottom Stables, and get involved in community events. Our philosophy is to give back to those who support us.
We are artistic in presentation and at times offer dishes that challenge our guests to be adventurous. At the end of the day, we cook tasty food without shortcuts. Everything is produced in-house, from sauces to breads, desserts to whole-animal butchery.
What food trends do you deplore?
We honor our local heritage and favor heirloom varieties and seeds that have been handed down from generation to generation. We also like to use what we find locally, since it teaches us to be resourceful and to think in unique ways. That in turn makes our community stand out for being so inventive.
Currently what's your favorite vegetable?
We have an abundance of parsnips, radishes, and turnips coming in now, and we're also lucky to have some broccoli. That is one ingredient I just love! My mom used to make broccoli soup growing up, and I still remember that smell and taste.
What neglected food should more people eat, and why?
I would just say this: be open minded, because when you have a chef who knows what he's doing, he could make something you hated into your new favorite meal.
What do you end up cooking at home?  It depends on the season, I suppose. We eat a lot of pork, and through the cold months eat a lot of stews, but in the summer we love to grill out.
If you weren't a chef, what would you do?
I wouldn't want to be anything else. Cooking is intoxicating. I love it and think about new dishes and new ingredients daily.
Tell us the best and worst things about being a chef in Iowa.
Iowa has it all—produce, artisans, farmers, cattle—we have a great state for food and dining. That being said, unfortunately we are not known for being adventurous, which makes us less of a destination for food. However, with the help of Northside Bistro in Iowa City, Big Grove Brewery in Solon, Brazen Open Kitchen in Dubuque, Bata's in Cedar Rapids, Alba Restaurant in Des Moines, and Motley Cow Café in Iowa City, I feel like the food scene could be changing for the better.
As we like to say at the Bistro, push forward!