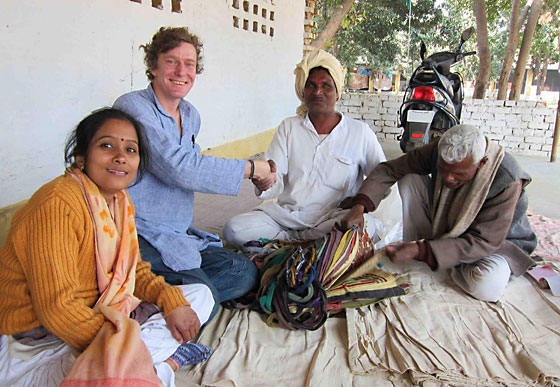 Imagine your mind following a thought, like the unraveling of a thread—and in this case, literally a cotton thread. Imagine yourself following this thread to its very source, and allowing it to lead you all around the world into places you'd never expect. And when you get to its source, you find that this cotton thread was spun from the fingertips of a woman in a village in Northern India near Sarnath, where the Buddha is said to have preached his first discourse.
This is the thought that captured Aaron Sinift's imagination, and the thread came from a Gandhi ashram sling bag, called a jhola, that carried his books and groceries. He decided that he had to know more about its origin, and as he researched the history of this simple cloth bag, he discovered a network of Gandhi ashrams devoted to service and self-sufficiency. As an artist, Aaron began to ponder a way to support these communities, and he launched a project to produce bags and books that sustain village artists and honor their craft.
The Five Year Plan
In his search for the Indian sling bag, Aaron uncovered an India that very few people ever get to know—the world of Gandhian service to India's poorest citizens. He asked himself, What if I committed five years to service? How would it change me?
Illustration from a printed jhola bag
He called his new project the Five Year Plan. The name also refers to the "five year plans" of the Nehru era following Indian Independence in 1947. The next questions he asked himself became more specific. Could Gandhi ashrams collaborate to make artists' books? Could art add value to Gandhi ashram khadi cloth? Would art collectors buy it? Could artists, ashrams, and collectors create a sustainable cycle of service to the most               desperate?
Aaron envisioned a project that brought together hundreds of people in a united effort towards "artwork as social architecture," he says, "with no separation between those serving and those served. It is not a charity; rather, it is an experiment in applied Gandhian economics."
Most know the story of Mahatma Gandhi as a nonviolent revolutionary wearing simple cloth, guiding India to independence from Great Britain. The story that is rarely told, however, is how Gandhi created a program of self-sufficiency for India's poorest people that continues to this day. The production of khadi cloth was the backbone of his vision of a sustainable future for India's most economically vulnerable.
The same ashrams that Gandhi established in the early 20th century are still producing khadi cloth, and in fact are employing millions all across India. The vast majority of khadi workers are women and the elderly, who are often supporting households through their work.
The ideal of a khadi ashram is that it be run as a "no profit, no loss" service enterprise that distributes cotton to women from the surrounding villages to spin into thin yarn. The ashram purchases the yarn from the spinner, paying according to its quality. The yarn is then collected and woven on wooden hand-treadle looms.
Books and Bags
Khadi cloth is generally undervalued, and the rough "homespun" style produced in many villages is considered too humble by most Indian consumers. The Five Year Plan celebrates the absolutely handmade—products crafted from handspun thread and hand-woven cloth with handprinted designs. The skill and knowledge of the maker give life to the final product.
These illustrations from OTHER IMAGININGS are by ashram artist JP Jaisawal and NYC artist Judith Linhares.
Well-known artists such as Jenny Holzer, Francesco Clemente, and Yoko Ono have supported the project by contributing artwork to appear in the books alongside works by artists from India and the U.S. Funds from sales of these handcrafted objects are distributed among the project participants and at the Gandhi ashrams where they were produced.
True to Gandhi's ideals, Aaron takes no money from the project. To support himself, he works part time at the Smithsonian and other institutions in New York City.
"In all this," he says, "my education is ongoing and has deepened my respect for my collaborators. I am humbled by their service to their communities and their integrity in the face of adversity."
Aaron Sinift calls the images produced in India's Gandhi ashrams "a form of pop art for a counter-industrial culture." Above: 20 Rupees, by Pradmunya Kumar
Hear Aaron Sinift Sept. 14
Aaron Sinift will speak about the Five Year Plan project at ICON Gallery in Fairfield on Thursday, September 14, at 7 p.m. He will have a copy of their newest book, Other Imaginings, for people to see and touch. Printed jhola bags will be available as well. For more information, visit 5yearplan.org or email Aaron at aasinift@hotmail.com.