Everyone is invited to the At Home Store in Fairfield on Friday, October 6, from 5–6:30 p.m., to meet Faegan and Ailish, two authentic Shetland sheep. They will be waiting in the garden at the back of the store to greet you, and wool from the very first shearing of their flock will be offered for sale. In addition, there will be knitted samples, project ideas, patterns, kits, and a drawing for a Keep Calm and Hug a Sheep T-shirt.
Faegan and Ailish are part of a local flock of old-genetics Shetland sheep cared for by Doug and Rhonda Foster at their Danville farm, Prairie Farms Woolery. The Shetland flock was born in Waverly, raised in Danville, and sheared in Donnellson, and their wool has been spun by High Prairie Fibers in Letts. Rhonda likes to say they are "Iowa born, shorn, and spun."
Yarn from the Prairie Farms Woolery is hardy, due to the old genetics of the Shetland breed, but it's also soft and wearable, due to the flock's good diet, excellent pasture, clean accommodations, and minimal processing of the fleece. Colors of undyed Shetland wool range from moorit (traditional mid-brown) to fawn, various greys, warm blacks, and natural whites.
Rhonda and Doug are passionate in their commitment to humane animal husbandry and sustainable agriculture. They're currently working with the Iowa DNR to develop forestry and pasture conservation practices.
The Fosters' flock is directly descended from a 4,500-year-old breed indigenous to the Shetland Islands that was crossed with sheep brought to the Islands by Norwegian Vikings over a thousand years ago. The Shetland breed neared extinction in the 1970s, but it has since been revived, with good prospects for survival.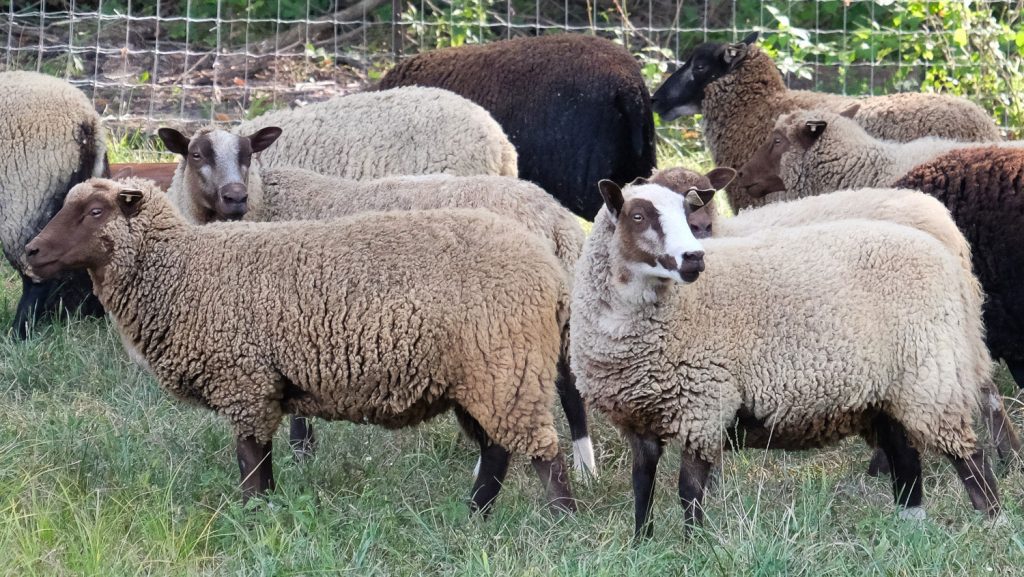 Doug and Rhonda's recent visit to the Shetland Isles led them to expert teacher Wilma Malcolmson, who encouraged Rhonda to knit with wool that is completely traceable from sheep to skein.
Rhonda started knitting in 2003, discovering homegrown wool on trips to New Mexico and Montana. In 2013, she began taking classes at the At Home Store, and met a number of local knitters who encouraged her desire to acquire a flock of her own.
Doug and Rhonda's family now includes five children, six grandchildren, and 14 Shetland sheep. The Fosters hope to expand the flock and acquire yet another endangered sheep breed.
A "Shetland Sampler" class is scheduled to begin at the At Home Store on October 21, based on a pattern by Wilma Malcolmson of the Shetland Isles. Drop by the store or call (641) 472-1016.